FROM THE DVB NEWSROOM
Regime states Nationwide Ceasefire Agreement not 'void'
The Karen National Union (KNU) statement about the Nationwide Ceasefire Agreement (NCA) being void after the 2021 military coup was refuted by Zaw Min Tun at a press conference in Naypyidaw on Aug. 22. He said that the KNU, the Chin National Front (CNF) and the All Burma Students' Democratic Front (ABSDF) have deviated from the NCA. "Three armed groups stand against the NCA and fight back without knowing what the military is doing politically. But we always have our door open for discussions," said Zaw Min Tun. Ten ethnic armed organizations (EAOs) signed the NCA during the transition from military to civilian rule. The Karen National Union/Karen National Liberation Army-Peace Council (KNU/KNLA-PC), Pa-O National Liberation Army (PNLO), Democratic Karen Buddhist Army (DKBA), Lahu Democratic Union (LDU), Arakan Liberation Party (ALP), New Mon State Party (NMSP) and Restoration Council of Shan State (RCSS) have continued to meet with the military since the coup. 
Over 100 days since Cyclone Mocha destruction
Zaw Min Tun said that the regime received more than $750,000 USD (over K3.3 million) in donations to assist communities impacted by Cyclone Mocha on Aug. 22. Cyclone Mocha made landfall in Arakan State on May 14. He claimed that India, Thailand, China, Sri Lanka, Bangladesh and the Association of Southeast Asian Nations (ASEAN) donated relief and construction items. Citizens also contributed by sending funds, via mobile banking. Cyclone survivors have criticized the slow response from the regime. Zaw Min Tun claimed that 95 percent of schools and healthcare facilities have been repaired.
UN Refugee Agency marks Rohingya crisis
The U.N. High Commissioner for Refugees (UNHCR) marked six years since over 700,000 Rohingya were forcefully expelled from Burma and into Bangladesh by a military crackdown that was termed a "textbook example of ethnic cleansing" by the U.N. and as genocide by the U.S. government. The UNHCR states that a "sustainable return" to Burma remains the primary solution to resolving the Rohingya crisis, with nearly one million forced to live in Bangladesh refugee camps. "The Rohingya response is facing a severe funding crisis, illustrated by two recent cuts in food assistance. There is an urgent need to invest in collective efforts to allow Rohingya to become self-reliant as they cannot, and do not wish to, remain dependent on humanitarian aid," said Johannes van der Klaauw from UNHCR in Dhaka.
News by Region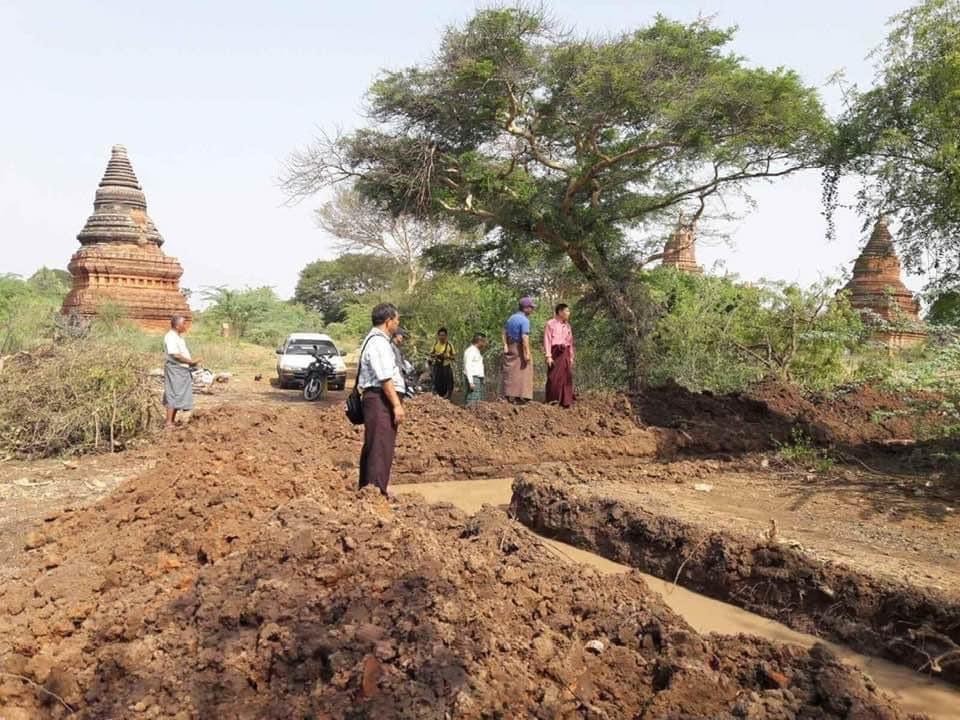 MANDALAY—The regime's Department of Archaeology is digging drainage canals to mitigate water accumulation at Bagan's temple and pagoda compounds. Archaeologist Thuya Aung said there's a need for a Heritage Impact Assessment (HIA) to determine if the use of heavy machinery is affecting the structures. "It may affect the ancient heritage," he said. The department was advised not to excavate beyond a depth of three feet to avoid damage, according to experts.
KAREN—Five military personnel, including a captain, were killed and 15 others were injured after Karen National Liberation Army (KNLA) attacked Burma Army outposts in Kawkareik Township on Aug. 18-19. A resistance group called White Tiger Column claimed that it attacked three Burma Army outposts in Taung Kyar Inn village on Aug. 22. It added that one man was killed and ten homes were destroyed by Burma Army artillery on Aug. 19.

KARENNI—Charity groups claimed that the Burma Army is restricting food, medicine, and construction materials from reaching Demoso from Loikaw, the state capital under the military regime. The Burma Army controls two checkpoints in Loikaw Township and seizes any delivery without letters from regime officials giving clearance.
YANGON—A man was arrested in Thaketa Township on Aug. 22. Residents told DVB that Myo Naing's arrest came after he posted a photo to social media of himself holding a weapon in a liberated area of the country. "Even though Myo Naing deleted the post, informants captured screenshots," said a Thaketa resident. Myo Naing's family has no information about where is being detained.