FROM THE DVB NEWSROOM
Street stalls dismantled across Rakhine ahead of visit from junta leader
Street shops have been dismantled in the Rakhine capital of Sittwe. Roads were being repaired and decorated for an expected visit by Min Aung Hlaing and a Thai military delegation. "The roofs of the shops were demolished. Municipal officials told us we can hold an umbrella when we sell instead," a local shop owner told DVB on the condition of anonymity. On Jan. 16, municipal officials demolished street shops outside of Sittwe's airport. The main road has been paved with nylon asphalt, according to residents. Min Aung Hlaing and his Thai entourage are also expected to visit Thandwe and Ngapali beach. Sources report they want to visit a wind power project in Gwa Township, which is planned to be built with Thai assistance.
At least 348 Rohingya died at sea in 2022, states UNHCR
The United Nations High Commissioner for Refugees (UNHCR) stated that 348 Rohingya have died or gone missing on dangerous boat journeys across the Bay of Bengal and the Andaman Sea. At least 3,545 Rohingya have attempted to escape desperate conditions in Burma and Bangladesh on 39 boats in 2022. This was a 360 percent increase from 2021. Nearly 45 percent of those that were rescued at sea were women and children. Many Rohingya make the perilous journey in order to reach Malaysia or Indonesia. Rohingya have been denied citizenship in Burma for decades and were subjected to a genocidal campaign by the Burma Army in 2017.
Several hundred from Chin State cross into India following airstrikes
At least 200 Burma nationals crossed into the Indian state of Mizoram last week following the junta's airstrikes in Chin State, the Indian Express reported. "We are helping them in whatever way we can. Most of them are living with friends and family," said a member of the Young Mizo Association (YMA). The member of the YMA claimed that a truck that was parked near the Burma border was damaged in the attack. The junta launched airstrikes against Camp Victoria – the headquarters of the Chin National Front (CNF), an ethnic armed organization – on Jan. 10 and 11. Camp Victoria is located near the Indian border. At least five people were killed in the airstrikes. A senior official of the Assam Rifles – a paramilitary organization under the control of India's Ministry of Home Affairs – denied reports that the Burma Air Force violated Indian airspace. The Indian government has not yet commented on the incident.
News by Region
KARENNI—One person was killed and two others seriously injured when a Burma Army artillery shell hit an Internally Displaced Persons (IDP) camp in Moebye Township on Jan. 16, according to locals. It was reported that at least 10 shells were fired at the area where around 100 IDPs have sought refuge, damaging structures in the camp.
MON—Three people were killed in Kyaikto Township on Jan. 13 and 14, locals told DVB. An administrator was killed on Jan. 14 in Mayanchaung village. A 10-household administrator and another man were killed on Jan. 13. At least 20 administrators have been killed in the township since the 2021 coup.
YANGON—Two Japanese nationals were attacked on Jan. 14 on Sule Pagoda Road. "It happened near the Shangri-La Hotel. One mobile phone and a small amount of money were stolen. One was stabbed. Another was beaten," a police officer said. Political and economic conditions in Burma have deteriorated rapidly since the 2021 coup. The commercial capital has seen a significant increase in crime such as theft and assault. Several crime victims have been injured. There have been reported cases of victims being killed by their assailants.
Six drones equipped with the homemade explosives were seized by regime forces in Hmawbi Township on Jan. 16, according to locals. The drone and explosives were discovered after one of them crashed on a street due to a technical error raising the ire of local authorities. "The admin team reported the incident," a local told DVB on the condition of anonymity. The drones were reportedly being used to attack Hmawbi Air Force Base, according to locals.
A man was wounded in a building in Shwe Pyi Thar Township on Jan. 16. "Residents in the ward said that [the two gunmen] came to attack an [military] informant," a local told DVB on the condition of anonymity. Locals were unable to confirm that the victim was, in fact, a military informant.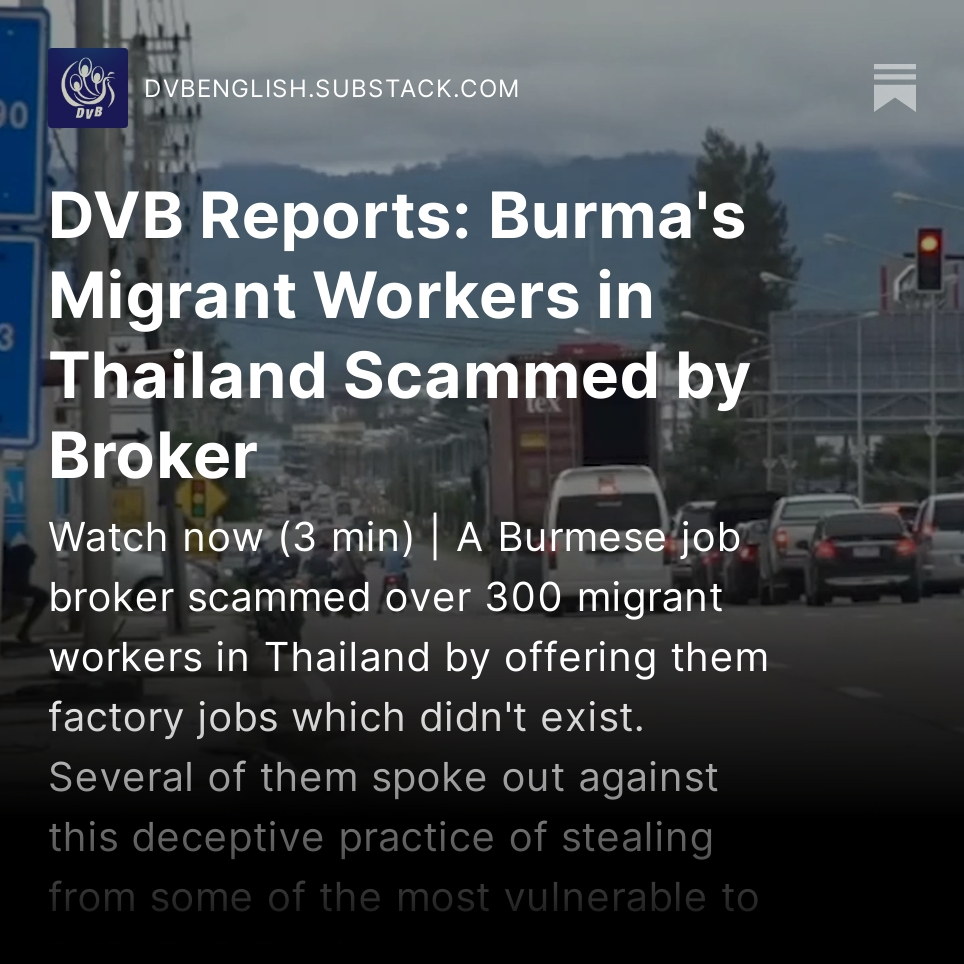 Watch the latest DVB Reports as we look into the case of 300 migrant workers in Thailand scammed by a Burmese job broker. DVB English is on-demand via YouTube, Facebook, Twitter, TikTok, Instagram & Substack.