The commander of the 8th Combat Police Battalion in Rangoon has vowed to use armoured anti-riot trucks, equipped with water cannons, if student protestors at the Aungmyay Beikman Monastery in the Pegu Division town of Letpadan insist on pressing on with their march to Rangoon.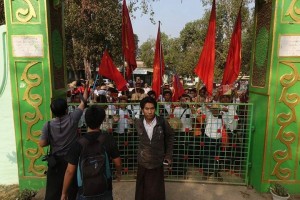 Police Lt-Col Thant Sin Oo, commander of the riot police unit deployed at the bridge on Meenin Creek that serves as the regional border between Rangoon and Pegu [also known as Bago], said, "To prevent the rioter column from entering Rangoon Division, we are going to use [anti-riot trucks] but only if we have the order to do so."
He said the security forces are being supervised by the Rangoon Division chief minister and the regional border and security affairs minister.
Kyaw Ko Ko, the central working committee chairman of the All Burma Federation of Student Unions, which has led the marchers to Letpadan from Mandalay, said, "We believe the authorities are preparing to unveil new weaponry never used before in Burmese history to crack down on and control the students.
"Some personnel of the 8th Riot Police Battalion were involved in the crackdown at the 2007 Saffron Revolution and they are now preparing to overpower us too," he added. "They have set up three barriers across the road and put up warning signs saying we will be shot if we pass a certain line. This means they are ignoring our demands."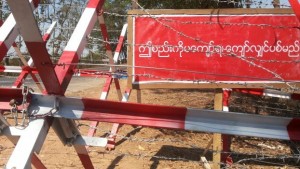 The several dozen activists – who have sheltered at the Aungmyay Beikman Monastery since 19 February, during which time parliament have been presented with a bill of amendments to the National Education Law – announced a plan to resume their march to Rangoon on Monday morning as seven police vehicles and two fire engines arrived and parked outside the compound.
The Ministry of Home Affairs on 28 February released a statement calling on the students to end their protest, claiming the government has done everything in its power to meet their demands and that the parliament is currently processing the bill according to official procedures.
READ MORE: Nationwide student protests – a chronology and map