Burma's opposition leader Aung San Suu Kyi promised that if elected, her National League for Democracy (NLD) party would prioritise the consolidation of a "solid" ceasefire agreement among armed groups involved in the country's ongoing civil war, and would stand by its promise to convene a 'Second Panglong Conference'.
Speaking at an NLD rally on Sunday in Hopone, southern Shan State, a town just 50 kilometres from Panglong [Pinlon], Suu Kyi said, "I am confident to say that if the National League for Democracy becomes government, we will prioritise the peace process and dialogue, and immediately work on it.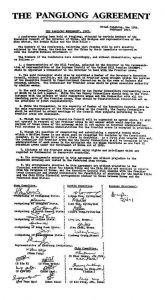 "The call for a Second Panglong Conference was first made by us when I was released from custody in 2010 – although the term 'Second Panglong' was not coined by the NLD … but by the Zomi National Congress," she told a crowd.
"[After discussions] the NLD accepted the responsibility of leading a campaign for this. We delightfully accepted the responsibility as an honour, but to date still have no authority to act on facilitating this.
"In order to enact a Second Panglong Conference we must bring about peace based on the true Panglong spirit, and we must have the power to act as a government. Therefore, the desire for peace plays a major factor in our participation in the [8 November] general election."
The original Panglong Conference was held in 1947, involving Suu Kyi's father, independence hero Aung San, who represented the central government, and leaders from the Shan, Kachin and Chin ethnic groups. A subsequent agreement pledged "Full autonomy in internal administration for the Frontier Areas", but was never implemented by the Rangoon government after it took power, leading to ethnic resentment and accusations of betrayal, and subsequently decades of civil war.
The current round of ceasefire talks involves up to 17 ethnic armed groups and the Burmese government; one of the major provisions on the table is the establishment of federalism across the country.
[related]
"There are ongoing talks aimed at bringing about a ceasefire and we want them to succeed," the NLD leader said on Sunday. "We would like to see a solid ceasefire agreement acceptable to all ethnic groups. This is the honest intention of our party. We wish a solid ceasefire agreement that looks to build unity among all ethnicities, but it must be a solid one. Otherwise it would be pointless to have an agreement that is signed today that breaks down the day after."
Before speaking in Hopone, Suu Kyi had also addressed a crowd of mostly ethnic people in the Shan town of Hsipaw the day before, as part of what the NLD is calling a "Voter Education Tour". The campaign period for Burma's November election is due to begin tomorrow, 8 September.
Read more on Burma's ceasefire negotiations