Aung San Suu Kyi voted for the first time as the opposition National League of Democracy (NLD) leader on Sunday morning, as Burma's landmark national election kicked off.
Today's poll is widely viewed as Burma's freest election since the junta loosened its grip in 2011, and could serve as a turning point in the country's ever-evolving transition to democracy.
At 8:50am, Suu Kyi, a pro-democracy icon who was placed under house arrest in 1989 for 15 of the following 21 years before being released in late 2010, arrived at Bahan Township's basic education primary school number 3. Her car entered the school's driveway into a scrum of journalists and supporters holding up their camera phones.
Security guards shielded her from the crowd as she made her way quickly to the polling room. Supporters started shouting, "Aung be! Aung be!" ("Win! Win!") in unison.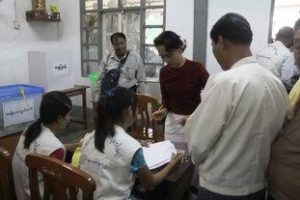 Dressed in red attire to signify her party's colours, the Nobel laureate dropped her ballot swiftly into a box, and was ushered back into her car. By 9:05am, she had left the premises.
The NLD – bolstered by Suu Kyi's popularity – is widely tipped to take the majority number of seats in Rangoon Region from the ruling Union and Solidarity Development Party (USDP) in parliament. While Suu Kyi is voting in Bahan, the township where she resides and was held under house arrest, she is contesting a constituency in Kawhmu Township, located outside of Rangoon. She drove there after voting.
Earlier in the day, before Suu Kyi arrived to predictable mayhem, voting was underway at Bahan Township's basic education primary school number 3. People stood in lines waiting patiently to cast their ballot and later held up their inked thumbs for reporters to confirm that they had, indeed, gone through the procedure.
Alexander Lambsdorff, chief observer of the European Union mission, had been at the polling station since it opened its doors at 6am, and said that so far, the voting procedure looks to be "rather reliable."
[related]
"It is not free of flaws or shortcomings, but we didn't expect that," he said. "However, some of the things that have been discussed before do not seem to pose a great problem at this point – the voters list for example. We have not seen problems with the identification of voters here in Yangon [Rangoon] but perhaps in the countryside, we will get a different kind of information."
Lin Lin, 72, said that this year's elections is different from the other years before – for starters, there is a real opposition party.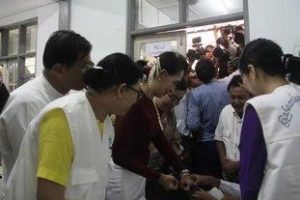 "It is our responsibility to vote to have a say in what happens in this country," she said, adding that she voted for the NLD because they are "more democratic."
"If it is a free and fair election, they will be able to get a victory. That would be for the best." Lin Lin said.
Thathun Aung, 66, said he is seeking "genuine change" for the country. The last time he voted was in 1990, when the NLD received more than 80 percent of the vote but was denied leadership in the government by the military. He worries about what comes next.
"Even if the opposition wins the majority vote [in this election], they have three months between the transfer of power," Thatun Aung said. "I'm worried about that period. Nobody knows what will happen."
Bertil Lintner, a prominent author on Burma's affairs, agreed, saying that while he expects today's polls to go well, the more interesting time will come after the election, depending on the results.
But no matter what happens today, he believes that the lead-up to 8 November was significant in itself.
"What is really historic about this is not actually the voting itself. It's the popular movement that this election has created. The fact that millions of people across the country are suddenly being politically engaged and going to meetings, discussing things openly, expressing desires for the first time," he said, while waiting for Suu Kyi's arrival.
"That popular movement, I think in the long run, will be more important than the election," Lintner said.
Read more of DVB's 2015 election coverage