FROM THE DVB NEWSROOM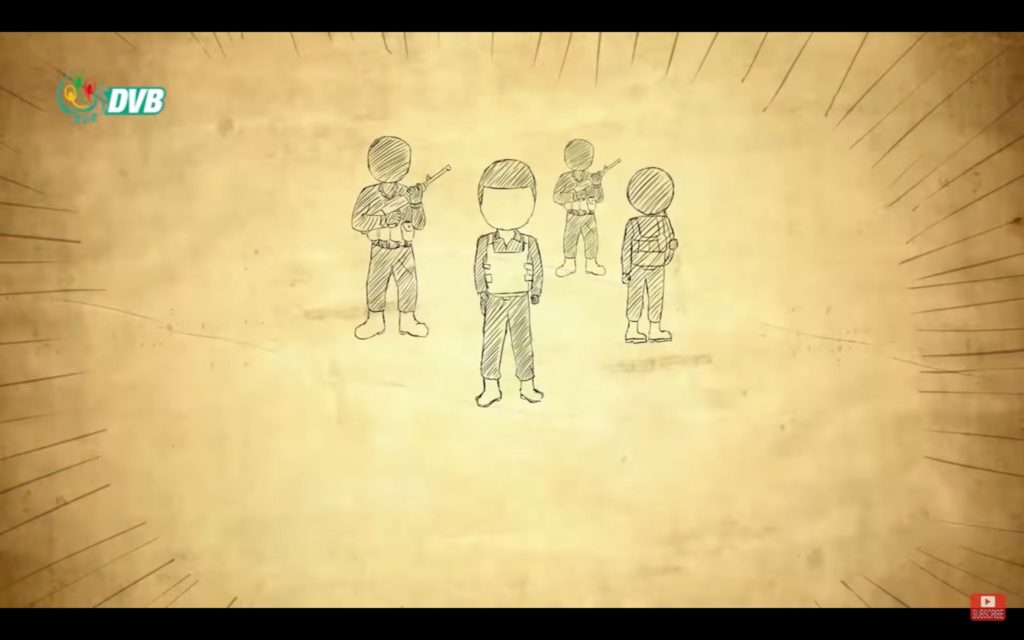 DVB Peace Doc: "The Downtrodden Life"
DVB Peace Documentary 2022 Finalist "The Downtrodden Life" depicts the lives of ordinary people in Burma and the extraordinary way they resist dictatorship every day. It tells the story of those dispossessed, arrested, shot at, and even killed for their opposition to the 2021 military coup.
Regime touts seizure of "illegal goods"
Regime Deputy Commander-in-Chief Soe Win announced on Jan. 18 that the amount of illegal goods seized in 2022 was nearly K65 billion ($30.9 million USD). The junta's Illegal Trade Eradication Steering Committee – led by Soe Win – claimed that the estimated value of illegal seizures in 2021 was K8.46 billion ($4 million USD). The increased rate of inspections and seizures led to arrests on trade routes, inspection gates, warehouses and buildings where illegal contraband was stored in 2022, the junta stated. Regime media reported that Soe Win warned junta officials not to take bribes or be involved in illegal activities.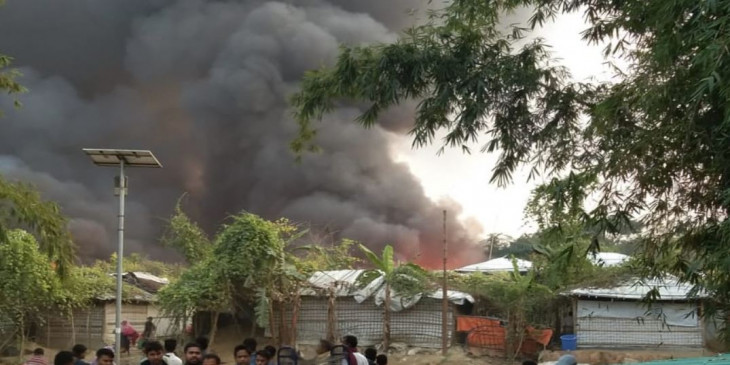 Rohingya armed groups clash on 'Zero Line' buffer zone between Burma and Bangladesh

Fighting broke out between two Rohingya armed groups along the Burma-Bangladesh border on Jan. 18. The clash forced those living in makeshift shelters in the "Zero Line" – a buffer zone on the border between Burma and Bangladesh – to seek safety. "An allied force of the Bangladesh government's Rapid Action Battalion (RAB) and the Rohingya Solidarity Organization (RSO) attacked Arakan Rohingya Salvation Army (ARSA) troops. Read more here.
News by Region
RAKHINE—Burma's coup leader Min Aung Hlaing and Thailand's army chief Chalermpol Srisawat met in Ngapali near Thandwe town on Jan. 19, Thai media reported. A Thai military delegation is attending the 8th Thai-Burma bilateral military high committee meeting until January 21. Neither the junta nor the Thai embassy in Burma have released any official statement regarding the visit. A local spoke to Rakhine-based news outlet Narinjara: "They come with full security, police, traffic police, and military personnel. There are not only Burmese soldiers but also Thai military officers guarding near the hotel." Thailand has been criticized for meeting with junta officials.
SAGAING—At least seven were killed and 30 were injured by an airstrike in Moe Tar Lay village, Katha Township on Jan. 18. A donation ceremony was being held when the airstrike occurred. It was carried out by the air force based in Myitkyina, according to locals. "Three fighter jets dropped bombs at around 6 p.m. Seven people were killed instantly and some of the injured are in critical condition," a local said on the condition of anonymity. Fighting between local resistance forces and the Burma Army has been ongoing since Jan. 17.
As a warning against the junta's planned elections, a local group claimed that it torched the office of the Tamu Township Election Commission on Jan. 19. The group stated that it would not accept a "fake" election. "No one was harmed as we set fire to an office that stored documents. We believe in the results of the 2020 general elections and will not accept anything after the coup," a spokesperson said.
TANINTHARYI—Eight bodies were discovered between Ywar Hae Lu and Nammatu villages in Bokpyin Township on Jan. 14. Locals stated that the eight men were murdered at a meeting a few days ago. "I don't know exactly which groups did this, but we assumed that this might be connected with human trafficking," said a local, on the condition of anonymity. A source close to one of the victims said that the eight men were not military informants.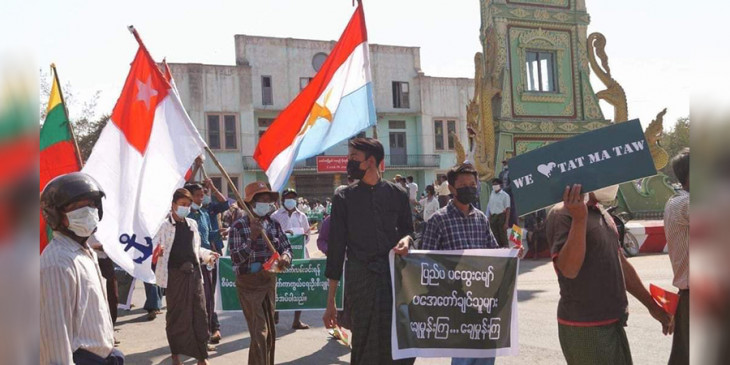 YANGON—Organizers of planned pro-regime rallies to mark the two year anniversary of the military coup on Feb. 1 are receiving payment by junta officials, according to locals. A source – who spoke on the condition of anonymity – said the junta is planning to conduct a large rally in Maha Bandula Park in Yangon to mark the occasion two years ago when the military staged its coup. "Forces from the Ministry of Security and Border Affairs will manage the security for the rally. The daily allowance [to attend the rallies] is significantly higher than previous protests. It was K5,000 ($2.38 USD) to 10,000 ($4.75 USD) in past protests, but now it has increased to K20,000 ($9.50 USD)," the source explained. "The protest might include the Union Solidarity and Development Party (USDP), Ma Ba Tha, and other junta supporters. The rest of the attendees might be paid protesters," said a Yangon resident on the condition of anonymity.
The junta is reportedly planning to organize rallies in other towns and cities. "The junta has ordered state or regional commanders to hold rallies across the country. The budget has allocated money to spend on this. A pro-military supporter has received about K20 million ($9,5000 USD) to spend to organize people. The protests will be mandatory to attend with a lot of local forces," said a retired soldier. Since the 2021 coup, the junta has organized support rallies in Yangon, Mandalay and Naypyitaw.