FROM THE DVB NEWSROOM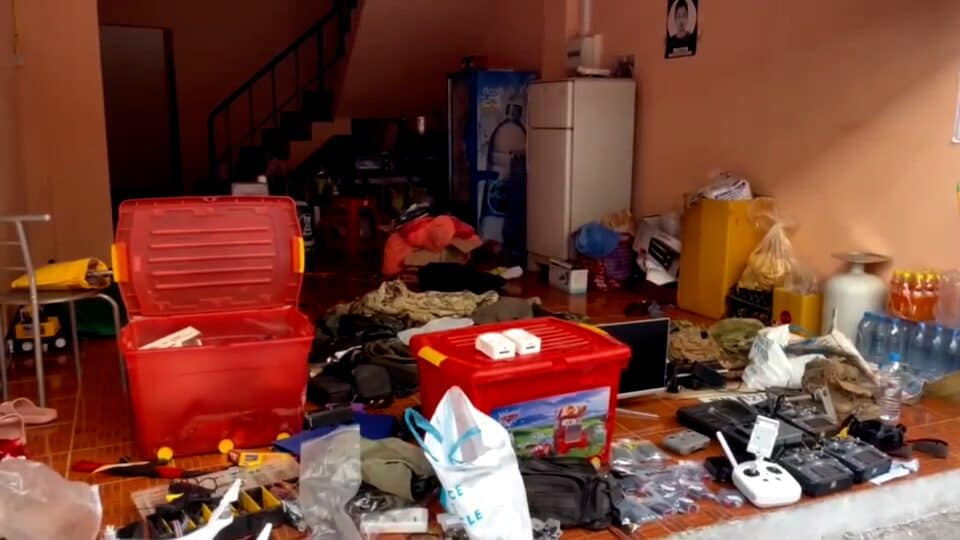 Thais arrest 83 in Mae Sot raid on housing complex
Thai authorities raided 40 four-story buildings and arrested 83 undocumented Burma nationals in Mae Sot, Thailand on March 22, the Bangkok Post reported. The buildings were recently renovated to house 200 Burmese who were receiving assistance from international organizations. Members of the anti-regime resistance from Burma, including the People's Defense Forces (PDF), were living among them. Military hardware and medical supplies were seized during the raid.
Regime resumes its 'peace talks' in Naypyidaw
Peace talks resumed with the United Wa State Army (UWSA), National Democratic Alliance Army (NDAA), and Shan State Progress Party (SSPP/SAA) in Naypyidaw on March 22-23, regime media reported. The regime planned elections and amendments to the 2008 constitution were discussed with the three Shan State Ethnic Armed Organizations (EAO).
Unregistered political parties to face dissolution on March 28
The National Democratic Force Party (NDF), Inn National League Party, and the Kokang Democracy and Unity Party have registered under the new Political Parties Registration Law. The Union Election Commission (UEC) states that 38 parties have re-registered to compete in the regime planned elections. There are nine parties that will field candidates nationwide and 29 parties in a region or state. The UEC announced that political parties that don't re-register by March 28 will face dissolution.
News by Region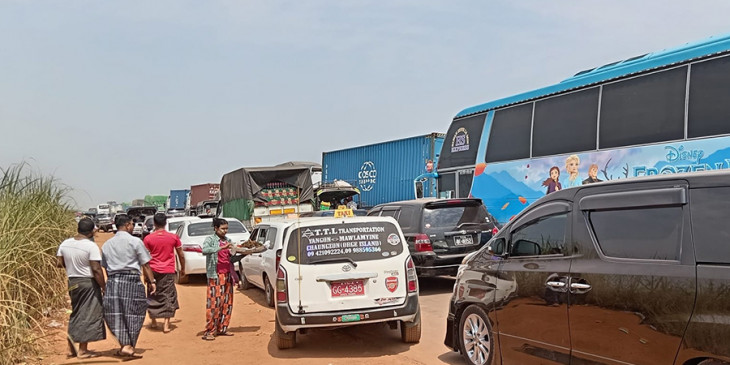 BAGO—Hundreds of vehicles have been stuck in traffic at the Nyaung Kha Shay checkpoint gate in Waw Township since March 20. New X-ray machines were installed to inspect all vehicles, causing gridlock on the road. Motorists said the trip from Yangon to Mawlamyine by car took four hours but now it takes 1-2 days.
KAREN—Aid workers assisting HIV/AIDS patients said that they are unable to obtain antiretroviral therapy (ART) in Kyainseikkyi Township. If an HIV/AIDS patient fails to take ART, they may experience additional symptoms including weight loss, diarrhea, sickness, skin sores and pneumonia, according to medical experts. The number of displaced persons who have HIV/AIDS and are taking ART is unknown. In 2021, UNAIDS estimated there were 270,000 patients suffering from HIV in Burma with 190,000 taking ART.
MANDALAY—A police officer was killed and another injured after a bomb exploded in the Amarapura District Court on March 22. "I don't know how it occurred," a source close to the court told DVB. No group has claimed responsibility.
Locals claim the Burma Army beheaded, burned and dumped a man's body in Kyaukse Lay village, Madaya Township on March 23. "They entered our village. They saw four PDF members eating at a shop and fought them. The four PDF members escaped, but they arrested four men including the victim. Later, we found the headless burned body in the farm," a local said.
MON—A man was killed when he stepped on a landmine in a forest near Kyaiktiyo hill in Kyaikto Township, according to local sources. His body was discovered on March 22. It is unknown which group is responsible for planting the landmine. The Karen National Liberation Army (KNLA), People's Defense Force (PDF), and the Burma Army all maintain a presence in the area.
SAGAING—The wife and daughter of Win Aung, an ousted local member of parliament, were sentenced to three years each in Shwebo Prison for incitement in Khin-U Township on March 21. They were arrested on Feb. 24 after regime forces were unable to locate and arrest Win Aung, who reportedly fled to a liberated area following the 2021 military coup. He is a member of the National League for Democracy (NLD) party.
YANGON—Petrol stations in suburban areas of Yangon are facing fuel shortages and have suspended sales at some locations. "They said there is no more left for sale," a truck driver complained. The regime stated that it would take action against petrol stations that do not sell fuel to drivers.
Factories and workshops have been asked to pay K2 million ($952.53 USD) per ward to cover the expense of the upcoming Thingyan celebrations. "If there are four factories in the ward, they need to share the costs to pay K2 million. If there are only one or two factories in some wards, administrators made up a reason to collect K2 million and asked for donations from locals," said a factory worker in Insein Township.
Nobody was injured in a bomb blast at the Kyeemyindaing Township Court on March 23. "It detonated near the garbage dump outside the court," a local told DVB. On the same day, another explosive was reportedly detonated in front of a maritime police office in Botahtaung Township, near downtown Yangon.