The UN's special rapporteur on human rights, Tomás Ojea Quintana, was met by a mob of protestors on Monday night as he arrived in Meikhtila, the central Burmese town that was the centre of deadly violence between Buddhists and Muslims in March.
Travelling from Shan state, the UN envoy arrived in the Mandalay division town around 10 pm where a group of around 100 residents had gathered to intercept him and present him with an open letter criticizing the UN's stance on Burma's Muslim issue.
"We protested on the bridge in the centre of the town," said Htein Min Khaing of the 88 Generation Students group. "After he met with local authorities we tried to pass an open letter to him, but he refused it. So, we blocked his path. Finally he accepted the letter."
The 88 Generation Students representative said that the open letter centred on two main points: that they "completely refuted" a report by the UN's Special Rapporteur relating to the human rights situation in Burma; and that they also refused to accept a proposal by UN Secretary-General Ban Ki-moon urging the Burmese government to offer citizenship to members of the Rohingya community.
Htein Min Khaing said the group refused to negotiate on the matter of the 1982 Citizenship Law and maintained that the Rohingya were not and never have been one of the 135 ethnic groups of Burma. He said the group denounced Ban Ki-moon for sending a "biased" Quintana to report on the issue.
[related]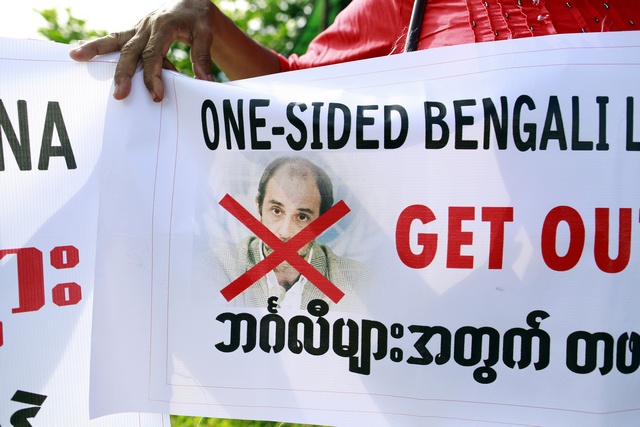 Due to his late arrival time in Meikhtila, Quintana was unable to proceed to temporary refugee camps where victims of May's communal violence—mostly Muslims, though not members of the Rohingya community—are currently sheltering.
Quintana is no stranger to demonstrations on this trip. During his visit to Arakan state, Buddhist demonstrators chanted and held banners accusing the UN envoy of backing the region's Muslim population.
The UN envoy ends his mission on Wednesday and is scheduled to hold a press conference at Rangoon International Airport to present his preliminary observations; his full report is due to be presented to the UN General Assembly on 24 October, according to a United Nations press release.