FROM THE DVB NEWSROOM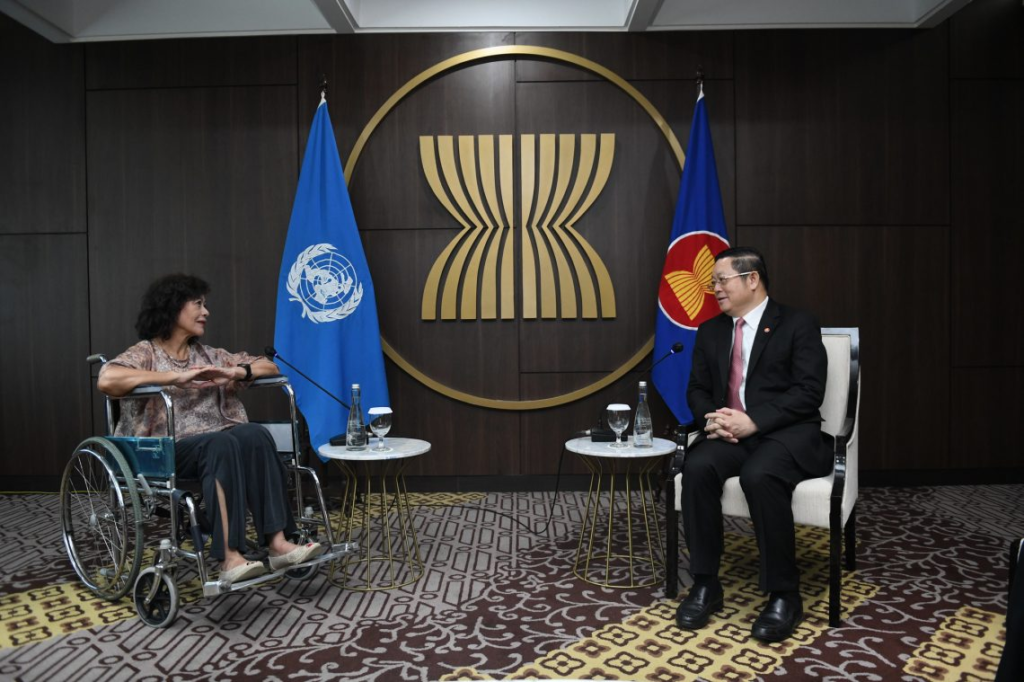 UN Special Envoy to Burma meets ASEAN Secretary-General
The U.N. Special Envoy on Burma Noeleen Heyzer met with the Association of Southeast Asian Nations (ASEAN) Secretary-General Kao Kim Hourn in Jakarta, Indonesia on April 6. The two discussed the efforts of the U.N. and ASEAN to implement its Five-Point Consensus to stop violence in Burma. Indonesia is the 2023 Chair of ASEAN. Noeleen Heyzer and Kao Kim Hourn also discussed the ASEAN Special Envoy to Burma and efforts to deliver humanitarian assistance.
Number of internally displaced reaches 1.8 million
The UNOCHA (UN Office for the Coordination of Humanitarian Affairs) states that the number of displaced persons across Burma has nearly reached 1.8 million. More than 1.4 million of them have been displaced since the 2021 military coup.
More Rohingya detained in Thailand
A total of 89 Rohingya from Burma were arrested in Thailand on April 5, Manager Online reported. Thai authorities discovered 30 Rohingya packed inside a truck's container. Another 59 Rohingya were found suffering from heat exhaustion and had not eaten for two days in Chumphon province. They paid 30,000 Thai Baht ($880.06 USD) each to travel from Kanchanaburi province, near the Thai-Burma border, to Songkhla province, near the Thai-Malaysia border. The Rohingya told Thai authorities that they escaped from internment camps in Rakhine State, paying over K2 million ($951.84 USD) each to brokers to travel from Burma to Malaysia.
Tax hikes on alcohol and tobacco imports
Businesses have criticized the new taxes on the importation of alcohol and tobacco. The regime enacted the 2023 Union Tax Law on March 30, which states that alcohol with a price of K19,851 ($9.45 USD) per liter or more will be subject to a 60 percent tax, while cigars and betel nuts will be subject to an 80 percent tax. Businesses believe the tax is designed to promote regime-produced goods. "If you buy K30,000 worth of foreign alcohol, you have to pay 60 percent [tax], so the cost rises by K18,000," a retailer told DVB.
News by Region
BAGO—A Muslim cemetery was bulldozed in Natalin town on April 4. "Around 100 people including administrators, police officers, municipal staff and people in civilian clothes entered the cemetery. They bulldozed tombs, religious monuments and cut down big trees with chainsaws without informing anyone," said a resident who lives near the cemetery. The cemetery has been closed down since 1992-93. Last year, the regime ordered the demolition of the cemetery to build a hospital, but the Muslim community negotiated to purchase new land for the hospital.
A former Burma Army captain sold the home belonging to National League for Democracy (NLD) Shwegyin MP Hla Hla Win's family in Shwegyin town on April 3, according to locals. It was sold for K12 million ($5,711 USD). Hla Hla Win has been in hiding since the coup. "They first sneaked into my son's house and took away the refrigerator, TV, washing machine, and household furniture, and then sold the house," she told DVB. The home was sealed off by the regime in November 2022.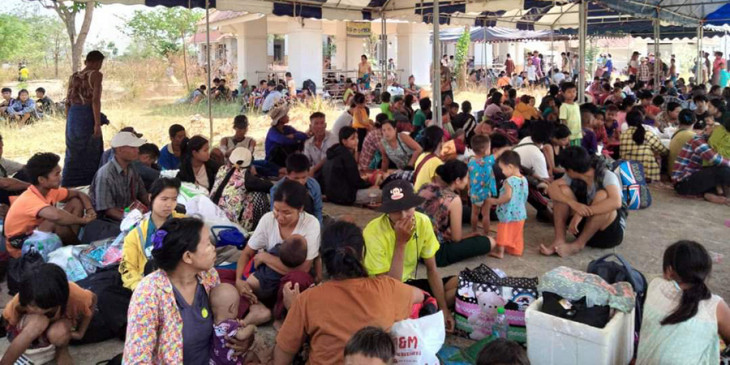 KAREN—Thai authorities state that 6,000 people have fled into Thailand since fighting broke out on April 4 in Shwe Kokko Myaing of Myawaddy Township. Two resistance forces were killed and 10 were injured, the Karen National Liberation Army (KNLA) stated. It claimed that 30 Burma Army and Border Guard Force (BGF) troops were killed.
KACHIN—The Myitkyina Prison Court held a hearing for Hkalam Samson on April 4. A verdict will be delivered by the court in the next hearing, Samson's lawyer Daung Lan told DVB. Samson has been facing charges under the Counter-Terrorism Law, Unlawful Associations Act, and for incitement. Samson was detained at Myitkyina Airport in December 2022, after being forced to return from Mandalay where he was scheduled to fly to Thailand for a medical appointment.
Thirty miners were arrested by the Burma Army during a raid on a jade mining site in Hpakant Township on April 3. Twenty backhoes were seized in the raid on the site owned by the Sein Sein Jade Mining Company. "The main thing is that they want to extort money from miners and companies," a local miner told DVB. The Burma Army wants K20 million ($9,518.40 USD) to be paid by the mining company.
MANDALAY—City officials cut down 200 royal poinciana trees on Aung San Suu Kyi Street from April 1-6, according to locals. The trees grow red flowers, the color of the ousted leader's NLD party. Aung San Suu Kyi Street was opened by the ousted Mandalay Chief Minister Zaw Myint Maung and Mayor Ye Lwin during the NLD administration.
SAGAING—Two members of a group called the Myanmar Royal Dragon Army (MRDA) were killed in Pale Township on April 6, Myanmar Pressphoto Agency (MPA) reported. A shootout broke between the MRDA and the Burma Army. Two MRDA members were killed and one was arrested. "We collected a body with bruises and gunshot wounds. Another body was already burned and unable to identify," said an MRDA spokesperson. A mother and son were injured during the shootout. They are receiving medical treatment at the hospital.
Last week, Aung San Suu Kyi's National League for Democracy (NLD) party was dissolved by the military. Watch it on DVB English News on-demand via Facebook, Twitter, YouTube, Instagram, TikTok & Substack.