FROM THE DVB NEWSROOM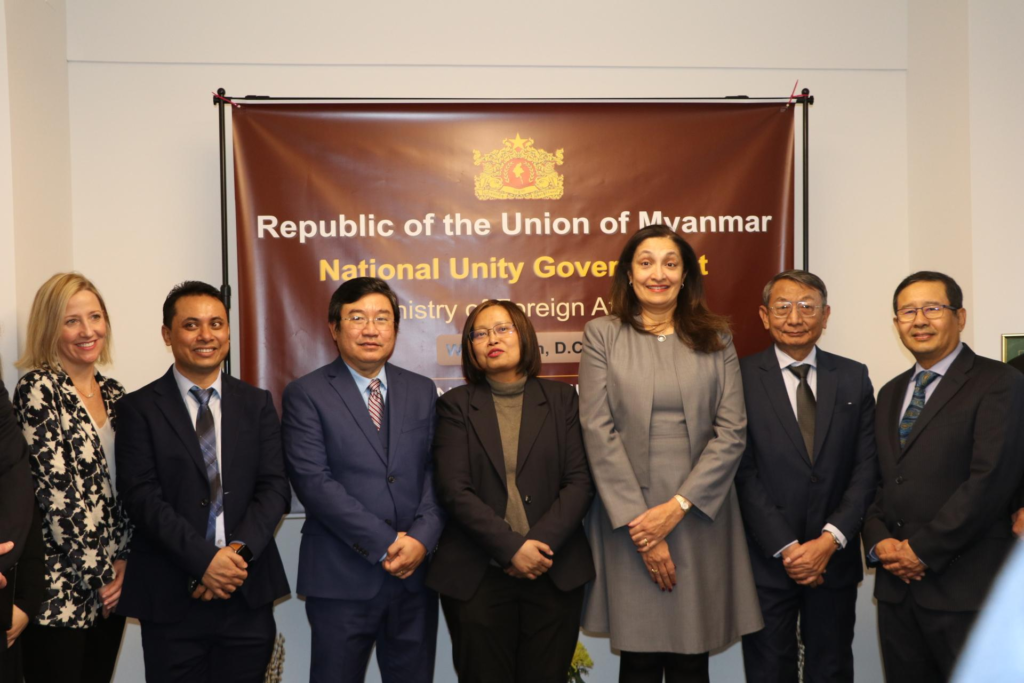 US official attends opening of an NUG office in Washington D.C.
The U.S. State Department Under Secretary for Civilian Security, Democracy and Human Rights, Uzra Zeya, said the U.S. government will stand as a partner of the National Unity Government (NUG). She attended the opening ceremony of the NUG Department of Foreign Affairs office in Washington D.C. on Feb. 13. The NUG's Minister of Foreign Affairs, Zin Mar Aung, Vice-Minister Moe Zaw Oo, and Burma's Permanent Representative to the UN, Kyaw Moe Tun, were in attendance. Several other NUG officials and democracy activists from Burma attended the ceremony.
NUG Ministry of Education accredits 14 online schools
The NUG announced that it had recognized 14 interim online basic education public schools which follow the information, security, and policy guidelines of its Ministry of Education. It said it will allow online schools that are currently under review to operate and also issue certifications to public education schools. The NUG opened Myanmar Nway-Oo University in October 2022 which offers higher education to students from Burma.
Military court sentences activist to life imprisonment
A military court sentenced Hein Htet (aka Po Po Ko), a student activist in North Okkalapa Students Union to life imprisonment on Feb. 9. According to All Burma Federation of Student Unions (ABFSU), he was charged for incitement and under the Counter-Terrorism Law. North Okkalapa Township is one of the townships in Yangon that the junta has imposed martial law in since the coup.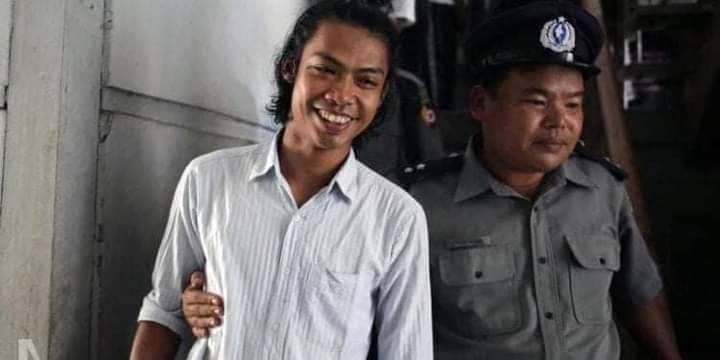 Junta court sentences prominent student activist to more years in prison
The Botahtaung Township prison court sentenced Ko James (aka Lin Htet Naing) to an additional five years in prison under the Counter-Terrorism Law on Feb. 13. Ko James, an anti-regime activist and former vice-chair of All Burma Federation of Student Unions (ABFSU), has been sentenced to a total of eight years in prison. He was arrested by regime forces in June 2022. His mother was killed during a visit to Insein Prison on Oct. 19, 2022. The Insein court sentenced him to his first three years in prison under incitement charges on Dec. 7, 2022.
Burmese in Thailand demand better treatment for refugees
Burma nationals continued a protest demanding for the rights of refugees who fled Burma to Thailand in front of the United Nations High Commissioner for Refugees (UNHCR) office in Mae Sot on Feb. 14. The protest began on Feb. 13. Burma nationals held a demonstration in front of a prison and the chief district officer's house in Mae Sot on Feb. 6.
News by Region
BAGO—Three civilians were killed and nine others were injured in a blast that occurred in Nyaung Lay Pin train station on Feb. 13. A bomb detonated on the platform while passengers were waiting for the train. "We sent two vehicles from our team after receiving the call. Twelve civilians were injured at that time and two of them bled to death. One died on the way to hospital. Another three civilians were in critical condition and are now in Bago hospital. The rest are in Nyaung Lay Pin hospital," a rescue team worker said. Three victims were from Taung Twin Gyi town and commuted by train to work in Nyaung Lay Pin. No group has yet claimed responsibility for the attack.
KAREN—The Karen National Union (KNU) announced that at least 30,000 students have been unable to attend school as over 100 schools in Kler Lwee Htoo district, KNU territory, have been shut down since the 2021 coup. Children displaced from their homes due to the conflict between the KNU and the Burma Army held a Children's Day ceremony in Kler Lwee Htoo district on Feb. 13. The KNU stated that this year's Children's Day event raised awareness about the violation of children's rights in Burma.
NAYPYIDAW—The New Mon State Party (NMSP) and the junta's National Solidarity and Peace-making Negotiate Committee (NSPNC) discussed amending the 2008 Constitution and the peace process in Naypyidaw on Feb. 13 and 14. A delegation led by Lt. Gen Yar Pyae – chairperson of NSPNC – and the vice-chair of the NMSP held talks during the first day of the meeting. Previously, the NMSP told DVB that it has been attending the junta's "peace talks" to 'solve political problems in political ways.' However, Mon activists criticized the meetings and said the NMSP was avoiding conflict with the junta for its self-interests. The NMSP signed the Nationwide Ceasefire Agreement (NCA) in 2018 and this is the fourth time that it has attended peace talks with the junta in Naypyidaw.
Locals have been paid K100,000 ($47.86 USD) to attend military training in Naypyidaw. According to locals, the military proxy party Union Solidarity and Development Party (USDP) is the main sponsor of the training. "They also said that they would provide a salary in the future. I heard that some people in villages have registered to attend," a local told DVB. There have been reports of pro-regime forces providing basic military training across Burma. The junta recently made guns more accessible to its supporters.
SAGAING— A resistance group in Kalay town claimed that it shot and killed an ex-captain from the Kalay Regional Military Command also serving as an assistant director of the Ministry of Natural Resources and Environment. "One of our watermelons [military personnel that covertly work with resistance groups] in the military informed us about him long ago. We investigated and eliminated him once the time was right. His wife was also at the scene but we let her go and seized the vehicle and the weapons," a spokesperson of the resistance group said.
The Burmese-Australian community hosted a fundraising concert tour by singer Chan Chan. All proceeds went to support the Spring Revolution, and to assist displaced people (IDPs) in Burma. DVB English is on-demand via Facebook, Twitter, Instagram, TikTok, YouTube & Substack.
DVB is seeking a digital marketing specialist. If interested, apply here.