FROM THE DVB NEWSROOM
UWSA and NDAA declare neutrality in northern Shan State
Both the United Wa State Army (UWSA) and the National Democratic Alliance Army (NDAA) issued statements declaring neutrality in the ongoing clashes in northern Shan State on Nov. 1. The UWSA warned that it would retaliate if its airspace and land were invaded. The NDAA expressed its sorrow for the loss of civilian lives, property, and the displacement of people due to the fighting.
Both Ethnic Armed Organizations (EAOs) claim to prioritize humanitarian aid and the stability of the China-Burma border. Shwe Phee Myay News Agency reported that the UWSA intends to stop the fighting in northern Shan State. It has also pledged to offer humanitarian and resettlement assistance to Internally Displaced Persons (IDPs) seeking refuge in Wa State.
Approximately 5,000 IDPs had fled into UWSA territory since the Brotherhood Alliance launched its 'Operation 1027' on Oct. 27. Both the UWSA and the NDAA have long standing ties with the Myanmar National Democratic Alliance Army (MNDAA), the Arakan Army (AA), and Ta'ang National Liberation Army (TNLA).
Military commanders accused of violations
Fifty-one out of 79 senior Burma Army commanders have had accusations of disappearances, killings, rapes, and torture against units under their command since 2011, states Security Force Monitor (SFM) – a Columbia Law School Human Rights Institute project seeking to hold the military accountable for its crimes.
"There is huge evidence that human rights abuses are being perpetrated in Myanmar on a vast scale, yet proving individual responsibility for war crimes is fiendishly complicated," said Tony Wilson, the SFM founder and director.
Twenty-eight out of 51 of the commanders received promotions after the alleged human rights violations occurred. Three others may be promoted in the future, adds SFM. It based its conclusions on newspaper reporting, regime media, and human rights organizations research.
Burma nationals arrested for murder of Manipur officer
Thirty-two Burma nationals were arrested by Indian security forces in Moreh, Manipur State on Oct. 31. The Hindustan Times reported that 44 ethnic Kuki were arrested after a sub-divisional police commander was killed by a sniper.
Three police commandos were reportedly injured after coming under fire as they rushed to Moreh in response to the commander's killing. Manipur Chief Minister N Biren Singh blamed the murder on Kuki insurgents.
Over 200 people have been killed in Manipur State since May in violence between the minority Kuki and majority Meitei communities. Kuki have ethnic ties with Chin people of Burma. Manipur officials have repeatedly blamed Burma nationals for stoking communal violence.
News by Region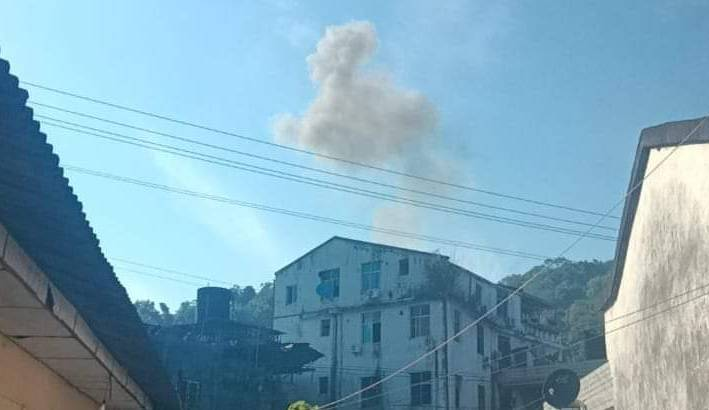 KACHIN—Hundreds of Laiza residents have been displaced from their homes following airstrikes on the town since the Kachin Independence Army (KIA/KIO) seized the Gundauyang hilltop military outpost on Oct. 31.
"A fighter jet flew down and dropped bombs on Nov. 1," said a Laiza resident. The military has carried out at least five airstrikes on Alanbwam mountain, near Laiza, from Oct. 31 to Nov. 1, according to the KIA/KIO. The number of casualties is unknown.
ARAKAN—The Sittwe City Police Station filed charges against Htet Aung, a Development Media Group (DMG) reporter under Section 65 of the Telecommunications Law, on Oct. 31. His mother has not been allowed to visit him since he was arrested in Sittwe on Oct. 29 while taking photos of the Thadingyut festival.
"Now we are talking with lawyers and we will do our best," said Zaw Zaw, an editor at DMG. The military has revoked the licenses of more than ten news outlets, including DVB. Four journalists have been killed and over 140 journalists have been arrested since the 2021 coup.
SAGAING—A woman was killed and six people were injured by artillery in Depayin Township on Nov. 1. "My wife was killed by the artillery when she visited her sister. My five-year-old nephew and his mother were seriously injured. My home was destroyed by the artillery shell," said a Depayin resident.
SHAN—Kutkai Township residents are facing a shortage of basic food items due to the fighting. "The cost of every good has skyrocketed as rich people rushed to buy and hoard them. It makes us suffer because we cannot afford to buy like that and some stores even told us there is nothing left to sell," said a Kutkai resident.
A bag of rice increased from K100,000 to over K150,000 on Oct. 31. Residents of Lashio and Laukkai are also suffering from rising food prices due to transportation bans into northern Shan. The Burma Army has had security checkpoints set up around Lashio since Nov. 1.
TANINTHARYI—Methamphetamine worth more than K100 billion was seized near Kawthaung on Oct. 30, regime media reported. The Burma Navy intercepted a ship bound for Malaysia. Regime media added that 2,600 kg of concealed methamphetamine was found inside the vessel.
(Unofficial rate: $1 USD = K3,260, Official rate: $1 USD = K2,100)
Read our latest: Israel-Palestine: Through a pair of critical Burmese eyes, an op-ed by Maung Zarni.