FROM THE DVB NEWSROOM
Min Aung Hlaing said that the military will conduct counter attacks against anti-coup resistance forces in northern Shan State on Nov. 3. "There have been things that we have done to build trust between ethnic groups. We have been patient and understanding, but we cannot be patient any more. We will retaliate," exclaimed Min Aung Hlaing, during a meeting in Naypyidaw.
These comments come one week after the Brotherhood Alliance launched its offensive "Operation 1027" in northern Shan State with its anti-coup allies on Oct. 27. The Myanmar National Democratic Alliance Army (MNDAA), the Ta'ang National Liberation Army (TNLA), and the Arakan Army (AA) are the three armed ethnic groups that officially make up the Brotherhood Alliance.
The military issued a similar warning to the Kachin Independence Army (KIA/KIO) on Nov. 1 after it seized a hilltop Burma Army outpost, located on the Myitkyina-Bhamo highway, in Kachin State on Oct. 31. To retaliate, the military carried out airstrikes on Laiza, the KIA/KIO headquarters over the next two days.
The Brotherhood Alliance claims it has seized over 90 Burma Army outposts with more than 100 troops either surrendering or defecting to anti-coup forces since "Operation 1027" began. It stated that it has seized four towns, including Chinshwehaw, which is located on the China-Burma border. Regime spokesperson Zaw Min Tun admitted that the Burma Army had lost control over Chinshwehaw on Nov. 1. The town is a vital source of trade with China.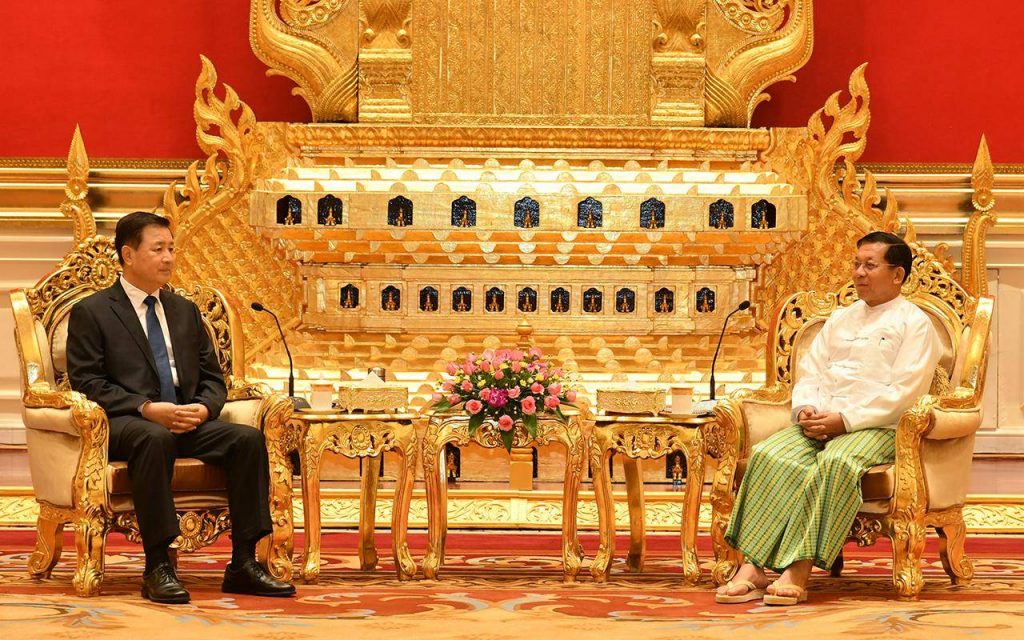 Beijing has made repeated calls for an immediate ceasefire in northern Shan State. An artillery shell fired from Muse landed inside China on Oct. 27 and hundreds of refugees have reportedly crossed the border into Yunnan Province to escape the fighting, stated the U.N. Office for the Coordination of Humanitarian Affairs (UNOCHA).
Min Aung Hlaing met with Chinese officials in Naypyidaw to discuss the conflict in northern Shan State on Oct. 31 – before he vowed to retaliate. Nearly 23,000 civilians living in northern Shan State have been displaced from their homes since Oct. 26, added UNOCHA. U.N. statistics calculated 14,470 Internally Displaced Persons (IDPs) in northern Shan State prior to Oct. 26.