FROM THE DVB NEWSROOM
World Day of Migrants and Refugees in Thailand
The World Day of Migrants and Refugees was held for the first time in Mae Sot, Thailand on Sept. 24. The event was organized by the Migrant Rights Promotion Working Group (MRPWG), a network supporting migrant workers from Burma in Thailand.
"This is a kind of encouragement to those who become migrant workers, whether they are fleeing the fighting or fleeing to this side for various reasons," said Phoe Thagyan, the secretary of the Overseas Irrawaddy Association. Migrant workers and refugees shared their stories of life in Mae Sot with Thai officials in attendance.
Conditions worse for Rohingya in Bangladesh
Rohingya refugees in Bangladesh say that conditions in the refugee camps are worse than in Burma, states the Youth Congress Rohingya (YCR). Rohingya face movement restrictions, extortion from police, and violence from armed groups and Bangladesh authorities. They are prohibited from owning smartphones or laptops, according to its report.
"I think the [Bangladesh] government has imposed these restrictions and violence to make our life so miserable that we return to our country the same way we fled here," said Safika, a Rohingya woman living at a refugee camp in Cox's Bazar.
US provides additional humanitarian aid
The U.S. State Department announced that it will provide $116 million USD in additional humanitarian aid to support vulnerable communities in Burma, Bangladesh, and the region. More than $74 million USD will go to Rohingya refugees in Bangladesh and their host communities.
The U.S. has provided $2.2 billion USD in humanitarian assistance to Burma and Bangladesh since August 2017. Over 700,000 Rohingya fled to Bangladesh after the Burma Army launched a 2017 military operation labeled as genocide by the U.S. in 2022.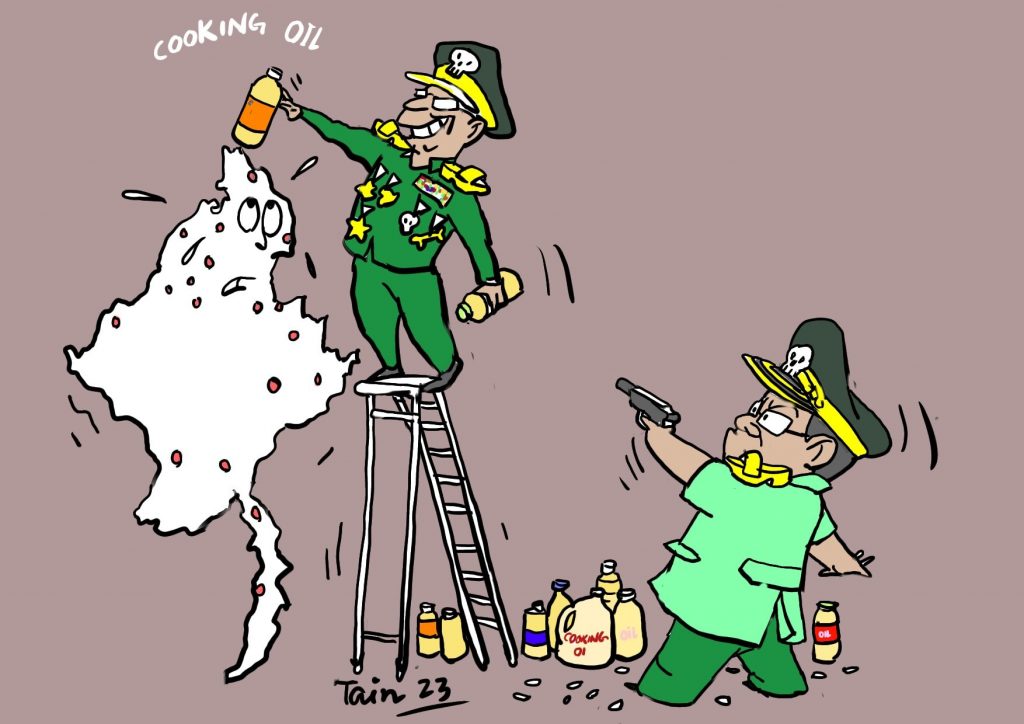 News by Region
ARAKAN—Seven people have been arrested and sentenced over the last two weeks for incitement, violations of the Arms Act, and Unlawful Associations Act.
Six were sentenced to two years in prison each, while the other received a seven-year prison sentence, Development Media Group (DMG) reported. Sixty-one people arrested for alleged ties to the AA were reportedly released as part of an amnesty in August. More than 120 people are being prosecuted in courts for similar cases in the state.
MANDALAY—A five-year-old boy was killed and his father was injured in a village of Mogok Township on Sept. 20, the Shan Herald Agency for News (SHAN) reported. Fighting between the Burma Army and the joint forces of the People's Defense Force (PDF) and the Ta'ang National Liberation Army (TNLA) has continued. The victim was reportedly hit by artillery.
'The road in Mogok was blocked by the Burma Army, so we had to go to Kyaemae hospital. The child succumbed to bleeding during the journey," a Mogok resident who helped transport the victim told SHAN.
MON—A tactical office of the Karen National Union (KNU) Brigade 1 in Bilin Township was damaged in an airstrike by the Burma Army on Sept. 22. No casualties were reported. Fighting between resistance forces and the Burma Army has taken place in Kyaikhto, Bilin and Thaton Townships.
YANGON—Private schools in Yangon have been ordered to teach students that the National Unity Government (NUG) and People's Defense Force (PDF) are terrorist groups. They have also received instructions not to hire teachers who've participated in the Civil Disobedience Movement (CDM) or face possible closure.
"Yangon Region Education Office called a meeting with the private school owners and told us what to do. They also told us they will question students during inspections," said a private school owner in Mingaladon Township. Government-run schools were not included in the order.