On a rainy September afternoon, hundreds of Burmese, mostly women and children, were jostling each other to get into a gated compound of a two-storey modern house in a Rangoon suburb.
Campaigning for Burma's elections had started the day before, but this was not a political rally. These people, drenched in sweat and rain, had little interest in conventional politics – they were looking for supernatural blessings from a spirit.
Inside the house was a startlingly realistic, life-size wax model of an elderly Burmese man sitting cross-legged on an altar, before which everyone was trying to bow down to seek its blessings.
Outside, on the makeshift stage festooned with flags and balloons, a woman, dressed in a blue blouse and htamein embroidered with gold sequins, danced to the melodies played by a traditional Burmese musical troupe.
"May rains of gems and money fall. May the omens bode well for success of our country," the woman cried, her voice blaring out from loudspeakers.
The popular event was to mark of the 63rd anniversary of what believers say was the transmigration of Burmese spiritual leader Bo Min Khaung to a "deathless" higher spiritual state on the demise of his earthly body. The believers claim he appears in different guises to help them when they are in straitened circumstances.
"When I was in distress at work, he has helped me in many ways," Poe Poe, a 26-year woman in the crowd, said through emotional tears. "He proved his presence to me. It's indescribable."
To join the event, she had made her way back to her homeland from Penang in Malaysia where she had been working at a factory. Poe Poe said that the spirits can deliver better guidance for her future than any political party.
"I observed Sabbath and counted beads as I was instructed to by the grandfather. That gave results," she said, referring to the revered Bo Min Khaung. "Politics are something I don't understand."
The tradition of spirit worship runs deep in Burma, now officially known as Myanmar. Its popularity has not been dented by the country opening up to the outside world since 2011, when a semi-civilian government came to power, enacting limited reforms after half a century of military rule.
Parliamentary elections scheduled for 8 November, the first to be contested by all main opposition parties, mark a crucial next step in the impoverished nation's stuttering transition. But many potential voters prefer to invest their hopes for the future in the realms of mysticism than the arena of politics.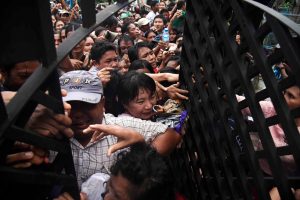 Superstition 
Although the majority of people in Burma profess to follow Buddhism, a pantheon of spirits that have been worshipped for centuries occupy shrines in many households, with people mingling spirit worship with Buddhist practices.
They regularly hold festivals to seek the blessings of the spirits, better known as nats, sometimes breaking the limits of their finances in their spiritual quest.
Dressed in maroon robes and a turban of the same colour, a middle-aged Buddhist nun officiating as the medium at this spirit event was showered by worshippers with stacks of Burmese kyat notes and US dollars.
With a rosary tied around her left hand, and her eyes fixated on the ceiling as if possessed by the spirit, she extended her hand to pat each visitor's forehead – a sign of blessing received with a great veneration.
Asked what she wished for, Hnin Khaing, a 71-year-old real estate broker who was one of the visitors, said: "Money. I asked him to give me money. And I wished for the welfare of all as well."
She said she always invokes the support of the spirit before she undertakes any of her business deals. "It always works. Just trust him," she said.
The event was organised by the Shwe Than Lwin multimedia company, owned by Kyaw Win, a well-known tycoon, which had recently sponsored a lavish ceremony to ordain 7,000 Buddhist monks that was attended by President Thein Sein.
[related]
Held on the ninth day of the ninth month, the event in Thingangyun was also faithful to Burma's widely held superstitions over numerical figures. The number nine, in particular, is regarded as lucky.
This may have had some influence on why the latest round of the country's protracted peace talks began at 9 a.m. on that very day in the capital Naypyidaw between a nine-member delegation of the government and nine leaders of armed ethnic groups.
"The number nine is a powerful lucky number. We call it the immortal number," said Min Thu, an astrologer working in downtown Rangoon.