Attacking the ruling government for lying to the public, opposition leader Aung San Suu Kyi roused crowds in central Burma this weekend by promising that, if elected, her National League for Democracy (NLD) would form a clean government, free from corruption.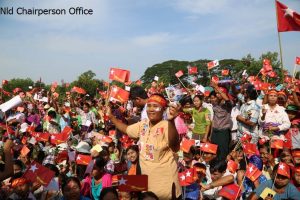 Speaking to party supporters at a campaign rally in Naypyidaw's Zayarthiri Township on Sunday, pro-democracy icon Suu Kyi said that any government that views the public as its enemy would not bring development to the country.
"Any government with a hostile mentality towards the populace will in no way bring development to the country," she told a local crowd. "As for us [NLD], we wish neither a government who is afraid of the people, nor vice versa. Our desire is to establish a political system where the government and people can work together like soul mates."
Representing the NLD in Zayarthiri is Khin Myo Thu, who will be facing off in the general election against a recently retired army general, Union Solidarity and Development Party candidate Hla Htay Win, for a Lower House seat.
On Saturday, Suu Kyi attended an election rally in Mandalay's Yamethin Township, where she vowed to form a "clean government" if her party is elected.
[related]
"As I have said quite often, when we campaign for the elections we prefer not to make promises we cannot deliver on," she told a partisan crowd of several thousand, clad in red NLD paraphernalia. "Giving false promises means disrespecting the people. We don't see how a party that lies to the public during its campaign can rule the country righteously."
She concluded: "However, I can make one promise here – that when we get to form a government, we will make sure that it is a government free from corruption."
Read more DVB coverage of Burma's 2015 general election