Rare and ancient artefacts from Burma will appear outside of the country for the first time ever. The priceless religious sculptures were loaned to the Metropolitan Museum of Art in New York City by the Burmese government.
The artefacts will be on display in a new exhibition called Lost Kingdoms: Hindu-Buddhist Sculpture of Early Southeast Asia, 5th to 8th Century.
"We were very honoured that the minister for culture and the government of Myanmar [Burma] consented to our request to borrow some enormously important objects, first millennium objects, belonging to the Pyu, early Pyu culture of central Myanmar and we presented those here for the first time," said John Guy, curator of South and Southeast Asian Art at the Metropolitan Museum of Art.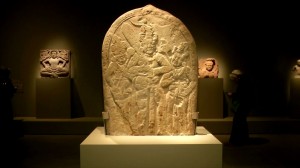 Among the ancient sculptures on display is a 4th century sandstone throne stele from central Burma. The throne stele is an example of the various religions respected in ancient Burma.
"It bears witness to the practice of both Hinduism and Buddhism, one treated on each side of the relief, in the ancient city of Sri Ksetra," said Guy. "We know that kings, the ruling household there, had assumed Sanskrit names and that those names suggest that they were followers of Vishnu. But it's also clear that they patronised Buddhism as well. So both things were coexisting in what appears to be a harmonious way."
Also on display is a Khin Ba relic chamber cover from 6th century central Burma. The sandstone slab is an example of the ancient Pyu's Buddhist beliefs.
Three fired clay Buddha sculptures, ranging from the 7th to 9th centuries, reveal how Buddhists could accrue religious favour.
In addition to the sculptures from Burma, the exhibition also features Buddha sculptures from Thailand and Vishnu sculptures from Vietnam. Art from Cambodia and Malaysia is also on display.
The Lost Kingdoms exhibition will be on display at the Metropolitan Museum of Art from 14 April until 27 July.
The ambitious exhibition brings together 160 works and is, according to the curators, an attempt to redefine our understanding of early Southeast Asia.
[related]