Although Bob Percival has only been running his RetroYangon Posters business for four months, he's been collecting the vintage prints ever since he first moved to Rangoon four years ago. To be more specific, he's been collecting vintage Burmese books for four years — the prints are actually covers of old books that Percival finds after rummaging through the used bookstores scattered across downtown Rangoon.
A historian at heart, Percival is more fascinated by the book cover and the history of the art than the books themselves. "I come from a history background, so for me it's like a good historical record to bring back this really great artwork," Percival told Coconuts Yangon.
"In those days, the only work that artists could get was on book covers or postcards basically, and some comics as well, because there weren't really any art galleries at all. You had these really talented artists who were doing illustrations. There was this period between 1960 and 1962 where there were a lot [of books] released before the regime crackdown and there was a renaissance of these covers."
Percival scans and digitally cleans up the covers — although some don't undergo any alterations so as to maintain a weathered, vintage look — before blowing them up on different papers and to a variety of sizes that he then sells at his shop in Bogyoke Market and at the weekly Yangon Collective market.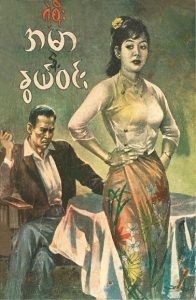 Most of the prints/book covers are from the 1960s and '70s, "a period of Myanmar/Yangon artwork that had been completely neglected," Percival explained. "No one had looked at it [the art] before so it was just kind of sitting there on the shelves and no one had used it." While older imagery from the early 1900s has been popular at Burmese souvenir shops — think: Yangoods — Percival noticed that no one had really gotten into the 1960s/'70s style. In addition to book covers, Percival also collects and sells high-quality scans of postcards from that time period.
Working with a local writer friend, Percival has familiarised himself with the history of each book and postcard in his collection.
For instance, he told me that a lot of the book covers from the 1960s display some sort of American influence and are, in his words, "half Western," because some of the artists had visited America. At the same time, a lot of them are also woodblock prints — a type of printing that first originated in East Asia.
Several of the covers from the early 1960s also have a film noir look to them, which is fitting as they were the fronts of pulp fiction novels — such as Maung Hla Thein's Ah Mar Hnint Nwe Win ("Ah Mar and Nwe Win") and Tha Khin Mya Than's A Htoo Kate Sa ("Special Assignment") — that were also popular in the early 1960s but were later banned due to their crime-centred plots when the military took power in 1962. "Maybe they were seen as a bad influence," Percival joked.
In addition to the illustrations, Percival also pointed out the beautiful hand-painted text on the book covers — a trait that is all but gone in today's digital age.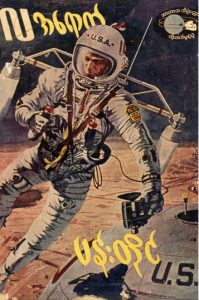 Percival's collection includes the first Burmese translation of Emile Zola's novel La Honte, a book about "international cooking," and a 1960s anthology of Burmese writers and poets. He also has a series of postcards depicting various Burmese film stars, and others that are from "the era of propaganda postcards brought up by the government," which include cards promoting the country's agricultural industry and a nationwide literacy campaign.
According to Percival, the cover of a magazine titled Destination Moon celebrating the US moon landing  — he pointed out that on the cover, "everything is American, except for the writing" — is very popular with men.
When asked what his favourite cover was, Percival admitted that he liked them all; he has 84 scanned prints, but only the ones that garner the most interest from customers are turned into posters.
Although not many collectors are interested in books and postcards specifically from this period — "As far as I know, there's me and two other Burmese people buying them," he said — it's much more difficult now to find these works than when Percival started four years ago.
"The postcards are impossible," Percival admitted; there was one seller on Bogyoke Street who, over the course of two years, had sold him around 250 postcards, all from the 1970s, but even he eventually stopped being able to procure the cards. When asked why this had become the case, Percival guessed that it was a lack of supply, which had simply "ran dry."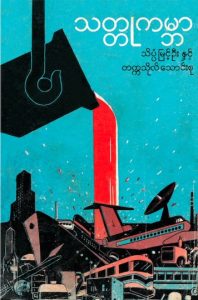 When he first began collecting books and postcards, Percival did so with the specific intention of making them into posters. Before moving to Burma, Percival lived in China while pursuing a PhD in creative writing; there and in Vietnam, he saw old propaganda posters that people had blown up for sale, and wanted to do the same in Burma, especially because there isn't a great market for them here.
Before RetroYangon Posters, Percival held various occupations, including editing for Myanmore, setting up the Yangon Walking Tours and writing the popular guidebook Walking the Streets of Yangon. He eventually met Moe Moe, a businesswoman who had a souvenir shop in Bogyoke Market but was struggling to pay rent for her stall; Percival offered to split the cost and the shop space, and today they operate out of the same stall that's been divided in half.
Percival's ultimate goal is to protect and share this particular aspect of Burma's history. Right now, he's working on a book highlighting the social history of the postcards in his collection. When he retires, Percival wants to donate his entire collection of books and postcards to an organisation dedicated to preserving the country's history. However, he admits, "Giving something in Myanmar is so difficult. Things could disappear. There's just no safe place at the moment to give it to."
[related]
Ten percent of RetroYangon Posters' sales go to Girl Determined, a local NGO that works with teenage girls to promote education and leadership skills. Percival explained, "My goal was never to make a lot of money, it's always been to have enough to live. I just wanted to give something back to the community and promote this part of Yangon/Myanmar culture that I thought was really important."
RetroYangon Posters is located at No. 11, East (D) in Bogyoke Market ("near the fruit juice stalls on the eastern inner road"). More information about purchasing and prints can be found on the RetroYangon Posters Facebook page and website.
This story by Moe Thet War was originally published by Coconuts Yangon here.