FROM THE DVB NEWSROOM
Aung San Suu Kyi's son calls for her release
Kim Aris called on the military to free his mother Aung San Suu Kyi, the BBC reported. "I can't let my mother languish in prison," Aris told the BBC. Aung San Suu Kyi, 78, was arrested on Feb. 1, 2021 and sentenced to 33 years in prison. Aris said that he hasn't been able to speak to her nor has he received any update about her condition in prison over the last two years. Aris appealed to the international community to demand Aung San Suu Kyi's release and place more sanctions on the regime in Naypyidaw. "The military will never win this war. It's just a matter of how much longer it goes on," said Aris.
UN still waiting on Naypyidaw approval
The U.N. Office for the Coordination of Humanitarian Affairs (UNOCHA) stated that, to date, it has provided food to nearly 380,000 people in cyclone-impacted communities of Rakhine State. It added that shelter materials, and other relief items, were distributed to more than 144,000 people. UNOCHA is still negotiating with Naypyidaw to be granted access to cyclone survivors in Rakhine. The regime suspended all travel authorization for humanitarian organizations on June 7.
Central Bank guidelines for foreign currency transactions
The Central Bank of Myanmar (CBM) has instructed all private banks that sales of foreign currencies must be done online through the CBM. The banks must report lists of foreign currency transactions between customers as well as lists of companies that want to purchase foreign currencies from 10 a.m. to 11 a.m. daily. Banks have been instructed to verify the information of the companies that trade in foreign currencies for various reasons, including import and export, and report them to the CBM. The USD exchange rate rose to over K3,000 per $1 USD due to last week's U.S. sanctions against two state-owned banks managing much of the regime's foreign currency reserves.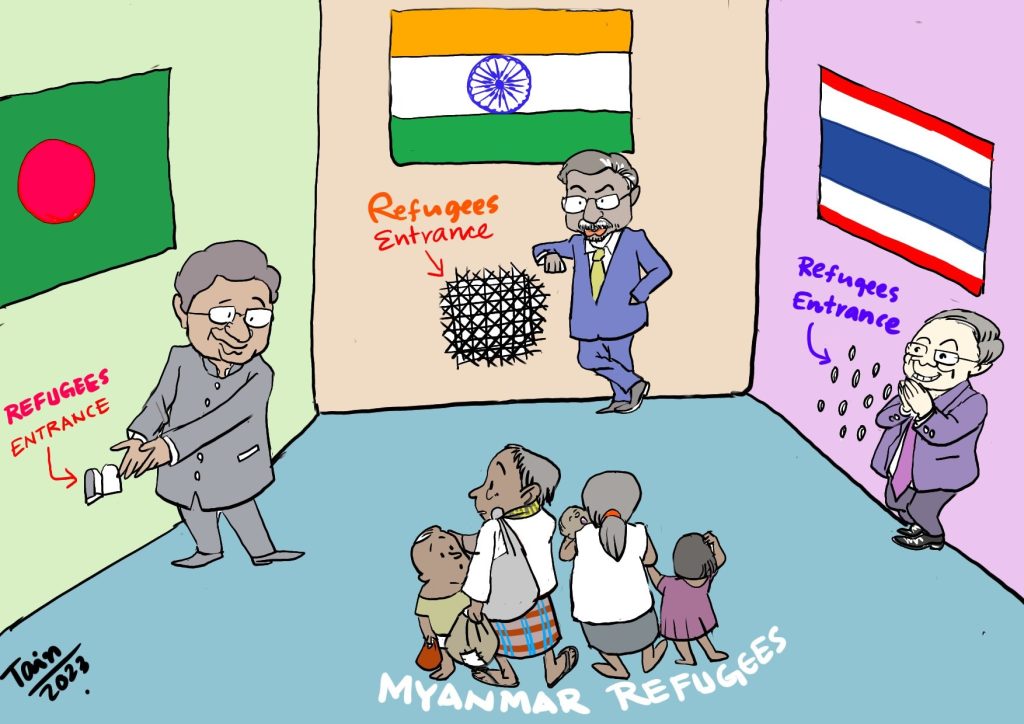 News by Region
MAGWAY—A reporter from Shwe Ta Pin village, Minbu town was killed on June 21. "Two youths on a motorcycle entered his house and shot at him. The Burma Army took the body to a hospital and sent it back on the morning of June 22," said a Shwe Ta Pin resident. Locals claimed that the victim was reporter Min Thu Naing.
SAGAING—Two civilians were killed by the Burma Army in Kaw Min and Kyi Kan villages of Watlet Township on June 22, the People's Defense Forces (PDF) claimed. Eighteen homes were burned down by the Burma Army during the attack. The PDF claims it killed at least four Burma Army soldiers. "After troops were attacked, they shot a [man] and beat him dead with a gun. He was killed on the spot. Later, they saw another villager who climbed a tree to avoid them. They shot him as well. Once they left we gave them quick burials," said a PDF spokesperson.
SHAN—A branch of the Global Treasure Bank in Kyaukme town announced to its customers to withdraw their savings by June 30. The bank did not specify the reason for the sudden closure. Global Treasure Bank was established in 1996 as Myanmar Livestock and Fishery Development Bank. It went public in 2013. It is owned by ex-Burma Army generals and has more than 180 branches across the country.
YANGON—A member of the Dagon Seikkan Township administration was killed on June 23. Hla Kyi, 77, was shot in his car on his way home. "The military sent him to the hospital but it was too late," said a local. Ten spent bullet casings were found near the vehicle. The victim was chairperson of the local chapter of the Young Men's Buddhist Association (YMBA). The Burma Army set up a checkpoint and inspected homes nearby.
Read our latest op-ed Shaping Repatriation: The role of Bangladesh's NSI in the Rohingya crisis.
Listen to our latest podcast Reads: Wa Lone on Jay Jay the Journalist (children's book).