The family of New Zealander Phil Blackwood, who was sentenced along with two Burmese co-defendants on Tuesday to two and a half years with labour, say they are devastated by the verdict and intend to appeal.
In a statement to DVB, the Blackwood family said, "We understand the reasoning behind the guilty verdict, but are devastated by the sentence handed down by the judge. A sentence of two years and six months imprisonment with labour is in, our opinion, extremely harsh.
"This was simply an error of judgment on Philip's behalf in posting the offending image of Buddha, which he removed and replaced with an apology as soon as he realised it was seen as offensive. This was not an attack on Buddha and Buddhism.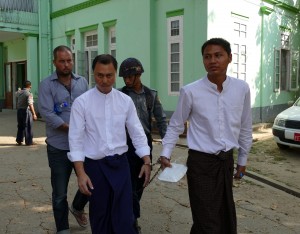 "Philip has repeatedly made attempts to show his remorse for the hurt caused. We know Philip would never knowingly cause offence as he openly embraces all nationalities and cultures.
"We intend to appeal the sentence," they said.
Blackwood's family lives in Wellington, New Zealand, but his wife and seven-month-old daughter live in Rangoon, where Blackwood, 32, was until recently general manager of the VGastro Bar in Bahan Township.
After posting a digital image on Facebook of the Buddha wearing headphones as part of a nightclub promotion in December, Blackwood was detained along with business partners Tun Thurein, 40, and Htut Ko Ko Lwin, 26. Under pressure from extremist Buddhist groups, a Bahan court subsequently charged the three for "insulting religion".
Friday's verdict upheld charges under Burma's Penal Code articles 295(a) and 188. The trio were found not guilty of a third charge: Article 295 – injuring or defiling a place of worship.
Asked to comment, New Zealand's Ministry of Foreign Affairs and Trade would only say that the embassy in Rangoon "was in contact with Blackwood and providing consular advice and assistance."
However, several leading international rights groups leapt to the defence of the three convicted bar-restaurant managers.
"That these three men acted in a culturally insensitive way by posting the Buddha with headphones image on Facebook is obvious, but that is nothing they should have been hauled into court for, much less sent to prison," said Phil Robertson, the Asia division deputy-director of Human Rights Watch.
London-based Amnesty International said, "The conviction and prison sentence handed down today against two managers and the owner of a bar in Myanmar for displaying an image of the Buddha wearing headphones should be overturned immediately, and is a chilling indication of the growing climate of religious intolerance in the country."
Amnesty International's research director for Southeast Asia and the Pacific, Rupert Abbott, went further, calling the verdict "ludicrous".
"It is ludicrous that these three men have been jailed simply for posting an image online to promote a bar," he said in a statement on Tuesday. "They should be immediately and unconditionally released."
[related]
Sam Zarifi, the regional director for Asia and the Pacific for the International Commission of Jurists, or ICJ, questioned the validity of the verdict under both international and Burmese legal standards.
"As far as we can tell from the judgment and the material that's publically available, the conviction violates international standards for imprisoning people for speech, seems to violate Myanmar's own legal standards which require intent under Chapter 15, and in terms of the priorities of the government in agreeing to go after these three people and to prosecute them in the way that it did, it's a very worrying further indicator of growing religious intolerance in the country," he told DVB on Tuesday.
Other Burma watchers alleged that the government had orchestrated the verdict, and accused it of electioneering by playing the "nationalist card".
Mark Farmaner, the director of Burma Campaign UK, said the trial was "another example of how skin-deep Burma's reforms are. All the repressive laws are still on the books and can be dusted off and used whenever the government chooses.
"This is another example of the government playing the nationalist card ahead of the elections," he added.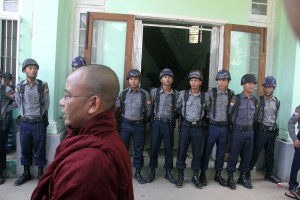 Matt Smith of Bangkok-based Fortify Rights expressed a similar sentiment.
"Ultraconservative Buddhist nationalism is escalating in the country. This is an election year and religion is already being used for political purposes. It's become a race to the bottom to determine who is a stronger defender of conservative Buddhism, and that's dangerous territory to be entering," he said.
"The authorities are clearly trying to make an example with this case, but ironically all it has done is hurt the image of Myanmar and Buddhism."