FROM THE DVB NEWSROOM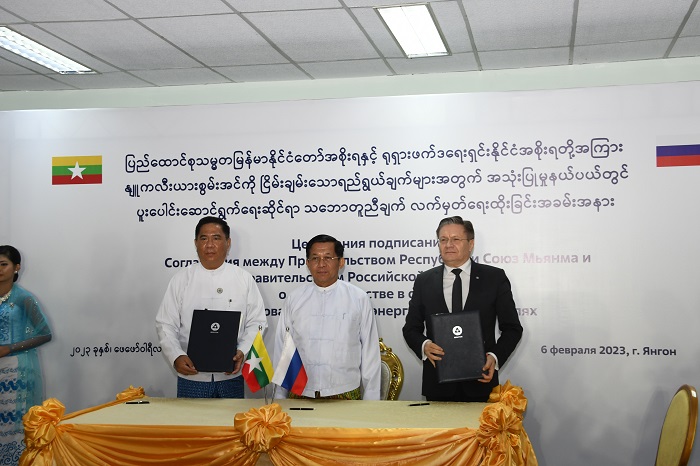 Burma and Russia herald new nuclear information center in Yangon
The junta unveiled its Nuclear Technology Information Center in Yangon's Hlaing Township on Feb. 6, regime media reported. Min Aung Hlaing and officials from Russia's Rosatom State Nuclear Energy Corporation attended the opening ceremony. "Thanks to the cooperation of Rosatom, Myanmar will have to enhance the human resources related to the construction and running of a small modular reactor in Myanmar and to produce qualified experts for respective sectors," said Min Aung Hlaing.
Russian officials heralded the sector as a part of its diplomacy with Burma on the 75th anniversary of its relations. "The construction of the nuclear power plant will benefit the natural environment, businesses and social environment of the local people," said Alexey Evgenievich Likhachev Rosatom, Director General at Rosatom. He claimed that the development of nuclear energy in Burma is for peaceful purposes. The junta signed an agreement with Rosatom on the application of nuclear technology in an unspecified 14 sectors of Burma's economy. In 2021, the junta drafted its roadmap for the "peaceful" use of nuclear energy in 2023 and 2024.
Indonesia mulling appointing former general to engage with the junta

Indonesia, the current chair of the Association of Southeast Asian Nations (ASEAN) may appoint a former general to serve as a special envoy to Burma, Bloomberg reported. Luhut Pandjaitan is a retired Indonesian four star general tipped to take on the role of envoy, according to anonymous sources in the Indonesian government. The ASEAN special envoy office to Burma is being led by Indonesia's Foreign Minister Retno Marsudi. Indonesia hopes to resolve ASEAN's failed efforts in Burma, as the nation was ruled by a military dictatorship until 1998. Indonesian officials hope to persuade Burma's junta to follow down a similar path of democratic transition. Indonesian President Joko Widodo announced last week that he plans to send a top general to engage with Burma's junta.
Ethnic political party alliance remains undecided on election registration
The Union Nationalities Alliance (UNA), an alliance of 13 ethnic political parties, stated that it has not decided whether to re-register its political parties under the military junta's Union Election Commission (UEC) to be able to compete in its election slated for later this year. The Arakan League for Democracy (ALD) Party Secretary Myo Kyaw said his party will not re-register as it does not support dictatorship. "I can't say the decision of the UNA as members have not held a meeting yet. But like our party, there are some parties that don't want to re-register under the Union Election Commission," he said. The Chin National League for Democracy (CNLD) Party stated that its party will also not re-register. According to the new Political Parties Registration Law imposed by the junta, any political party that does not re-register will be dissolved.
NUG online school faces mass resignations following financial scandal
382 teachers announced their resignation on Feb. 6 from the National Unity Government (NUG) Free Online Educational Institution Myanmar (FOEIM) school after funds went missing. "The founder did not agree to provide documentation of the finances of the school but would only pay wages. I assume the financial situation of the school needs to be open to its staff for a revolutionary school, so I left," an FOEIM teacher said. A student attending FOEIM said the classes have been temporarily suspended. The financial mismanagement of the school was discovered in November. The NUG launched an investigation into the missing funds.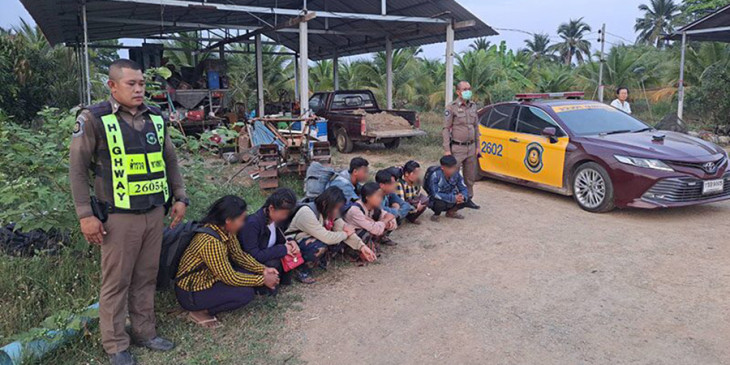 Dozens of undocumented Burma nationals arrested across Thailand
Forty-five undocumented Burma nationals were arrested in different provinces in Thailand on Feb. 7, Thai media reported. Twelve migrants were arrested in central Thailand, and another 33 were arrested in the southern part of the country.
News by Region
BAGO—Five explosions occurred in three wards of Bago town on Feb. 7-8. "The bombs went off simultaneously that night, but no one was injured," a local said. An unexploded device was discovered at an administration office, according to locals. It was taken away by regime forces. The Burma Army set up checkpoints to inspect pedestrians and vehicles following the explosions.
MON—The Electricity Supply Enterprise announced on Feb. 7 that electricity will be provided for only two hours at a time in Mawlamyine town. The wards of Mawlamyine have been divided into three groups and each will have electricity for two hours at a time on a rotating basis. This will continue throughout the month of February. Locals will only be provided eight hours of electricity per day. A resident told DVB that power cuts have worsened since the coup and that most days electricity lasts only six hours.
SAGAING—Three people were arrested and charged under the Counter-Terrorism Law on Jan. 23 and 24 in Indaw town. "A couple who own a restaurant and an owner of a stationary store were arrested and still have not yet been released," a local said. The three stand accused of supporting the People's Defense Force (PDF) and the National Unity Government (NUG) labeled "terrorist organizations" by the military junta in Burma. They are not able to meet with their family members, and their trial dates have not been made public.