FROM THE DVB NEWSROOM
Burma Army troops cross into Thailand
Thai opposition MP Kannavee Suebsang called on Thailand's government to investigate reports that Burma Army personnel entered Tak Province, the Bangkok Post reported. "That kind of violation of Thailand's state sovereignty by close to 100 Myanmar soldiers is a national issue, not a border matter," he said.
Kannavee claimed that the Burma Army entered Thailand through the border villages Ban Le Tong Khu and Ban Mo Ta Lua on Sept. 3 to flee from the Karen National Liberation Army (KNLA). He added that no action was taken until Sept. 5 when a local posted about it online. Thai forces held negotiations with the KNLA and the Burma Army until they returned to Burma.
France to intervene in Rohingya genocide case
The French Embassy in Bangladesh announced that it will intervene in the Rohingya genocide case at the International Court of Justice (ICJ) to support international efforts to ensure justice and accountability in Burma. "France announces its decision to intervene, along with other partners," it stated.
France also announced that it will provide one million euros ($1.07 million USD) to support World Food Programme (WFP) operations in the Rohingya refugee camps of Bangladesh, where nearly one million Rohingya have sought sanctuary from violence and genocide in Burma.
Officials inspect garment factories
Regime labor officials inspected factories associated with international fashion retailers in Yangon and Bago regions this month. "Based on the information we have, labor offices inspected factories that produce for brands like H&M and Adidas," said a spokesperson from Action Labor Rights.
Global fashion brands announced they will halt sourcing from Burma due to reports of labor abuses in garment factories. Action Labor Rights claims that the officials are attempting to attract retailers to return. Workers arrested for demanding higher wages have been released from detention.
News by Region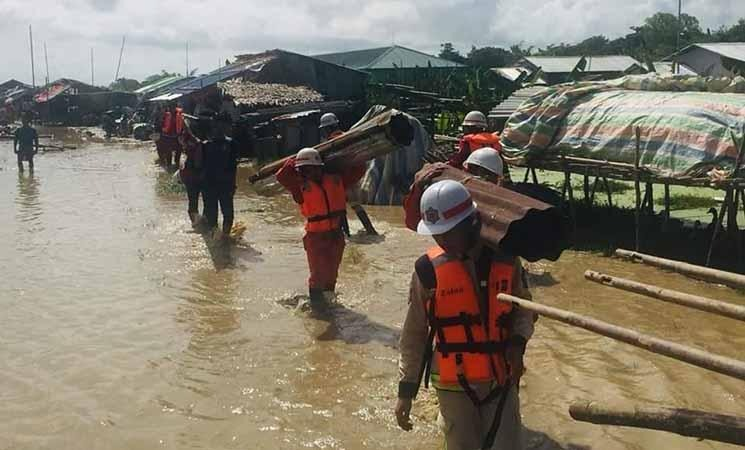 AYEYARWADY—Around 11,000 residents living along the banks of Ayeyarwady River in Hinthada Township have recently been evacuated due to erosion from rain. "There is an urgent need for food, as cooking has become a challenge," said a volunteer assisting the flood victims.
As the water level of the Ayeyarwady River continues to rise, the regime's Meteorology and Hydrology department advised residents living near riverbanks to remain vigilant due to the risk of floods and landslides.
KACHIN—A woman was killed during an interrogation in Mogaung Township on Sept. 12. She and her husband were arrested earlier this month, accused of providing financial support to the People's Defense Force (PDF). The Burma Army demolished the couple's petrol station and home on Aug. 3.
"Around 20 employees of the petrol station were initially taken hostage. It was during this time that both of them were arrested," a local told DVB. The woman's husband remains in detention.
MANDALAY—Sixty-one residents from Letpantha and Aung Thu Kha villages in Ngazun Township were detained on Sept. 11. "People including women unable to run from the military's offensive were arrested," said a Ngazun resident.
The Burma Army raided five villages and arrested civilians at a monastery in Letpantha village. They allegedly stole 90 bags of rice from a store. More than 2,000 residents in the township have been forced to flee their homes.
TANINTHARYI—Seven fishermen were detained by Myeik PDF in response to complaints by residents of Palaw Township on Sept. 7. 'The law prohibits fishing near the shore, and it's important to note that such fishing practices, particularly by small-scale local fishermen, have a significant negative impact," said the PDF spokesperson.
YANGON—The Road Transport Administration Department (RTAD) announced on Sept. 8 that it will increase the fee to register private vehicle licenses from K20,000 to 60,000 ($9.56 to $28.69 USD). "It said the fees have increased because peoples' salaries have risen. It also blamed rising car prices and the number of cars," said a Yangon resident.