FROM THE DVB NEWSROOM
NLD blames regime for Aung San Suu Kyi's health issues
The National League for Democracy (NLD) party stated on Sept. 14 that it would hold the military regime responsible for endangering the health of party leader Aung San Suu Kyi. The statement came in response to reports indicating that Aung San Suu Kyi, 78, has fallen ill and has not received proper medical care.
The NLD stated that her life has been put at grave risk since she was arrested by the military on Feb. 1, 2021 and that the regime bears "sole responsibility" if her health deteriorates any further. Aung San Suu Kyi's son Kim Aris told Reuters that he is "extremely worried" about his mother's health. "She is not as robust as she once was. If she is unable to eat, then things are not looking very hopeful," he said.
Thai defence minister downplays Burma Army incursion
The Thai Minister of Defence Suthin Klangsaen claimed it was "normal" for the Burma Army to cross the border into Thailand due to conflict, the Thai Enquirer reported. The comments came after opposition MP Kannavee Suebsang called on the government to investigate reports that armed Burmese troops entered Tak Province through the border villages Ban Le Tong Khu and Ban Mo Ta Lua on Sept. 3.
The minister said the Burma Army did not cause any damage and left peacefully after security forces held negotiations between the soldiers and the Karen National Liberation Army (KNLA). He confirmed that the troops initially refused to leave Thailand as the KNLA blocked the path back into Burma.
Burma nationals rescued in Malaysia
Four Burma nationals, including a rape victim, were rescued from forced labor at an entertainment outlet in Kuala Lumpur's Bandar Puchong during an operation by Malaysian authorities on Sept. 11, The Star reported. The women, ages 15-31, were promised waitress jobs but were forced to work as "guest relations officers."
Three male Burma nationals, including the main suspect and his two assistants, have reportedly been detained. The rescued victims are planned to be placed in a government shelter, while the three suspects have been detained under Malaysia's Atipsom Act 2007.
Naypyidaw to increase agricultural exports
The regime plans to increase Burma's agricultural exports as other countries face increasing food demands due to the El Niño phenomenon. The plan came after the regime's Minister for Commerce met with Aung Naing Oo from the Union of Myanmar Federation of Chambers of Commerce and Industry (UMFCCI) in Yangon on Sept. 12.
Many countries have limited food exports in order to prepare for the possible impact. The President of the Myanmar Rice Federation told regime media in August that the rice shipment will be slowed down in September and October to stabilize domestic prices.
News by Region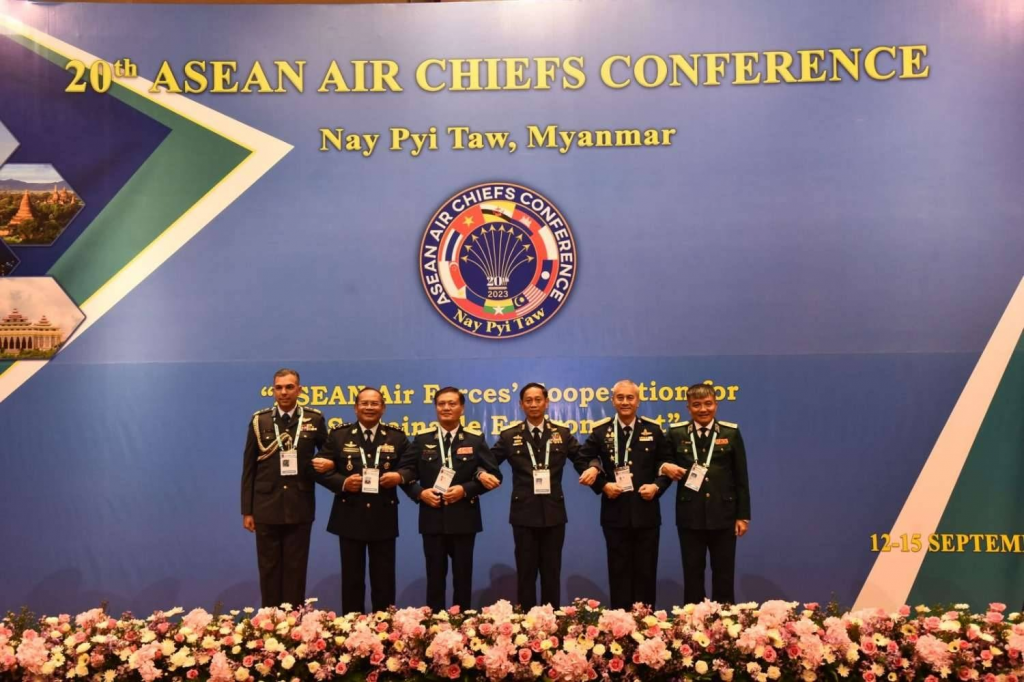 NAYPYIDAW—The Association of Southeast Asian Nations (ASEAN) Air Force Chiefs Meeting was attended by Brunei, Cambodia, Laos, Thailand, and Vietnam Sept. 12-15. Indonesia, Malaysia, Singapore, and the Philippines declined the invitation to attend the meeting but Singapore and the Philippines sent video messages.
Burma Air Force Chief Tun Aung hosted the meeting on "ASEAN Air Forces' Cooperation for Sustainable Environment." Justice for Myanmar called for a boycott on Aug. 31. It stated that Tun Aung was involved in "acts of terrorism" by ordering airstrikes on civilians.
AYEYARWADY—The Pyapon district court handed the death sentence to four men from Bogalay town on Sept. 12. They were arrested in 2022 for the murder of an alleged military informant. The Assistance Association for Political Prisoners (AAPP) states that 103 prisoners have been sentenced to death and 43 people received the sentence in absentia.
CHIN—Doctors state that children from villages located in northern Mindat Township have been suffering from skin diseases. "The main reason is poor hygiene. They shower two times a week as the weather is too cold. Most of the people are displaced persons," said a doctor in Mindat.
SAGAING—Political prisoners in Monywa Prison ended their hunger strike on Sept. 13 as demands were reportedly met by prison authorities. All personal belongings that were confiscated during a search operation conducted by regime authorities were returned.
They can now begin to receive parcels from their families. "We must remain careful, as there is a possibility of future repression in the prison," said a spokesperson from the Monywa Strike Steering Committee.
YANGON—A police chief was killed in Shwepyitha Township on Sept. 13. "He was sitting at a tea shop with his friend. A man gave him a bouquet of flowers and another man shot him three times when he received the flowers," said a witness.
The two culprits fled the scene. The police chief's body was sent to Mingaladon military hospital. The Burma Army set up a checkpoint to inspect vehicles and pedestrians in the area.