At least 655 Burma nationals held at an immigration detention center (IDC) in Thailand's southern Ranong province have staged protests inside the IDC against what they call a "violation of human rights." The protests by IDC detainees from Burma began on Jan. 28. They claim they are in poor health, and that there are pregnant women and senior citizens being held in substandard and overcrowded conditions at the IDC. They've also complained that they have not been provided with sufficient food or health care.
Burma's COVID-19 pandemic and 2021 military coup have forced many to seek work in Thailand. Despite the fact that there is a Memorandum of Understanding (MoU) between the two countries for migrant workers in Burma to legally apply to work in Thailand, the number of workers choosing to do it illegally has increased dramatically in the last two years. The Myanmar Overseas Employment Agencies Federation suggested that the number would rise even more as a result of the passport office closures and resulting suspension of new passports being issued. There have been almost daily reports in Thai media of Burma nationals being arrested for illegal entry into Thailand.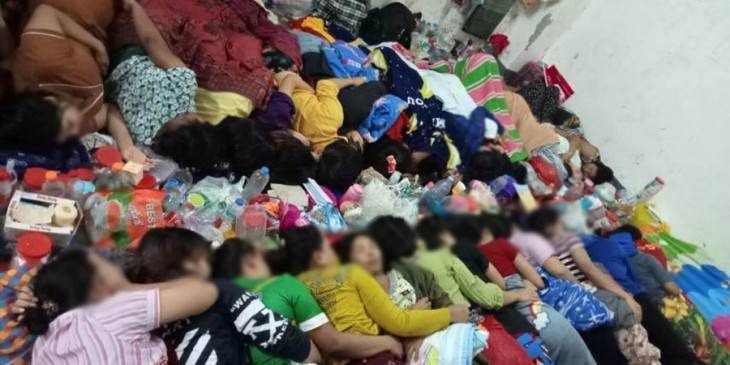 "You can just imagine that more than 150 people were crammed into a room with a capacity of 80 people. The CCTV [closed circuit cameras] are everywhere, [even] in the restrooms. The men watched the women shower from downstairs on the CCTV camera. Since we are not allowed to leave the center, we have to purchase supplies inside at expensive prices, such as phone cards and food. There is a water shortage. As a result, we became itchy. Since drinking water is also limited, we have to share," said a Burma national being detained at the Ranong IDC on the condition of anonymity.
The IDC is where Burma nationals are held to await repatriation from Thailand. According to official procedures, there is no charge for repatriation to Burma, but those who pay a bribe are told they will be included on the priority list, according to Burma nationals held at the Ranong IDC. They claimed they had to pay bribes of 12,000 Baht ($ 366.75 USD) per person just to be included on a repatriation list. Or else they'll be stuck even longer at the IDC. Many have already spent the last six months in detention there.
"What I can't stand is that those who arrived later than us were included in the list of those who were sent back with priority by paying the bribe. People who have been waiting for their turn for six or seven months without being able to pay are still not on the list. It's gone too far, so we conducted the protest," added the Burma national being held at the Ranong IDC. Following Thai media reports of the protest at the Ranong IDC, Burma Embassy in Thailand officials visited its nationals being held there on Jan. 29. They were told by embassy staff that they will be repatriated to Burma next month. On Jan. 30, another 100 Burma national detainees arrived at the IDC.