FROM THE DVB NEWSROOM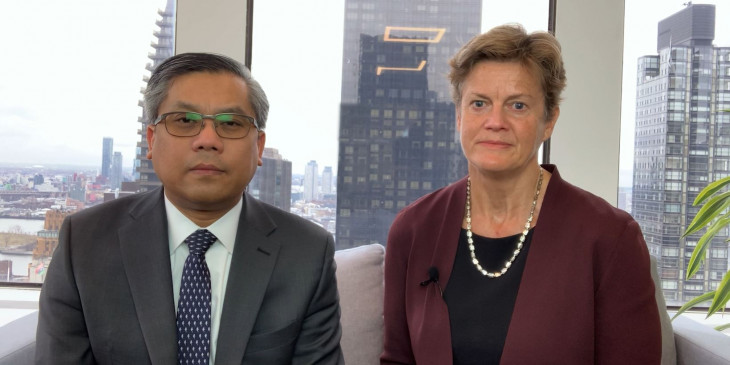 UN ambassadors of the UK and Burma mark anniversary of the coup
The U.K. and Burma's Permanent Representatives to the United Nations, Kyaw Moe Tun and Barbara Woodward delivered a televised message from the UN to mark the second anniversary of the coup on Feb. 1. "In 2022, Myanmar was the second deadliest country in the world for civilians. and the junta has reversed over a decade of falling poverty," Woodward said. "Sham elections will never be a solution. We thank the international community for your support. What we need from you is to take decisive action to release the country from the military dictatorship," Kyaw Moe Tun added. The U.K. has imposed fresh sanctions on two companies and two individuals for providing fuel to Burma's Air Force. "We stand with the people of Myanmar. It is time the junta return the country to them," Woodward concluded.
UN Secretary-General expresses "concern" about Burma again
The UN said it was concerned by the military junta's planned elections later this year. UN Secretary-General António Guterres said that "without conditions that allow the people of Myanmar to freely exercise their political rights, the proposed polls risk exacerbating instability." Guterres reiterated his appeal to UN members "to urge the military leadership to respect the will and needs of the people of Myanmar and adhere to democratic norms."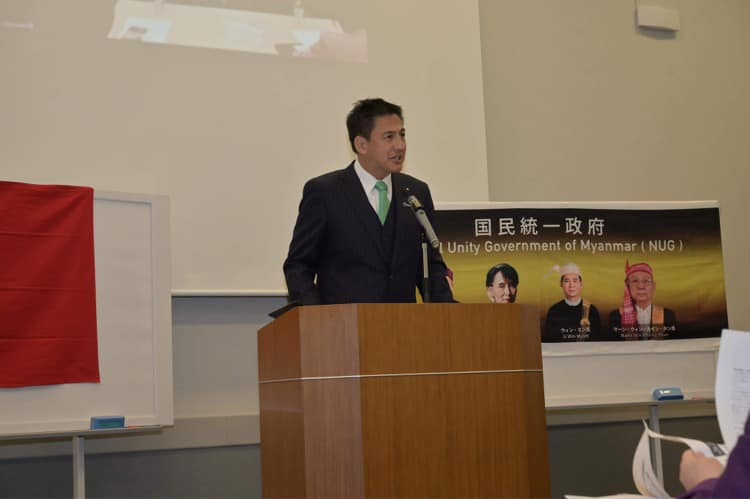 Senior Japanese official attends NUG meeting
Japanese State Minister for Foreign Affairs, Takei Shunsuke, attended a meeting organized by the National Unity Government (NUG) in Tokyo on Feb. 1. Shunsuke stated that the military council "does not appear to be ending its violence against the people of Burma." He expressed concern about the junta's planned elections, which will take place while the country's elected leaders remain in detention.
Detained Burma nationals in Thailand repatriated on Feb. 2
Burma nationals stranded in an immigration detention center in southern Thailand have been allowed to return to Burma on Feb. 2, Thai media reported. This news comes after several of them protested substandard conditions inside the IDC, citing human rights violations. They demanded immediate repatriation to Burma. At least 670 migrants are reported to have been taken from Ranong to Kawthaung, Tanintharyi Region where they crossed back into Burma.
News by Region
KARENNI—The Progressive Karenni People Force (PKPF) reported on Feb. 1 that 430 civilians were killed and more than 1,300 houses were destroyed across the state since 2021. At least 28 religious buildings were destroyed in airstrikes while 279 civilians have been arrested. It claimed that 1,581 soldiers and 219 resistance fighters were killed in 561 total clashes. The Karenni human rights groups stated that 200,000 people have been displaced due to clashes in the last two years.
MON—A candidate for the Union Solidarity and Development Party (USDP) was killed in Paung Township on Feb. 1. A local resistance group claimed responsibility for the murder. It claimed that the man was working as a military informant.
SAGAING—A 20-year-old woman was killed and three of her relatives were injured after an artillery shell landed on their home in Muthagone village, Ye-U Township on Feb. 1. "The shell was fired from a hospital in Ye-U town," a local said.
A five-year-old girl was killed and another child was injured after the Burma Army opened fire at Tadau village on Feb. 2. The Burma Army was allegedly searching for members of the NUG-backed People's Administration, according to locals. "When they didn't see the people they were looking for, they opened fire inside the village. A girl in the house was killed [by gunfire]. Another young child was severely injured," a man said.