Fighting between Burmese government forces and Kokang rebels in northern Shan State's Laogai is intensifying amid claims from the Burmese army that it has captured strategic positions previously held by the rebels, and taken a number of Kokang troops as prisoners.
State-run newspapers on Monday reported that the Burmese army on Sunday used heavy weapons and infantry to take control of six hills that had been Kokang-occupied. According to the report, the offensive was undertaken to secure control of the vital trade route between the Kokang Special Region capital of Laogai (or Laukkai) and the town of Konkyan. It said that four government soldiers were killed and seven others injured in the assault.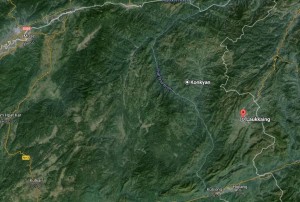 Three bodies of Kokang fighters were found in fallen rebel outposts, while 15 were captured alive with ammunition, narcotics and uniforms, the report added.
Tun Myat Linn, a spokesperson for the Kokang rebel Myanmar Nationalities Democratic Alliance Army (MNDAA), confirmed that one base had been lost to government forces.
"The government forces initially shelled us with artillery and then sent up infantry to assault the base on the Santa Aiksan Hill," he said.
"Our troops withdrew from that position when they started to torch the hill. We suffered four injuries but there were no reports of other casualties."
Tun Myat Linn claimed that government forces have been persecuting the local population with arbitrary arrests and extrajudicial killings, as well as torching down local infrastructure and property such as farms, homes and schools in an apparent use of scorched-earth tactics.
[related]
The Burmese army last week allegedly torched hundreds of sugarcane plantations surrounding Laogai, as well as over 40 homes and a middle school in the village of Yokyaphang, and 10 homes in Nankaw village.
Meanwhile, the Ta-ang Nationalities Liberation Army (TNLA), a group allied to the MNDAA, claimed that two government soldiers were killed in fighting with the group in Namhkam Township's Pansay on 27 February.
In a joint-statement dated 1 March, the MNDAA, TNLA and the Arakan Army claimed that their repeated calls to negotiate for peace have been ignored by the government.
The Shan Human Rights Foundation on 27 February issued a statement claiming that local people in Laogai are experiencing human rights abuses and loss of livelihoods amid fighting between the government and rebels. They estimate that over 30,000 people have fled the region in fear for their safety.