Burmese pop icons Phyu Phyu Kyaw Thein and L Lun Wah performed at the "MasterPeace" concert in Netherlands, held on Sunday to commemorate International Peace Day. The concert aired across 45 countries and featured artists from conflict-ridden countries.
MasterPeace is an initiative by a like-minded group of entrepreneurs, musicians and artists to foster intercultural understanding and fuel peace-building in regions of armed conflict.
In Amsterdam's Ziggo Dome, against the backdrop of a busy backstage, where musicians from Congo, Ukraine and Columbia were rehearsing, DVB got an exclusive interview with the Burmese artistes.
Energetic, despite hours of rehearsal, Phyu Phyu Kyaw Thein makes no secret of the fact that she was excited to perform and represent Burma in front of a diverse audience.
Phyu Phyu Kyaw Thein and L Lun Wah selected a song called "War" to perform. They said they wrote this song specially for the occasion as they wanted to stress before a global audience that "a nation cannot be built with bullets".
"We're crying out loud in our song to stop the fighting, to stop the war" said Phyu Phyu Kyaw Thein.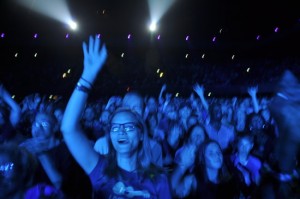 Back home, Phyu Phyu Thein is often considered the Lady Gaga of Burma due to her extravagant dress sense and energy-packed performances. Having launched her career at the age of 19, Phyu Phyu became a controversial pop star in Burma with most TV channels refusing to air her bold videos. The censorship only enhanced her image among youngsters and she went ahead to become the best-selling Burmese singer in both 2012 and 2013
Neither Phyu Phyu nor L Lun Wah are strangers to the implications of war and how it tears apart a country. L Lun Wah, born in Kachin State, witnessed armed conflict at an early age. Through the lyrics of their song, the artists said they desire to convey a strong message to the world. "The name of our country has been long forgotten, while we have one of the longest running civil wars in the world," said Phyu Phyu Kyaw Thein.
She further pointed out that "The impact is so big, not only at the frontier, but also in the cities. It affects our economy, our education, our healthcare. We are all suffering."
L Lun Wah adds a simple message that sums up the rationale of his performance on Sunday night: "We are all humans. Maybe we don't have the same thoughts, but we have to help each other because we are all humans".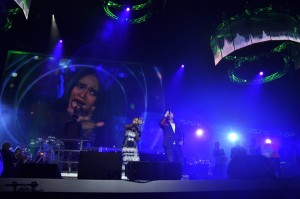 Both artists said they recognise how important a platform this is for them to spread the word about Burma. "What is important is that we have been recognized, not just us, but our country, our people, by being part of this event. But at this international concert, where we collaborate, also with our different ethnic backgrounds, it means a lot. It is recognition for Burma again, that there are problems with peace in our country and that people are suffering and dying."
Their performance was welcomed by an audience of 7,000 in Amsterdam, and by perhaps hundreds of thousands if not millions of viewers around the globe. The concert is scheduled to be aired in Burma on Skynet on 28 September.
Phyu Phyu Kyaw Thein said that "War" will be included on a new album called "Nar mei kyan nay yit" [Thou shall be remembered] which will be released before the end of the year, and will be available on iTunes worldwide.
[related]