FROM THE DVB NEWSROOM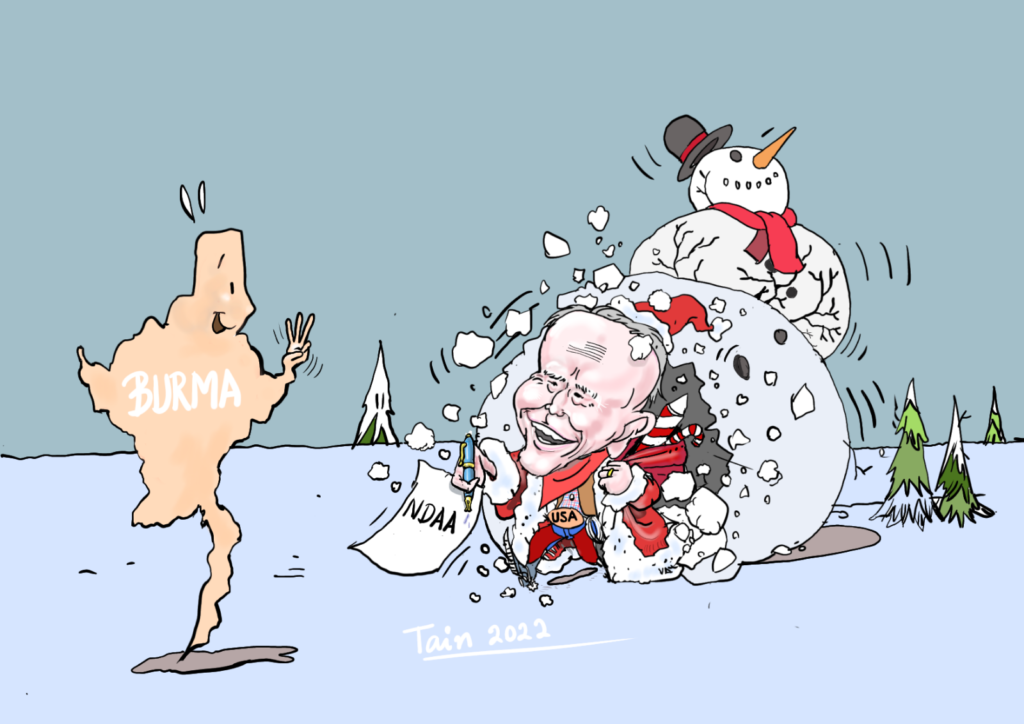 Prison Court gives final sentence to Aung San Suu Kyi and Win Myint
Detained State Counsellor Aung San Suu Kyi and President Win Myint received an additional seven years sentence under Section 55 of the Anti-Corruption law from a military court in Naypyidaw. Read more here.
Civil society activists receive prison sentences
Members of the 88 Generation Peace and Open Society were sentenced to 15 years in prison each by the Kyaikmayaw Prison Court on Dec. 23. Nu Nu Aung, Khet Khet Aung and her son Myat Thu were arrested in April 2022 in Hpa-an, Karen State. All were charged under Section 50(J) and 51(C) of the Counter-Terrorism Act. Nu Nu Aung's family is concerned about her health in prison due to insufficient healthcare. Nu Nu Aung and Khet Khet Aung were working at the Department of Farmer Affairs and Child Affairs for the 88 Generation Peace and Open Society.
Myanmar Citizens Bank to close five of its branches
Myanmar Citizens Bank (MCB) announced on Dec. 28 that it had closed down five of its branches in Mandalay, Sagaing and Muse. "Two branches in Sagaing were temporarily closed due to the bad political situation. The branches in Mandalay and Shan's Muse were closed down in 2020," the MCB office in Yangon told DVB. MCB was founded in 1991. It became a public company and listed on the Yangon Stock Exchange (YSX) in 2016. Until December 2022, MCB operated 48 branches in Burma.
News by Region
AYEYARWADDY—Five members of the National League for Democracy (NLD) received lengthy prison sentences on Dec. 21 for taking part in anti-coup protests in Kyaiklat town. They have been detained since they were arrested in May 2021. "The five of them were charged under Section 52(i) and 52(a) of the Counter-Terrorism Law. The punishments are unfair for the charges of protesting and communicating with the illegal groups. However, they all received long-term prison sentences," a family member said. A Pyapon district court sentenced Pyae Phyo Aung, Chan Myat Thu to 20 years in prison each while Hein Ko received 30 years, Myo Ko received 35 years and Htut Naung Oo received 40 years imprisonment, respectively. They were arrested in May 2021. | BURMESE
CHIN—The Institute for Strategy and Policy (ISP-Myanmar) stated that since the 2021 coup nearly 100,000 people in Chin state have been internally displaced. And at least 40,000 fled to safety across the border to Mizoram, India. Up to November 2022, at least 592 clashes occurred in nine townships of Chin state, 125 of these occurred in Mindat Township. There were at least 33 air strikes, 27 took place in Paletwa Township. Arson attacks destroyed 1,175 houses and buildings, 1,011 of them were located in Thantlang Township.
KACHIN—The Kachin People Defense Force (PDF) seized a prison in Ma Zut Yan village in Hpakant Township on Dec. 23. The prison was attacked and a shootout occurred. "I don't know much about it as it happened inside the prison. But after the fighting, the military [based in] Hpakant Byuu Har Kone shelled the village," a local said. The Burma Army opened fire on a church in Sahkha village. A 16-year-old was injured, according to locals.
MANDALAY—A member of the Amarapura Township Student Union was sentenced to 15 years by the Obo Prison Court. Aung Kyaw Khant, a second-year student at Mandalay's Nursing Training School was convicted of violating Section 50 (J) of the Counter-Terrorism Act on Dec. 26. He was arrested in June 2022.
MON—Twenty-four Rohingya were arrested in a five-story building in Mawlamyine on Dec. 25. "Now the immigration is under investigation. It is still not clear where they came from," a resident told DVB. Since the 2021 coup, nearly 1,000 Rohingya have been arrested in Yangon, Ayeyarwaddy, Bago and Magway regions. Human Rights Watch states that the Rohingya who remain in Rakhine State face systematic abuses that amount to the crimes against humanity of apartheid, persecution, and deprivation of liberty. They are confined to camps and villages without freedom of movement, cut off from access to adequate food, health care, education, and livelihoods.
TANINTHARYI—Sixteen people were injured in an explosion at a wedding reception in Waidi village of Longlon Township on Dec.29. "Two people dropped a black plastic bag. At first, I thought it was trash. There were two explosions. We ran toward the house after the first explosion and then another went off," a witness told DVB. The 16 injured people were later sent to Dawei Hospital. No one is in critical condition, according to witnesses. No group has claimed responsibility for the attack.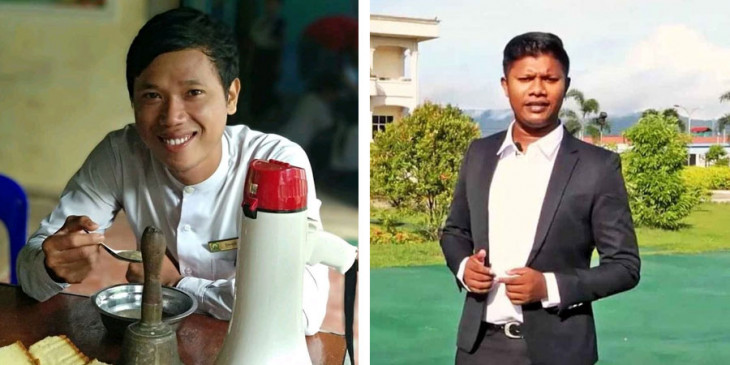 YANGON—Over 73 percent of students at Yangon Technological University (YTU) are taking part in the Civil Disobedience Movement, the CDM group University Council of YTU announced. The students have been on strike since the 2021 coup. Ninety-five students have been "blacklisted" for attending university classes. The 95 students need to appeal to be removed from the CDM group's blacklist. There were more than 5,000 students attending classes since the start of the academic year. | BURMESE
The Insein Prison Court sentenced Yarzar, aka Soe Yarzar Tun, to three years in prison on Dec. 28. A lawyer said he was sentenced under Sec.52 (C) of the Counter-Terrorism Law. Yarzar runs the NCA HIV/AIDS center in East Dagon Township. He was arrested in March 2022 and charged under the Counter-Terrorism Law at East Dagon Police Station.
On Dec. 27, the court also sentenced seven people charged under Sections 3, 5, and 6 of the Explosive Substances Act, 1908. "Six of them received 12 years imprisonment. And a taxi driver was sentenced to seven years in prison," a lawyer told DVB. The seven were arrested on 44th Street in Botataung Township in August 2021. Two members of this group jumped from the fourth floor to their deaths trying to evade arrest by junta forces.