Burmese government forces clashed with a unit of the Democratic Karen Benevolent Army (DKBA) in Kawkareit Township in eastern Karen State on Thursday morning, leaving casualties on both sides.
Maj. San Aung of the DKBA claimed the fighting was provoked by a Burmese battalion stationed in the area, and that skirmishes lasted from 5am until early in the afternoon. He said the main area of contention is a newly constructed stretch of road that is part of the Asian Highway 1 (AH1), a 20,000-kilometre project that the UN hopes will one day link Asia from as far east as Tokyo to Istanbul and Europe.
"We heard gunfire early in the morning and realised that the Tatmadaw [Burmese army] were firing at us," said Maj. San Aung. "Two of our men were hit at around 9am and we decided to return fire."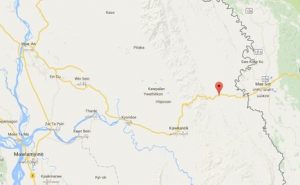 He said two DKBA soldiers and three from the government side were injured in the clash.
A Kawkareit resident confirmed that local authorities had closed the highway between Kawkareit and Myawaddy as a result of the hostilities.
The Burmese army has bolstered its presence along the AH1 as it prepares for an official opening ceremony later in July. However, that plan could now be scuttled since the DKBA recently ordered government troops to vacate the area.
"Engineers from Kawkareit were sent to Thingannyinaung to construct a stage for the ceremony, which is due to be attended by Vice-president U Nyan Htun," said local source Myint Htay.
"When the engineers arrived in the area, the DKBA told them to leave as they did not have the Karen rebels' permission. As far as I know, the Burmese military responded by deploying an extra battalion in the area."
Meanwhile, DKBA commander Maj. Saw Lont Lon said his group is negotiating with the government to reduce tensions.
"We are trying to negotiate with the government. [DKBA] Col. Maung Lay is currently in Rangoon to attend the Karen National Conference and he was instructed by our leaders to talk to government representatives about the situation," he said.
"We should try to resolve the issue before it grows out of hand."
[related]
The Burmese section of the AH1 is one of the least developed parts of the pan-continental project. The road enters Burma in the east at Myawaddy on the Thai border, then snakes over the mountain range to Rangoon, heading up to Mandalay via Naypyidaw, before departing to India via the border town of Tamu.
But several ethnic militias are active in Burma's border areas as a comprehensive peace process drags on, and control over the lucrative trade route remains far from certain.