In December 2011, President Thein Sein formally approved legislation that allows citizens of Burma to engage in peaceful protests.
But the controversial Peaceful Assembly and Peaceful Procession Act comes with certain conditions. Section 18 states that demonstrators are required to obtain permission for protests or risk imprisonment.
Activists and authorities on DVB Debate discussed whether the law is being used to protect the right to demonstrate, or to silence activism.
"This law grants people permission to protest. That's why the law is needed," said Pol-Maj Myint Htwe, Police Superintendent from Rangoon Regional Police Force.
But Win Cho, an activist who has been charged multiple times under the Peaceful Assembly law said authorities are using it selectively.
"Why are the police not using the law to punish all protestors equally? They don't clarify clearly who took part and only charge those they think are leaders. That's why we were taken to court again in July this year," he said.
Burma's 2008 Constitution states that citizens have the right to assemble peacefully and the Peaceful Assembly Act was drawn up in order to legalise that right.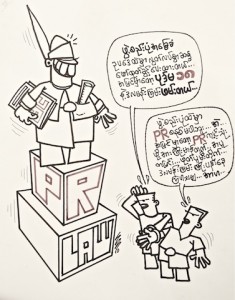 Panellists debated whether this new law provides a loophole for the persecution of activists.
"If we don't have laws, then we will be living like we were under military rule. I don't think this law is biased. We have to follow the laws if the laws exist," said Phone Myint Aung, an MP for parliament's upper house.
But lawyer Robert San Aung questioned why the law was being used to curb peaceful demonstrations.
"A group of journalists taped their mouths and sat down. Which section of this law is directly linked with their actions? Please show me," he said, referring to a case in July when 50 journalists held a silent protest over media freedom.
There has been a strong history of protesting in Burma but in the past, the restrictive former military government cracked down fiercely on protestors.
The studio discussed whether the police are still working with a military mentality.
"The police don't understand the concept of human rights, and their superiors are from the military," said Robert San Aung.
"The police are human beings too and they do understand human rights," said Pol-Maj Myint Htwe. "The Ministry of Home Affairs was formed by the president under the Constitution; the police force and some other departments are controlled by this ministry."
Audience and Panellists pointed out inconsistencies in the implementation of the Peaceful Assembly law in different parts of the country and argued that it seems as if the police are the ones deciding how and when to enforce it.
[related]
"Under this law it seems we get permission to protest in some places and not in others. This decision is being made by just one person, the police chief in charge of each township," said U Marky, a lawyer for the 88 Generation Peace and Open Society (88GPOS).
Burma's judiciary is notoriously corrupt and the studio questioned whether citizens could expect a fair trial from the courts after their arrest.
"This has nothing to do with the president or the parliament or me. If the judge thinks someone is innocent of a crime he'll let them go," said Phone Myint.
The audience disagreed.
"I would like to ask if our judicial system is fair enough to follow the MPs suggestion to cooperate with the police when you are arrested. I ask this question because, in the courts, decisions are made by only one judge," said Htin Lin Oo, a columnist who writes under the pen name Wisdom Villa.
Many in the studio think Burma's Peaceful Assembly and Peaceful Procession Act is a way for the government to retain control over its citizens during this reform period. While others on the panel believe that having a protest law is necessary for peaceful demonstrations.
You can join the debate or watch the full programme in Burmese on our Youtube channel.
 Or comment on our website at dvb.no.