Burma boasts a rich and diverse history and its spectacular collection of ancient sites make the country unique. However, today, the country's heritage is suffering from years of negligence, the strain of a tropical climate, and the recent effects of Burma's rapid development.
Panellists on DVB Debate discussed whether it is worth restoring heritage sites that have suffered decades of neglect.
"The Ministry of Cultural Affairs can't conserve the colonial buildings, it is not our responsibility," said Numara Zan from the Department of Archaeology at the National Museum and Library. "Under the description of our duties, it doesn't state that we must conserve these buildings."
"For some buildings it is too late. We've lost them completely," said historian Bhone Tint Kyaw.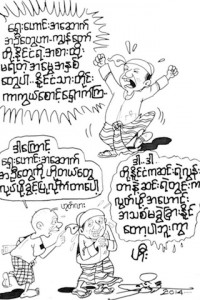 But others thought that it is never too late to save whatever is left of the country's cultural heritage.
"The heritage has value even if only a small piece remains, so later is always better than never," said Khin Maung Maung, a member of Myanmar Engineering Society.
In areas like Bagan, which lays claim to as many as 4,000 stupas and pagodas, there have been restoration efforts. But some panellist said that these repairs were often badly done, ill conceived and carried out by individuals seeking merit with no attempt to preserve historic accuracy.
"It was a very big mistake to order us to repair so many things in such a short period of time," said Numara Zan.
"The conservation efforts began destroying heritage because the conservation was not systematic. There should be specific criteria for conservation," said Khin Maung Maung.
The studio debated who should be responsible for the current state of heritage buildings, and how management of the restoration process can be improved
"In my opinion, everything has happened because of the people in power," said Khin Maung Maung.
But Numara Zan argued they did their job as best as they could and according to orders from higher officials.
"We are given orders from above, and we have to try and finish the work according to these orders. This means that both experts and amateurs end up leading these projects and then the conservation becomes destructive," she said.
[related]
Aye Zar Chi Htun-Kantkaw from the Education Centre suggested educating those in power about the importance of heritage preservation.
Bhone Tint Kyaw agreed, "Of course, we need to give them training," he said.
The studio generally agreed that restoration efforts need to be controlled and done with care and expertise if they are going to be worthwhile.
You can join the debate or watch the full programme in Burmese on our Youtube channel
Or comment on our website below.