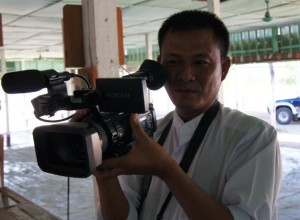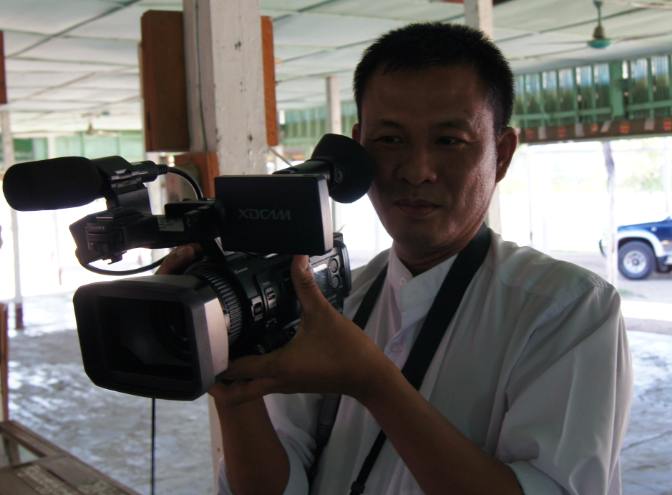 Name: Zaw Pe [also spelt Zaw Phay]
 Sentence: One year
 Prison: Thayet
 Age: 40
 Occupation: DVB VJ
 Arrest date: 25 August 2012
 Sentence date: 7 April 2014
On 7 April 2014, Zaw Pe and Win Myint Hlaing were sentenced each to one year in jail, and later transported to Thayet prison in Magwe division.
In August 2012, video journalist Zaw Pe and Win Myint Hlaing,a father of a student, were charged with trespassing and disturbing a civil servant after they visited the Magwe Division Education Department to conduct an interview about a Japanese-funded scholarship programme.
Zaw Pe was released on bail in September 2012, after having paid a 10 million kyat bond (amounting to US$11,494 in 2012).
Zaw Pe has worked for DVB as an undercover VJ since 2007. He is a former political prisoner, having served over two years in prison, beginning in 2010, for shooting video without a license as he covered a water shortage in Nat Mauk, central Burma.
Reactions to DVB VJ Zaw Pe's jailing:
US Campaign for Burma:
"Zaw Pe's unjust sentencing is a severe blow to press freedom in Burma. The Burmese government is actively backsliding on its high-profile media reforms by tightening restrictions on domestic and foreign media through law, censorship, and devious surveillance practices. The Burmese government should unconditionally release Zaw Pe, end the practice of politically arresting and charging journalists, and build a legal atmosphere in which being a journalist is not a criminal act."
Burma Campaign UK:
"The jailing of Zaw Pe is the latest step in what appears to be a ‎concerted effort to intimidate and restrict the media. There is serious backsliding on media freedom and there needs to be a very robust response from the international community."
US Embassy Rangoon:
"The sentence given to Zaw Pe sends the wrong message to the international community and local journalists on the Union Government's commitment to sustaining freedom of expression and to political reform."
UK Embassy Rangoon:
"We are concerned by the jailing this week of DVB reporter Zaw Pe in Magway. Media freedoms are an essential element of democracy, and it is important that they are protected."
Committee to Protect Journalists:
"Today's conviction of journalist Zaw Pe is the latest indication that Burma's once-promising democratic reform program is rapidly being reversed. With at least five journalists now in jail, President Thein Sein's vows to uphold press freedom ring increasingly hollow. We call for the immediate release of all reporters being held in Burma."
Human Rights Watch:
"Zaw Pe's sentencing is another reprehensible example of the government's recidivism on press freedoms, pulling out military era provisions to intimidate the media. Unfortunately the national level parliament is failing to repeal these petty provisions utilised by capricious local officials and is instead drafting laws that will intimidate the press and curtail their ability to investigate corruption and malfeasance."
Democratic Voice of Burma:
"DVB is confident that reporter Zaw Pe (a.k.a. Thura Thet Tin) was fulfilling his responsibility as a news reporter to inquire about a scholarship programme at the Magwe Township Education Department, which was in the public interest and therefore completely denounce his sentencing."
"Despite all the government officials' pledges of press reform, we believe the jailing of Zaw Pe is an obstacle to media freedom in the country, and we call for the unconditional release of the reporter and his co-defendant."
You can join the calls to free Zaw Pe by using the hashtags #FreeZawPhay and #FreeBurmaVJ