FROM THE DVB NEWSROOM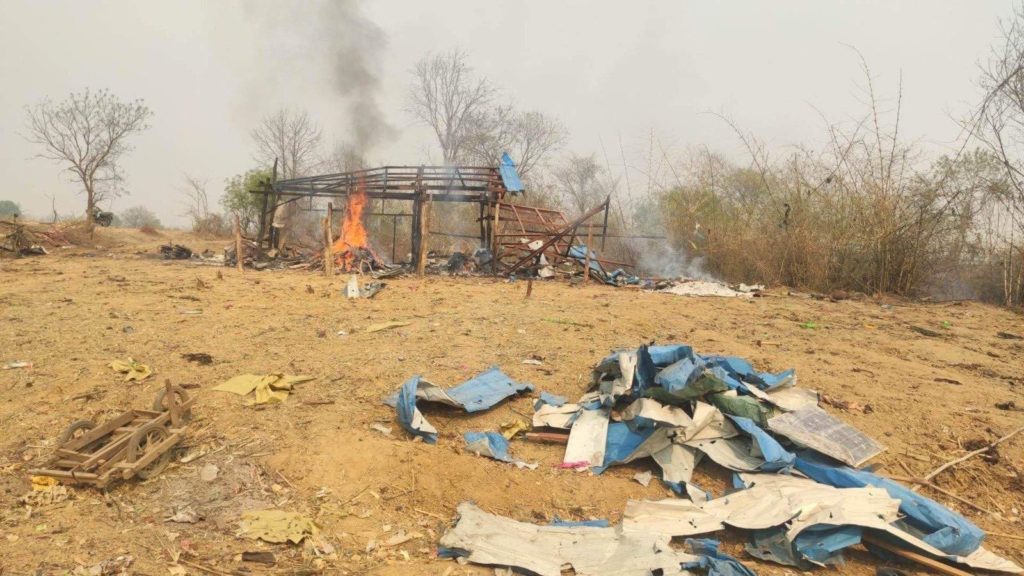 HRW: Military used enhanced-blast munitions
Human Rights Watch (HRW) stated that the military used "thermobaric" ammunition in its airstrike on Sagaing's Kanbalu Township April 11. The airstrike killed 170 people gathered in Pa Zi Gyi for the opening ceremony of a National Unity Government (NUG) administration office. HRW analyzed 59 images of the victims' bodies and a video of the scene of the attack. It was able to determine that the initial hit was carried out using a large, air-dropped "enhanced-blast" type bomb. "The Myanmar military's use of a weapon designed to cause maximum deaths in an area crowded with civilians shows flagrant disregard for human life," said Elaine Pearson, HRW Asia director. She urged the international community "to deter further atrocities" by imposing targeted sanctions against the military regime.
ASEAN calls for an end to violence
The Association of Southeast Asian Nations (ASEAN) stated it was "deeply concerned" about violence in Burma in its May 10 statement. ASEAN condemned the attack on one of its aid convoys in Shan State on May 8 and called for the culprits to be held accountable. "We supported the efforts of the Chair of ASEAN, including its continued engagements with all stakeholders in Myanmar, to encourage progress in the implementation of the Five-Point Consensus." The ASEAN Summit concludes today in Indonesia.
Reward offered to defectors
The military regime offered a reward of up to K7.5 million ($3,568 USD) to People's Defense Force (PDF) members to defect with their weapons. It stated that the amount given will depend on the types of weapons and military equipment they hand over. The regime claimed criminal charges against them would be dropped. Previous claims were made that resistance fighters who "did not commit crimes" could return to civilian life.
NUG-backed university dean resigns
The Dean of the Spring University for Teacher Training Dr. Thein Lwin resigned from his position. But he said he will continue teaching. Dr. Thein Lwin has advocated for education system reform in the country since 2012. He turned down the offer to be the NUG Minister of Education but had accepted the position of dean at the university.
News by Region
AYEYARWADDY—Sixty-two Rohingya were arrested near Hainggyi island in Ngapudaw Township on May 5, Ayeyarwaddy Times reported. "The boat was captured by a naval ship. All of them were detained in a water treatment plant in Ngaputaw town. There are also children. They are still being investigated by the police and immigration officials," said a Ngaputaw resident. The Rohingya were from Buthidaung and Maungdaw townships in Rakhine State. They had left the Internally Displaced Persons (IDP) camps to make their way to Malaysia, according to sources.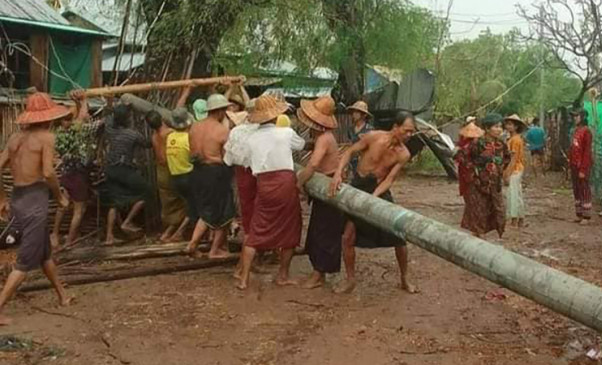 MAGWAY—At least 30 homes were damaged due to heavy rains and winds in Aunglan Township on March 9, residents and local relief groups reported. "The winds are very intense. Utility poles and trees fell on houses," a relief group member told DVB. There were no reported casualties.
MON—Three members of White Tiger Column were killed and four were injured during an airstrike on its base, which is located between Thanbyuzayat and Ye townships on May 7-8, the group claimed.
KAREN—The Karen National Union's (KNU) Brigade 5 reiterated its call for the new KNU leadership to take action against officials involved in "crime-related" businesses on May 8. "We have already planned to take action. Before taking action, an inquiry committee must be formed and a thorough investigation must be conducted," said P'doh Saw Thamein Tun, a member of the KNU standing central committee. Representatives from the KNU 2nd and 5th Brigades did not vote in the elections for congress.
The military claimed that the KNU 17th Congress went against the Nationwide Ceasefire Agreement (NCA) and "is leading to a confrontational path." The KNU announced that it will "fight against chauvinist and military dictatorship and will work together with ethnic resistance forces, democratic forces and people who fight to restore democracy, equality, emergence of a federal democratic union and self-determination." The military stated that fighting with the KNU is being caused by "egoism, partisan feelings and disturbances from overseas."
The regime sealed off four buildings in Myawaddy town on May 9. "No one has lived there for a long time," a local said. The homes were seized because they belong to people prosecuted under the Counter-Terrorism Law for their alleged involvement in the anti-coup movement.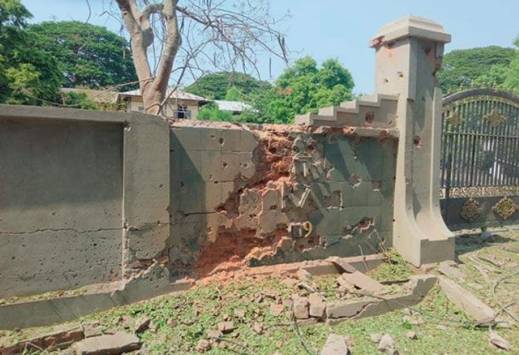 SAGAING—Hundreds of residents in Lay Eain Su village near Kalay town were forced to flee due to an airstrike on May 9. "At first it flew over the village then it returned and started shooting at the village. No one was injured, but the whole village left," a local said. Those displaced from their homes are in need of urgent humanitarian assistance.
A local resistance group urged locals living near a police station in Kalay town to temporarily relocate by May 10. "We have requested the move due to the military situation," a spokesperson told DVB. It said it would not be responsible for any damages caused to local properties if they refuse to leave the area.