FROM THE DVB NEWSROOM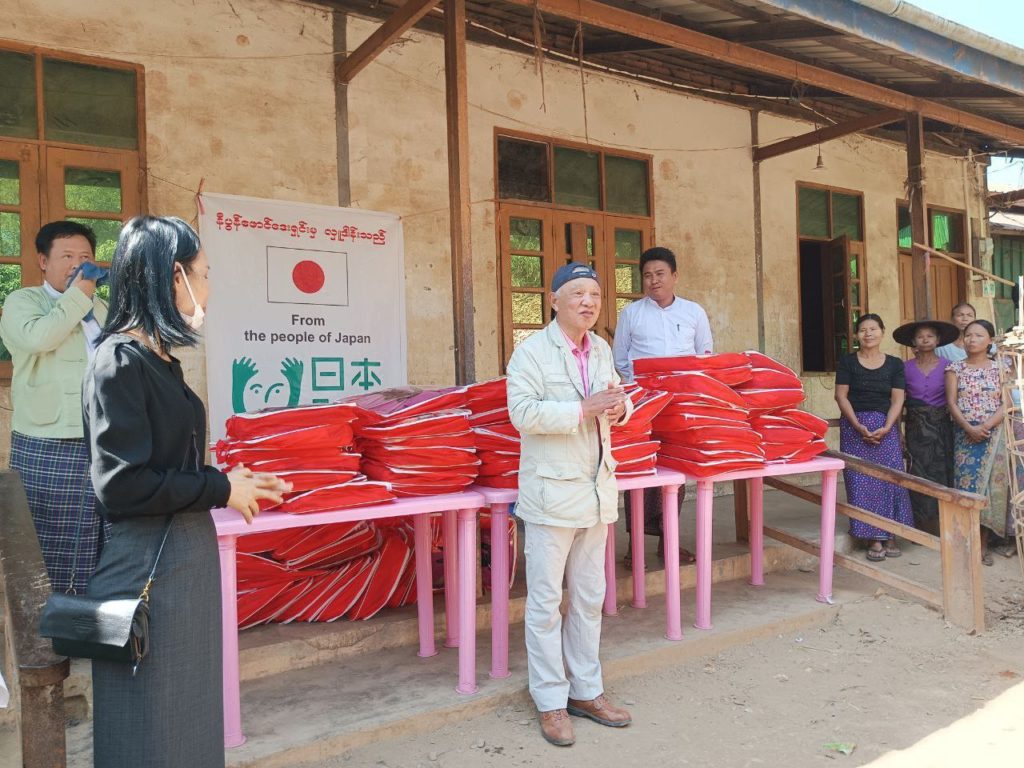 Japan's Special Envoy on Burma visits IDP camps in Rakhine
Japan's special envoy for national reconciliation in Burma, Yohei Sasakawa, arrived in Rakhine State on Jan. 4. He visited Internally Displaced Persons (IDP) camps in Mrauk-U and met with the Arakan Army (AA). "He donated blankets. Then he went to meet the AA's political officials and commanders. I'm not sure what they talked about," a local told DVB. During Sasakawa's visit to the IDP camps, he promised to make an effort to get them back into their homes. "He said that he was very hurt when he saw the IDPs. He shared his own wartime survival experiences. He said that he will do his best to help the IDPs return to their homes through mediation between the two armed groups," a man living in the IDP camp said. The Burma Army and the AA agreed to a temporary "humanitarian ceasefire" on Nov. 26, 2022 due to Sasakawa's mediation.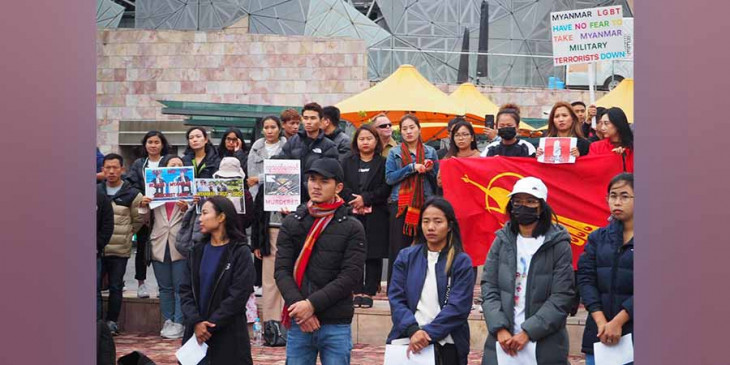 Burmese diaspora in Melbourne rally in support of Silent Strike
The Burmese-Australian community in Melbourne held a solidarity rally on Feb. 4 to support the Silent Strike, which effectively shut down commerce in all major cities and towns across Burma on Feb. 1 – on the second anniversary of the military coup. The rally was organized by the NUG/CRPH (National Unity Government/ Committee Representing Pyidaungsu Hluttaw) Support Group Australia. Two hundred people attended, calling on the Australian government to put more sanctions and pressure on the military and its cronies in Burma, as well as their family members living in Australia.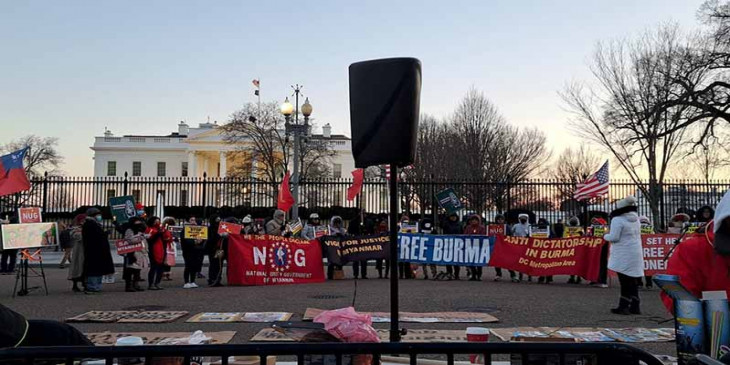 Burmese diaspora in DC call on US to impose more sanctions
The Burmese-American community in Washington, DC held a solidarity rally in front of the White House on Feb. 4. It was organized by a local group called Anti Dictatorship in Burma – DC Metro Area. "We sent an open letter to President Joe Biden. There are three main requests in the letter. Number one is to define the military as a terrorist organization. Number two authorities from the MOGE were recently put on the sanction list. But now we have asked to include the entire MOGE in the sanctions list. No.3: In order to stop the junta's air raids, we have requested to sanction the organizations that import fuel to the junta," said Yin Aye, a member of Anti Dictatorship in Burma – DC Metro Area.
News by Region
KARENNI—The Karenni National Progressive Party (KNPP) claimed that the junta no longer controls the four townships that it had declared martial law in. Demoso, Hpruso, Bawlakhe and Shar Taw are under the control of the KNPP and are administered by the Karenni State government. "Bawlakhe is controlled by them but our forces occupy [outside of] the town," said Aung San Myint, the second secretary of the KNPP. "One thing I'm concerned about martial law is the meaning that the junta allows its troops to kill the people in the area for no reason. Because they can do 'Four cuts' policy, that can be cutting off the access of food, health, education and others," said the vice executive director of the Karenni Humanitarian Aid Group.
MANDALAY—Locals have been ordered by regime authorities to pay electricity bills of K40 million ($18,868 USD) for each village in Ye Pu and Tha Phan Pin wards of Mogok Township. The electricity was cut off in the two wards on Jan. 26 after locals refused to pay their electricity bills. The power will be restored if the K40 million is paid, a local of Ye Pu ward said. There are over 300 houses in each ward and locals were told to pay K300,000 ($141.51 USD) per household last November. This is the second time regime authorities have demanded locals pay the bills.
NAYPYIDAW—Regime media reported that Soe Yadana Oo was arrested in Zabuthiri Township, Naypyidaw Region and charged under the Counter-Terrorism Law for promoting the 'Silent Strike' on her Facebook page. The story went on to state that she was taken into custody on Jan. 31 for spreading news that "harms the nation's peace and reconciliation."
RAKHINE—Two children were killed and three people were seriously injured in an explosion in Ponnagyun township on Feb. 3. The blast occurred after a child touched a device in Kone Tan Kyain village. Two children died at the hospital and three are in critical condition.
SAGAING—The Indaw Township Court sentenced journalist Yin Yin Thein to 1.5 years in prison with hard labor. "She was arrested at the end of 2021. She is still being held in Indaw police station," a relative said. Yin Tin Thein was the secretary of Myanmar Journalists Association (MJA). She's performed charity work in the region.
The NUG Ministry of Defense announced on Feb. 3 that forces based in Homalin Township shot down a helicopter near Shwe Pyi Aye town. A Burma Army offensive tried to wrest back control of the town from resistance forces on Feb. 1. Around 20 soldiers were reportedly killed. Two locals were also killed in the fighting.
YANGON—An administrator and a man were shot at a shop in Hlaing Township on Feb. 4. "There were not many people outside as it was early. We heard the sound of two gunshots. Later, the ambulances and security forces arrived," a resident said. The administrator is in critical condition at Yangon General Hospital. On Feb. 3, an administrator and a member of the Fire Police Department were killed in Hlaing and Khayan townships. A total of nine people were killed in Yangon last month.