FROM THE DVB NEWSROOM
Regime launches airstrikes in Chin's Mindat Township
At least five civilians were injured and religious buildings were destroyed in airstrikes on Chin's Mindat Township from Jan. 7 to 23, according to the Mindat Administration. Locals were injured and a Buddhist monastery was damaged in Paleikhtwi village on Jan. 23. Similar attacks took place on Jan. 22 and 24. Ko Yaw Man, a spokesperson from the administration, told DVB that the Burma Army has grown reliant on artillery and airstrikes in most of the township since it is under the control of resistance groups. Residents have been urged to construct bomb shelters.
Junta plans to amend Political Parties Registration Law
Min Aung Hlaing stated that there are plans to amend Burma's Political Parties Registration Law at a meeting in Naypyidaw on Jan. 23. "Although there are many political parties in the country, they are weak in representing the people," he said. The junta leader did not clarify which section of the law will be amended. Min Aung Hlaing has repeatedly vowed he will hold an election in Burma "without threats and coercion." The National Unity Government (NUG), and other anti-coup resistance groups, have urged the public to boycott the junta's planned election. There have been multiple reports of resistance fighters attacking officials collecting census data for voter lists.
NUG "sells out" of condos in its fundraising program
The NUG raised $10.35 million USD within 18 hours of launching its "Spring Valor Condominium Apartments" on Jan. 21. The programme was launched to sell prospective condominiums on land owned by the Burma Army in an affluent area located on Kabar Aye Pagoda Road. All condominiums were sold out within 18 hours. "It is our desire to participate in the fight to end dictatorship rather than to own an apartment," wrote Tin Tun Naing, the NUG Minister for Planning and Finance. The NUG has auctioned off properties owned by the Burma Army and Min Aung Hlaing.
News by Region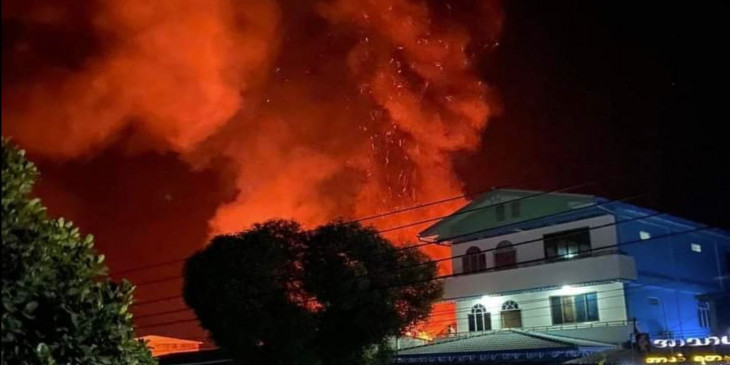 KAREN—Fighting between coalition forces led by the Karen National Liberation Army (KNLA) and the Burma Army escalated in Payathonzu (aka Three Pagodas Pass), located in Kyainseikgyi district, on Jan. 23. Government buildings, including military intelligence, the administration and immigration offices were burned down, according to locals. "Nobody went outside to extinguish the fire as a shootout was taking place. People stayed inside and took care of their families. We don't know exactly how many offices were destroyed in the fire," a local told DVB. Several residents fled their homes due to the fighting and fear of an airstrike. Burma Army reinforcements arrived in Payathonzu town, according to coalition forces. Local news outlets reported that the Border Guard Force (BGF) assisted the Burma Army in regaining control of the town.
MON—Aung Chan Aye, a social media influencer on Facebook, was arrested and charged with incitement on Jan. 22. He was detained at his family home in Kawhtin village in Kyaikto Township after he returned from Thailand. "The township administration informed the military to arrest him," a local said. The junta issued an arrest warrant for Aung Chan Aye for participating in anti-coup protests in 2021.
NAYPYIDAW—The regime-run Directorate of Investment and Companies Administration deregistered more than 5,000 companies in 2022 "for failure to file yearly reports" in violation of the Myanmar Companies Law. Around 400 to 500 businesses were delisted each month in 2022, with the majority being hotels, travel agencies, and construction firms.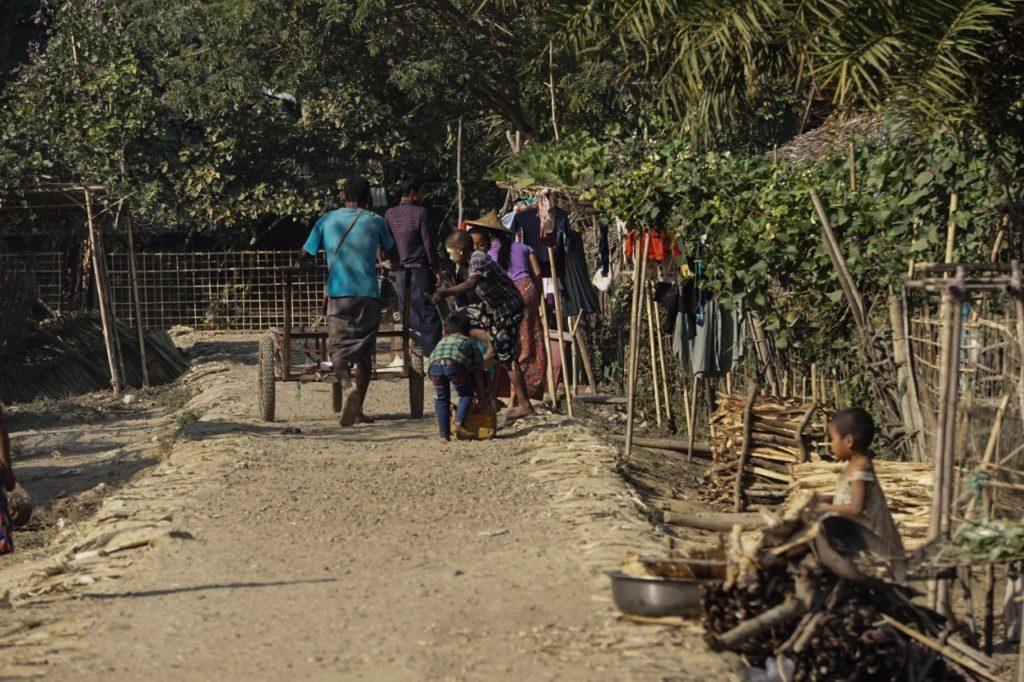 RAKHINE—Internally Displaced Persons (IDPs) sheltering at a camp in Rathedaung Township have experienced difficulties in receiving basic necessities. People living in the Zaydipyin IDP camp, home to 1,053 – including children and elderly – are asking for immediate assistance. "Homes are completely damaged. We need to repair them. We do not have any money since we do not have jobs. We need help from donors to provide us with food and shelter," one man said. A temporary ceasefire between the Arakan Army (AA) and Burma Army in Rakhine State began on Nov. 26, but the displaced families have not received the assistance they require, according to them. "The living circumstances are not good. We have not received assistance for around four months," said the person in charge of the camp.