Police in Burma's southernmost town of Kawthaung on Saturday say they seized over 4 million kyat (US$3,225) worth of kratom leaves being smuggled on a longboat.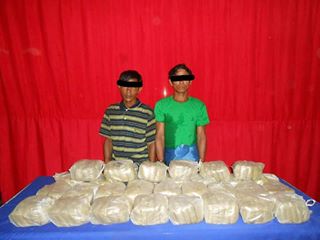 Kawthaung police's Anti-Narcotics Task Force and local village authorities on 24 September reportedly searched a boat in the creek to the east of Bali-aw village based on a tip-off. They say they found 299 bags of kratom leaves, with a street value placed at 4.119m kyat.
Two men on the boat, identified as Oh Nge and Htein Linn, were arrested and now face drug charges, while a third suspect named as Min Naing is still at large.
Kratom (Mitragyna speciosa) is a tropical evergreen tree indigenous to Southeast Asia. The leaves are traditionally used for medicinal purposes, mostly to alleviate pain; however in recent years recreational use has markedly increased in countries such as Burma and Thailand.
The port of Kawthaung sits on the Andaman Sea, and marks Burma's southernmost boundary with Thailand. It is unknown whether the kratom leaves were due to be smuggled across the border on this occasion.
[related]
According to a 2012 study titled The Pharmacology and Toxicology of Kratom: from Traditional Herb to Drug of Abuse, in the 2010s a tea-based cocktail known as "4×100" became popular among some younger people, especially in Thailand. "It is a mix of kratom leaves, cough syrup, Coca-Cola, and ice; as of 2015, people who consumed this were often viewed like methamphetamine and heroin addicts," the report said.