Preparing for an exam is stressful in any country, but in Burma, students really have to know their stuff — right down to the last word.
"There's this example in the exam where you have to fill in the gaps with the correct word," explains Chris Spohr, the Asian Development Bank (ADB) social sector specialist in Burma. "Only, you can't use synonyms — you have to regurgitate the exact words from the textbook."
For years, Burma's education system has been testing students' ability to memorise, not to think.
The education system was not just neglected under 50 years of military rule — it was actively destroyed. Universities were closed for years because of the former regime's fears that they would turn into hotbeds of dissent. When they were reopened, it was in remote, difficult-to-access locations on the outskirts of major cities. The curriculum was based on a strict rote-learning system compatible with the junta's emphasis on discipline and obedience. And even as the country moved away from military rule, schools remained woefully underfunded: In the 2014-15 fiscal year, just 6 percent of the national budget was allocated to education — an improvement from the previous expenditure of 0.8 percent of GDP in 2013-2014, but still one of the lowest in Asia.
This year, the pre-entry university exam results reflect a broken system. Only 30 percent of the students sitting the matriculation exam passed.
"The 30 percent pass rate is very sad for our new generation's future," says Dr Soe Tun of the National Network for Education Reform (NNER), a coalition of 88 Generation students, members of teachers' unions and ethnic education groups who stood in vocal opposition to a controversial national education bill introduced last year.
For Phyoe Phyoe Aung, the leader of the All Burma Federation of Student Unions (ABFSU), the results are far from surprising. "Since 2007 till now, our education system has really gotten worse," she says matter-of-factly. After beginning university as an engineering student in 2007, she says she watched the system deteriorate — which spurred her to protest and advocate for change. Despite facing jail time for leading strikes, she still strongly believes there needs to be dramatic reform.
"The government really needs to decentralise the system as there is no autonomy," she says.
A failing system
"I guess the first point is this year is actually no exception for the matriculation pass rate," says Spohr. "In Burma, it's historically low."
"Partly that probably reflects an issue in the instruments itself: what it's testing and how it's testing."
But it isn't the high failure rate of students that alarms experts most. The real failure, they say, is a system that places a heavy burden on students and their families, but offers little in the way of meaningful education in return.
In many ways, this goes beyond the failings of schools. One of the biggest problems faced by Burma's education system is the high dropout rate — something that is closely linked to the country's deeply entrenched poverty after decades of military rule.
"It's still more advantageous for a family to send a child to work and bring back some small income than to have a child sitting in a class learning," says Betrand Bainvel, UNICEF's representative in Burma, explaining why many poor parents don't send their children to school.
But for those who can afford it, it is clear that they aren't getting much value for their money. According to research from the ADB, the single greatest education-related expense for Burmese families is private tuition to help students cram for rote-based exams — accounting for a whopping 42 percent of all education expenditures.
Even more damning than the economic explanation for the high dropout rate, however, is the fact that many students simply don't want to be in schools that fail to engage their minds. According to Spohr, "The most frequently reported reason for dropping out from within secondary education is actually a lack of interest."
Whatever the reasons, the result is that more than half of all young people Burma fail to complete even lower secondary education.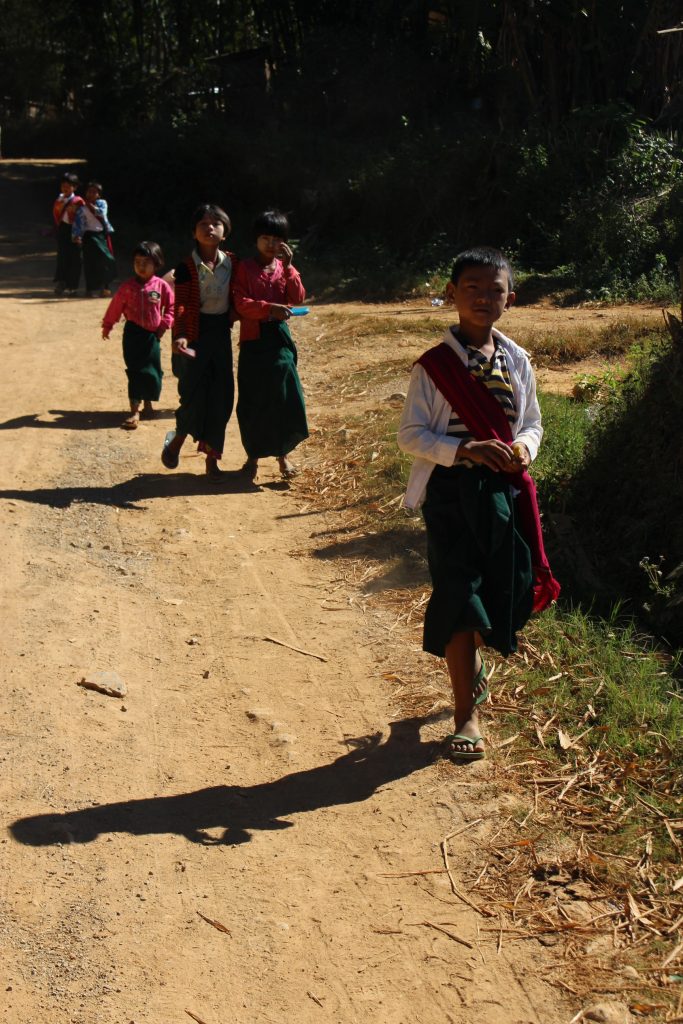 Speaking children's languages
Another major hurdle facing efforts to provide Burma's children with a decent education is the fact that the curriculum is taught entirely in Burmese, in a country where as many as 100 different languages are spoken. Although roughly 80 percent of the population speaks Burmese, many children speak other languages at home. Critics say the "Burmanisation" of the education system has discouraged ethnic students from participating in school and needs to be reviewed.
According to Phyoe Phyoe Aung, the problem extends beyond the language of instruction. "In the curriculum they only teach about Burman heroes, Burman kings, everything about Burma, but they don't hear about their own history," she says.
Dr Soe Tun of the NNER says the result of this focus on Burmese language and history is that many ethnic young people get left behind: "Education is very important for a country, especially for the ethnic people. If they don't get access to education, they won't get access to universities."
He also says that rebuilding the education system to be more inclusive will make it easier for Burma to succeed in its elusive quest for peace between ethnic armed groups and the military.
"For our nation-building project and for a federal democratic country, we have to promote the education system, including a mother-­tongue-based system for national cohesion," he says.
Ethnic languages are usually taught in separate classes outside of school hours. However, Mon State is one of the leading examples of introducing mother-tongue teaching at a primary level in non-government schools.
Min Aung Zay from the Mon National Education Committee says there have been many challenges funding the system as they receive no help from the government and instead rely on donations from the community or from international organisations such as UNICEF. "Teachers at Mon schools are paid about $50 for one month, so it is a very small amount compared with a government teaching salary at around $150," he says.

UNICEF is now supporting the development of multi-language teaching, which coincides with the national rollout of the new kindergarten which began this year.
"The kindergarten and first level of primary is focused on [the child's] mother-tongue, then expanding to more instruction in the Burmese language," says UNICEF's Bainvel.
The challenge with introducing multi-language teaching is balancing the integration of the mother-tongue with instruction in Burmese. "What we don't want to create is a group of the population who can only function in their own mother­ tongue and not in the rest of the country," says Bainvel.
Rolling out national education reform
It seems the years of student protests have not been in vain, as the government is preparing to roll out a new national curriculum.
Currently a Comprehensive Education Sector Review is underway, providing a cross-cutting review of the entire education sector. The findings from this review will then form a broad framework for forthcoming primary and secondary education curriculum.

"This framework drafted is something that the Ministry of Education has led which lays out the framework for developing a new syllabus and textbooks by subject and grade," says Spohr.
Spohr, who is consulting for the government, says the framework promises to move away from the rote-learning assessment approach in the current system and will instead "prioritise in-class participation, including more exercises like group work or independent projects."
This emphasis on critical or creative thinking will begin from kindergarten.
"Kindergarten is currently being rolled with a lot of recreational and creative activities which are not developed in a structural way but give children some space for them to explore," says Bainvel.
Training teachers to adopt this new approach — "focusing on the child rather than the child adjusting to the teaching style of the teacher" — will also be assisted by in-servicing, says Bainvel.

This new framework is currently being finalised by the Ministry of Education and should be released by the end of the year.
Phyoe Phyoe Aung says that on the long list of reforms, dialogue with ethnic and student union groups still needs to be prioritised: "I think for the education reform there are a lot of things to talk about — but I think the first thing is decentralisation and autonomy."
Spohr is optimistic the right balance will be struck to kick start the economy. "The education system is really part of gearing up the society with the young population, [who will provide] the human capital and employment that serve the economy."