Burma's second parliament began on Monday with a session of the lower house in Naypyidaw, where the orange tunics of the National League for Democracy (NLD) provided bright reflection of the party's thundering 2015 election win.
Over two months after the party secured 77 percent of the popular vote across Burma's lower, upper and regional houses of parliament, 255 lower house representatives, many of whom are political novices, were sworn in and took their seats.
The initiation was followed by the formal appointment of the house's speaker and deputy-speaker. The NLD's elected MP Win Myint and the Union Solidarity and Development Party's Ti Khun Myat will hold each office respectively.
The first session of Burma's upper house will convene on Wednesday, when 135 of Aung San Suu Kyi's followers will take their positions. When the combined bi-cameral Union Parliament sits for the first time the NLD will boast 390 representatives, commanding a majority of close to 60 percent.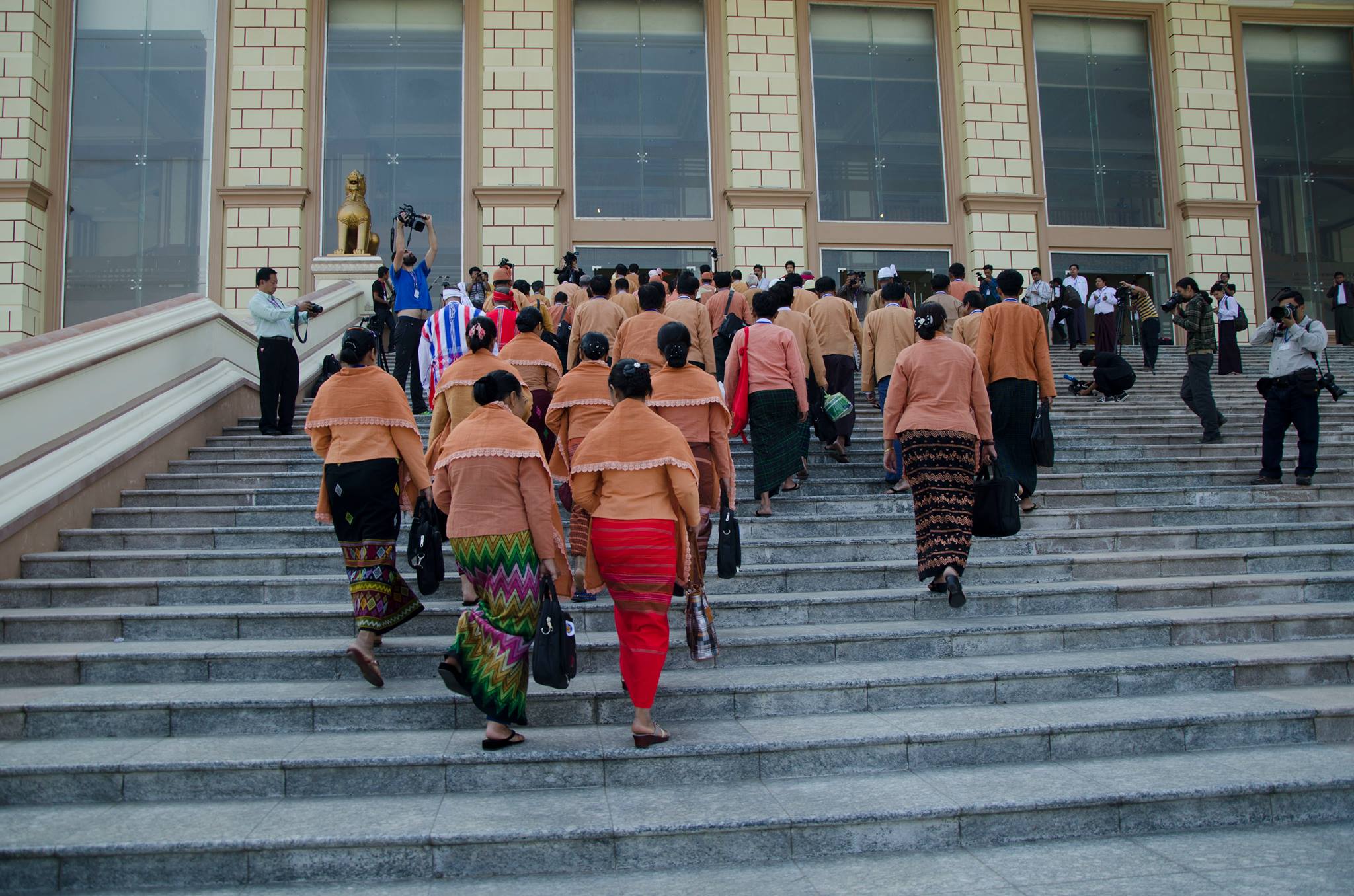 Despite its numerical dominance, the party will be forced to share power with Burma's politically powerful armed services, which holds a constitutional right to appoint 25 percent of seats in each of the country's legislatures.
The bloc holds the keys to changing the constitution, which it drafted, as a 75 percent parliamentary 'yes' vote is required for any significant change. That military acquiescence would be required to amend constitutional Article 59(f), which bars Aung San Suu Kyi from the presidency by virtue of her family members who hold foreign passports.
The NLD's Khin Htay Kywe was appointed to host Monday's lower house session, where she oversaw the procession of new MPs and speakers sworn in to safeguard the military-drafted 2008 charter. One prevision, Article 59(f), bars Aung San Suu Kyi from the presidency by virtue of her family members who hold foreign passports.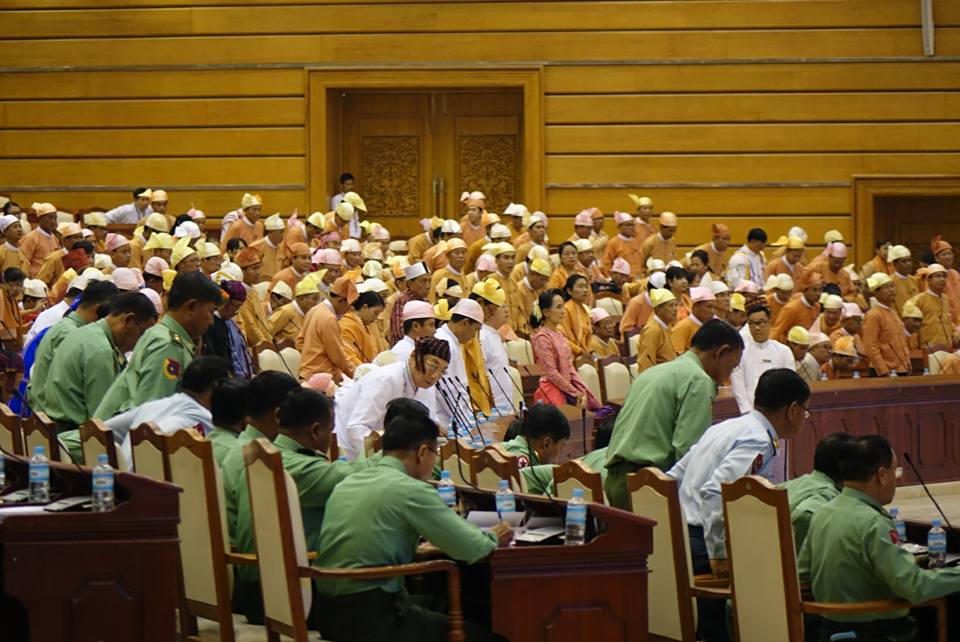 Zin Mar Aung, an NLD MP from Rangoon's Yankin Township said: "It's not new [that MPs have to sworn in to safeguard the constitution] our leaders had to do the same thing when they won the by-elections in 2012. I don't think this will deviate us from our path of coordinating politics inside and outside of the parliament, looking to charter reform and national reconciliation.
"We tried to amend the constitution's Article-436 in the years after the by-elections and are yet to reach success as of now so we must continue that effort."
Sein Win, NLD representative elected in Irrawaddy division's Maubin township said he will focus on land rights issues during his term as a lower house MP.
"The [government] claimed 90 percent of land confiscation cases around the country had been resolved but that is not true. And they did not abide by legal procedures and the parliament's guidelines when resolving these disputes. We are going to try enforcing these relative laws when the NLD takes office as the government and in some cases, when the law needs to be changed, we'll try to do so in the parliament," said Sein Win.
"It is part of the NLD's policy to prioritise land issues and I trust we will do the best we can on it."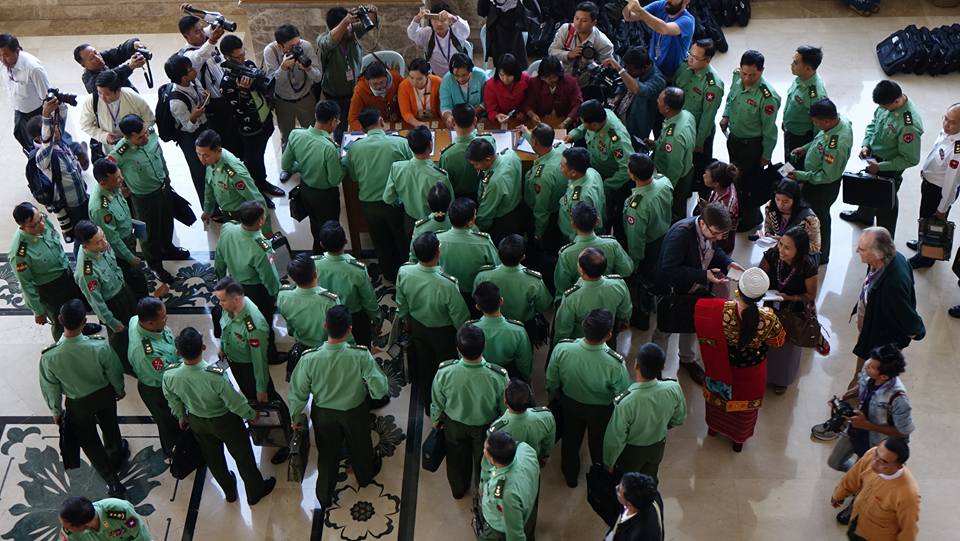 The lower house session on Monday unanimously approved the appointments of Win Myint and Ti Khun Myat as lower house speakers.
Speakers of the first parliament Thura Shwe Mann and Khin Aung Myint, and the National League for Democracy's patron Tin Oo attended Monday's lower house session as observers.
The new lower house is consisted of 255 NLD representatives, 30 USDP, 12 Arakan National Party, 12 Shan Nationalities League for Democracy and 110 military appointed representatives – 433 in total.
[related]