FROM THE DVB NEWSROOM
Number of Internally Displaced Persons exceeds two million
At least 75 civilians have been killed and 94 have been injured since fighting escalated on Oct. 26, stated the U.N. Office for the Coordination of Humanitarian Affairs (UNOCHA). Over 200,000 people have become Internally Displaced Persons (IDPs) in the last four weeks.
There are more than 60,000 IDPs in northern Shan State and 90,000 in Sagaing Region. "A halt in clashes and provision of unimpeded humanitarian access by all parties are critical to safeguarding the lives and well-being of civilians and aid workers who are delivering life-saving services to people in need," stated the U.N.
It added that urban areas have come under attack by the military's artillery and aerial bombardments. The number of IDPs in Burma now exceeds two million, said Stéphane Dujarric, the spokesperson for the U.N. Secretary-General.

Thais trapped in Shan State being repatriated
Thailand's Prime Minister Srettha Thavisin said 41 Thais stranded in Laukkai, located in the Kokang Self-Administered Zone of northern Shan State, were repatriated Nov. 16-17, the Bangkok Post reported.
The 41 Thai nationals have been trapped in Laukkai since fighting broke out in northern Shan between the Brotherhood Alliance and the military on Oct. 27. The Thai military coordinated with the United Wa State Army (UWSA) to evacuate its nationals.
They are returning overland via Tachileik to Mae Sai, Thailand. The 41 are among 164 total Thai nationals who were rescued from cyber scam centers by the military last month.
Indonesia calls on ASEAN to find solution to crisis
Indonesia's Defense Minister Prabowo Subianto called on the Association of Southeast Asian Nations (ASEAN) to find a "peace and durable" solution to Burma's political crisis, AP reported. He made the remarks at an ASEAN defense ministers meeting in Jakarta on Nov. 15.
The regime's defense minister was barred from attending the meeting. Naypyidaw has been excluded from high-level ASEAN meetings for failing to adhere to the Five-Point Consensus plan and halt all violence. It was agreed to by Min Aung Hlaing in April 2021.
News by Region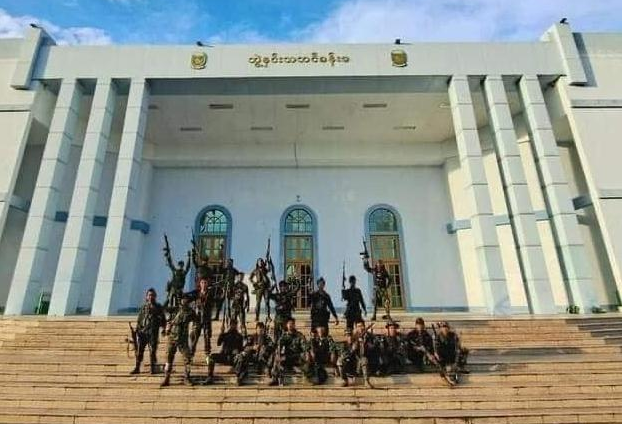 KARENNI—The Karenni Nationalities Defence Force (KNDF) Commander Maui told DVB that the military has not sent any reinforcements nor supplies to its troops. "We can clearly see that these ground soldiers are being sacrificed," said Maui.
The KNDF claimed that 32 military personnel surrendered in Loikaw on Nov. 15 following reports that 110 military personnel were killed. The KNDF claims to have most areas of Loikaw under its control.
AYEYARWADY—Around 100 people participated in a pro-military protest in Pathein on Nov. 15. It was led by the editor of a pro-military news agency established after the 2021 coup. "The organizers' speeches portrayed ethnic armed organizations and revolutionary groups negatively," said a Pathein resident.
Similar protests have been organized in Yangon, Mandalay, Magway, and Myitkyina since Nov. 11. A news editor, speaking on the condition of anonymity, told DVB that another pro-military news agency organized the protest in Naypyidaw last week.
ARAKAN—Two police officers were killed and at least 10 surrendered as the Arakan Army (AA) fought to seize control of Pauktaw on Nov. 15. Western News reported that more than 30 police officers, including the township police chief, were detained by the AA. Two military helicopters attacked Pauktaw on Nov. 16.
More than 5,000 tourists trapped at Ngapali beach in Thandwe Township were allowed to depart by road or plane from Nov.15, according to the regime's Ministry of Hotels and Tourism. The military blocked all roads and waterways on Nov. 13.
CHIN—Anti-coup resistance forces have reportedly seized control of Falam Township and the AA has seized a military outpost in Paletwa Township.
MANDALAY—Ten civilians were killed at a tea shop in Aung Kan Tha village, located along the Mandalay-Mogok highway, in Madaya Township on Nov. 16. "The [military] thought people inside the tea shop were from the People's Defense Forces," said Bo Tauk, the Madaya PDF information officer.
SAGAING—Three bridges that connect Kale to villages in the north of the Township were destroyed on Nov. 15. "Resistance forces cannot come to their villages and the town if those bridges are destroyed," said a Kale resident.
Three military outposts have been seized by resistance forces in Kale Township since Nov. 3. The military has set up security checkpoints and is inspecting residents of Kale.
SHAN—The Brotherhood Alliance has seized more than 169 military outposts and five towns in northern Shan State, claims the Myanmar National Democratic Alliance Army (MNDAA).