Use this interactive map to find all the sites in Mandalay mentioned in this story
[dropcap]M[/dropcap]andalay, Mandalay. Seldom has a name stirred so much longing in the hearts of travellers, but failed to deliver. Stiflingly hot and dusty in the dry season, clingingly humid and muddy in the rains – this central Burman metropolis, once the capital of the country, labours under the pressure of these exotic expectations.
Perhaps some of its magic was stolen by the British, before the military junta stepped in and stamped their boots on any remaining culture or colour, including occupying the entire moated area of the walled citadel– a blight on the skyline that lingers to this day. In recent years, a heavy influx of business-savvy Chinese merchants has reshaped the city centre; however this once charming cultural capital has gradually deteriorated into a dirty, concrete urban sprawl.
Nonetheless, Mandalay is ideally situated at the crossroads of Burma's tourist trail – the departing point for serene Inle Lake, the ancient ruins of Bagan, the Gokteik Gorge railway line to the tea plantations of Shan State, and the imposing fairy tale setting of Mount Popa. Yet the city itself suffers a lack of tourism infrastructure; guides struggle to lay out an itinerary that offers more than just a litany of pagodas where the Buddhist faithful can make merit.
Make no mistake, this city does have some lovely Buddhist temples, but it is in the backstreets that you will find the real Mandalay. There are some undeniable moments of magic, some serene oases of contemplation, and the town is easily navigable – the streets arranged in a grid of numbers and small enough to either walk or motorbike-taxi your way around in no time. Perhaps Mandalay's most appealing feature is its people: chatty, witty, friendly, and tourist-friendly without being clawing.
Book, bridge & bell
If you are seeking superlatives, you may be interested to note Mandalay's claims to fame. It has the world's largest book (see Kuthodaw temple); the world's longest bridge (see U Bein Bridge); and previously held the record for the world's largest bell (see Mingun) until it was surpassed in 2000 by a rival in China.
Getting around
Traversing Mandalay by foot is a tough task. Pavements are few and far between, and usually potholed. Save your feet for Mandalay Hill, the markets, going around the moat, and Mandalay Palace. A 15-minute taxi ride from your hotel to an attraction will usually cost 2,000 to 8,000 kyat (US$1.50 -$6), depending on how touristy the situation. Motorcycle taxis cost only 1,000 to 2,500 kyat anywhere, and are fast and easy to find, but may be scary.
Recommended walking/ taxi tour
Morning: Southwest of the moat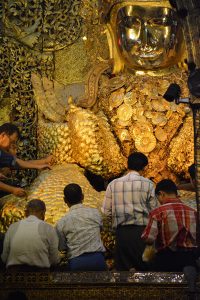 Mandalay is a city that awakens before dawn, and you should plan to do likewise if you want to take in the sites and the sights. Any photographer will tell you that sunrise and sunset make for the best "magic hour light" for high-definition pictures, so set your alarm and head out at 4am on Day One (yes, 4am!) to absorb one of Burma's most ancient and powerful Buddhist rituals: the daily cleansing of the Maha Muni statue (*1), which legends says is an exact replica of Siddhartha Gautama's face. It is an elaborate ceremony involving senior monks, drummers and pilgrims, where the Buddha image is meticulously washed, its teeth are cleaned, and it is perfumed in sandalwood and other aromas.
While you are there, you can walk one block north to see how marble and stone Buddhist statues are made and sculpted (*2). As a former royal capital, Mandalay is a centre for arts and culture, so many of the finer points of Buddhist art were developed here, including sculptors' rules for creating the Buddha's distinctive features.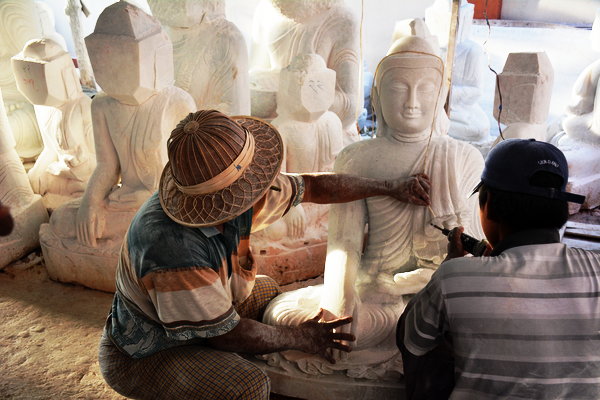 With so many pilgrims visiting Maha Muni on bus tours, you might find these sculptors' workshops over-run on the morning you visit. So, if you have a taxi driver with you, ask him to head to 78th Street/ Sagaing Road, about three blocks south, where an independent sculptor's yard is usually quiet. These images are made to order, mostly for Buddhist monasteries across the country. The workshops normally open around 6am.
See Video about Mandalay's various artisan workshops, including the gold leaf-makers on 36th Street between 77-78 (*3)
Cake break? Need to sit down in the air-conditioning for a coffee, fruit juice, ice-cream, chocolate cake or croissant? Such spots are few and far between, so stop in at Fudo's *4 (corner 75th & 35th).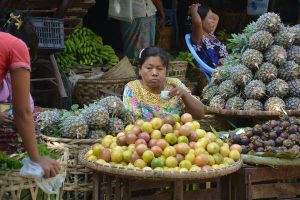 Another pursuit at sunrise would be to go to the colourful open street market on 27th and 28th streets (*5), just southwest of the moat. While some of the early morning smells may delight the senses – incense, jasmine, fresh fruit, spices – you might also struggle with the pungent odours of fish paste, durian, deep-fried entrails, slaughtered fowl and rotting garbage. Whatever fruit is seasonal should be obvious by its abundance, so buy a bunch of fresh mangosteens, pomegranates or bananas to keep yourself going.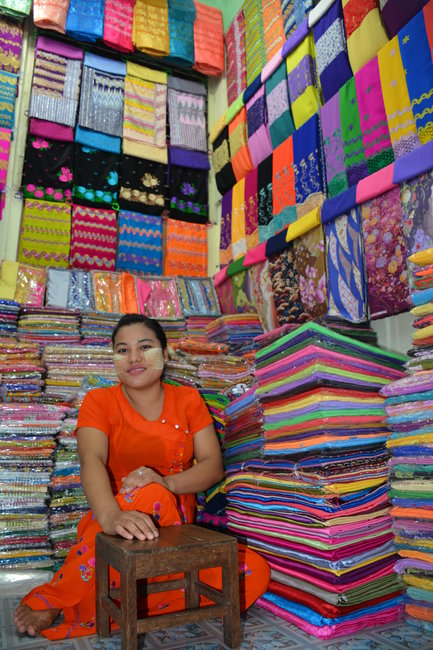 When you have finished, head indoors to the Zay Cho Market (*6), a good place to buy souvenirs. Burmese longyis and htamein make for excellent gifts, and are cheap and easy to carry. And you'll want one or two for yourself, of course.
—————————————————————————————————————————————————————————————————————
The jade trade – One to miss?
Situated conveniently between Zay Cho market and Maha Muni temple, Mandalay's Jade Market (*7) is a popular shopping stop, especially for Chinese visitors and traders. However, you may want to rethink purchasing these gems in view of the large-scale exploitation and profiteering involved in northern Burma. Read this recent report.
—————————————————————————————————————————————————————————————————————–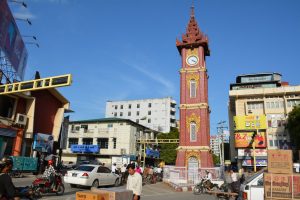 Coming out on the north side of Zay Cho Market you'll find yourself at the Clocktower (*8), a good meeting place or orienting point (Junction of 84th and 26th streets). From here, you can choose either of two directions:
A: Fun park & Riverside: A 20-minute walk (or 5 mins in taxi) west on 26th Street will take you to the City Park (*9), which is ideal if you have children, or if you are a big kid at heart. Situated alongside the Irrawaddy River, it costs just 500 kyat (less than $0.50) to enter, plus whatever rides you go on. A rollercoaster that splashes through water is perhaps the highlight, but there's also dodgems, carousels, snack bars and other fun stuff.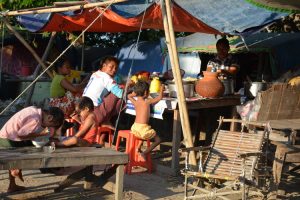 You might also be considering a romantic stroll along the boardwalk by the Irrawaddy River. Well, forget it. The riverbank is lined with squatters' camps with no real scenic spots. However, if you do want to mingle with the squatters and get their personal stories, you can easily find a busy teashop among the makeshift houses (*10).
B: Walk along the moat: Walk eastwards on 26th until you reach the southwest corner of the moat. After the clammy claustrophobia of the markets, you will enjoy the breeze and quietness as you stroll along the outside of the citadel wall under the shade of trees. A walk from the Clocktower up 80th Street to Arlawi Gate (*11) will take about 30 minutes.
====================================================================
Lunchtime?
Lashio Lay (*12): Decent diner with wide selection of Shan and Burmese curry choices. Open daily: 10am–9pm. (23rd Street/ between 83-84)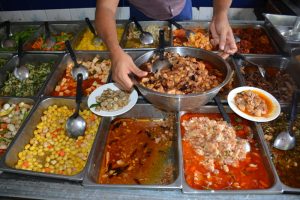 22 Target (*13): Popular open-air Chinese venue that seems to constantly show Western movies or football on a big screen. Cold draft beer also served. (22nd Street/ between 88-89)
======================================================================
Afternoon: Northeast of the moat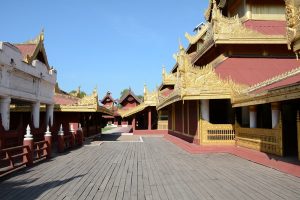 Mandalay Palace (*14) is an oasis of tranquility in this bustling city. Situated inside the moat in the middle of the walled fortress, this area is today a military residential zone. As a tourist, you can visit (10,000 kyat entry) via an army checkpoint on the east side of the moat: U Hteik Gate (*15).
The palace was built in 1857-59 by King Mindon for his new capital. Most of the structures were actually transferred from the old capital, Amarapura, and several are monastic buildings, helping give this site an air of serenity.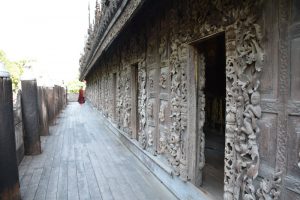 Now that you have taken in the pillars, finials and eaves of the palace, let's head to Shwenandaw Monastery, a.k.a. the Golden Palace Monastery (*16), where you can further appreciate the intricacies of late 19th century Burmese Buddhist architecture. This teakwood temple is a masterpiece of delicate woodcarvings.
From Shwenandaw, you are just a stone's throw from the world's largest book – woo-hoo! – 729 marble slabs inscribed in Pali text that are interred in tomb-like shrines in the grounds of Kuthodaw Pagoda. (*17)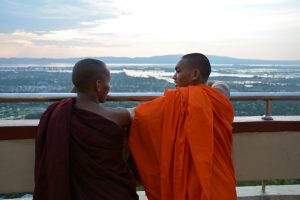 You are now at the foot of Mandalay Hill. The winding forested road to the top is about 11km and is popular with joggers and walkers at dawn and dusk. If you have the energy, you can join the troupe, though it is a tarmacked road and cars are constantly passing by. The view from the temple at the top is worth the pain. (*18)
===========================================================================================================
Sundowners?
The Ayarwaddy River View Hotel (*19) has a cocktail happy hour around 6pm on their rooftop, an ideal spot to sit and enjoy the sunset over the river.
==========================================================================
Evening Dining: Mandalay can be pretty awful when it comes to culinary experiences, and many travellers leave with water-borne viruses kicking around their stomachs. No really good recommendation for Western cuisine yet. Maybe next year.
Burmese
Aye Myit Tar (81st Street/ between 36-37). Fast, never-ending table service from teenage waiters who bring pickled side dishes galore on top of whatever you order. Try mutton curry, catfish curry, and seasonal vegetables. Meal for two: 15,000 kyat (*20).
Chinese
The Golden Duck (*21): All taxi drivers know the Golden Duck. It is a reliable and amazingly efficient Chinese restaurant, which must turn over at least a thousand customers a night. Signature dish is crispy duck. A meal for two with duck, spare ribs, kale n' garlic, rice and beers will cost 20,000 to 25,000 kyat.
==============================================================================
Day trips from Mandalay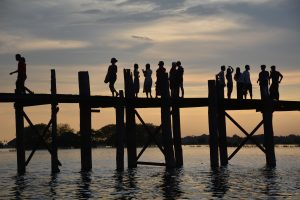 Amarapura & U Bein Bridge (*22): The former capital is now but a suburb of Mandalay, and you can get a taxi there and back about half an hour each way. There's not much to rave about though, unless you have an insatiable appetite for Buddhist temples. The loveliest thing to do is hire a boat and an oarsman to paddle around U Bein Bridge at sunset (although you will be shoulder-to-shoulder with every other tourist in town). Built in 1850, at 1.2km in length it is the longest wooden bridge in the world. Arrive early so you can stroll up and down the bridge before hiring a boat.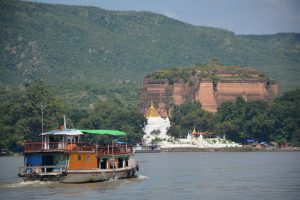 Mingun Pagoda & Bell: A government-run ferry leaves from the port (*23) near Ayarwaddy River View Hotel at 9am and returns at 1pm-1:30pm. Cost is just 5,000 kyat. Mingun itself is a half-built colossus of a temple (*24), begun in 1790, but abandoned due to a soothsayer's prophesy. It was damaged by an earthquake in 1839, leaving huge vertical cracks. Unfortunately, vulture-like guides and site officials are making this trip hard work by hassling visitors and demanding extra fees.
Luxury cruise to Bagan? Pandaw Tours operate a sumptuously relaxing two-day two-night river journey from Mandalay to Bagan and vice-versa. Read about it HERE