"What is happening in Burma is a constitutional crisis," says Bo Gyi, co-founder of the Assistance Association for Political Prisoners (AAPP), on the subject of the right to protest.
"We can see some changes in the country, but not a transitional change," Bo Gyi told DVB, speaking at his office in Mae Sot, just a stone's throw from the Thai-Burmese border, where he has lived in exile since fleeing Burma after seven years of imprisonment and torture at the hands of Burma's Military Intelligence for his democratic activism. After the establishment of AAPP in 2000, Bo Gyi and his colleagues have campaigned tirelessly for the release and rehabilitation of prisoners of conscience, drawing international attention to the issue.
[pullquote]"This led me to think the authorities, police and the court are in cahoots with cronies."[/pullquote]
Last week, fourteen people were imprisoned for six months for their activism against a 1990s land grab in Michaungkan, a suburb in eastern Rangoon. Protests on the issues have included a seven-month-long occupation of Maha Bandula Park in the city centre of Rangoon, during which a 71-year-old woman died from the ill effects of such a prolonged open-air demonstration.
Just days after this sentencing, in the early hours of Thursday morning, another 14 Michaungkan activists and four street vendors were arrested at their City Hall camp as it was dispersed in the middle of the night by police, the second time a forced eviction had taken place since December.
The Michaungkan protestors had fallen foul of the government's prolific use of Article 18 of the Constitution's Chapter 354, the Right to Peaceful Assembly and Peaceful Procession Act, by which people can be sentenced to imprisonment for up to one year, a fine of 30,000 kyat (US$30), or both.
Since Then Sein's nominally civilian government took power in 2011, Burma's citizens have been increasingly exercising a social voice, impossible under the previous military regimes.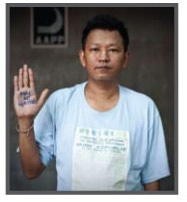 During decades of military rule, farmlands were regularly seized by the military and government "cronies" but were often left undeveloped, with farmers allowed to work the land on a tenant basis. As the economic opportunity in the country swells, the issue of land ownership comes to the fore.
In 2012, heavily criticised new land laws gave poor options for recourse to farmers who had lost their land to investors – last year, a government report obtained by DVB showed that out of  8,478 cases of land confiscation filed to the government, only 423 had been settled.
Subsequent protests by those who have suffered forcible confiscation are regularly met with a heavy-handed government reaction and, oftentimes, imprisonment for those involved.
"I have a question to ask the government: when farmers are in prison, and they have lost their land, how do we fight against poverty? Farmers should be in farms," says Bo Gyi.
On 22 December, a local woman named Khin Win was shot dead at Latpadaung copper mine. She and other protestors had confronted riot police who were protecting workers as they laid fences around disputed plots of land at the site, jointly run by the military-owned Union of Myanmar Economic Holdings and China's Myanmar Wanbao.
"The government does not help those who face confiscation … They crack down, they kill. That is not the correct way for the government to deal with land grabs," Bo Gyi said to DVB.
The regime has insisted that compensation for land loss is offered at preferable rates. Speaking to parliament in January 2015, Deputy Minister for Construction Soe Tint said, "Farmland loss is due to establishing new satellite towns in public interests," and that recompense is paid at above market value.
However, in Bo Gyi's opinion, land seizures are "definitely related directly to economic development or economic investment." He adds: "Space is needed for investments. In order to make space, the army and cronies confiscate lands."
The Shwe gas and oil pipeline, running from China to the Bay of Bengal, is expected to earn the Burmese government US$1.8 billion annually. Local residents of Maday Island say that their livelihoods have been lost, with land confiscated and fishing rights denied since the inception of the project. In 2013, ten people were sentenced to three months of jail-time under Article 18 for staging an unauthorised protest.
"Much of the land was given as gifts to crony businessmen and relatives of the military officials, later to be sold at a mark-up to the investing companies," said the Shwe Gas Movement action group in a 2013 report.
The past four years have also seen numerous bouts of industrial action since a 2011 bill allowed for the formation of trade unions and permitted workers' strikes – which have frequently been met with a heavy handed response.
This month, protests by workers in Rangoon's industrial zones have been gaining traction as they call for better pay and working conditions. Local government responded with threats of legal action, and police have been forced to deny that they instigated violence on 20 February, in which several protestors from a garment factory in Shwepyithar were injured. Two alleged leaders of the strike, Naing Htay Lwin and Myo Min Min, were arrested and detained in Insein Prison, charged under Article 505(b) of the Penal Code.
[pullquote]"The political culture President Thein Sein often mentions is starting to take shape."[/pullquote]
Article 505(b) is an archaic edict of the colonial era that is frequently enacted to deal with public gatherings, sharing the same notoriety as Article 18 as a tool to bring activists under the government's grip. In the wording of 505(b): "Whoever makes, publishes or circulates any statement, rumour or report … with intent to cause, or which is likely to cause, fear or alarm to the public or to any section of the public whereby any person may be induced to commit an offence against the State or against the public tranquillity."
At the Moehti Moemi mine in Mandalay, protests against the mine owner in 2013 saw more than 70 people arrested. Some of those who resisted a settlement deal were last year sentenced to 18 months' jail time. One miner told DVB at the time that charges had been dropped against those who had accepted the scheme: "This led me to think the authorities, police and the court are in cahoots with cronies," he said.
With only superficial legal changes to civic rights, but a government which still favours de facto violent dispersals, arrests and detentions, what road from here?
"The mind-set needs to change," says Bo Gyi.
"The government is not an expert on how to negotiate … Rather than arresting and cracking down on these demonstrators, the government should negotiate between workers and businessmen."
Bo Gyi says he believes that cautious lessons can be learned from the recent experiences of peaceful student protests and activist-government negotiations around the National Education Law. After students this year organised nationwide marches to Rangoon, a bill of amendments in line with their demands, drawn up after a series of talks with officials, is currently being discussed by lawmakers.
"We have to wait and see. We cannot yet fully trust [the government], and we have to wait for parliament. But, anyway, this is a good step. Other cases should follow like this one … Every demonstration should be a negotiation," he tells DVB.
[pullquote]"When farmers are in prison, and they have lost their land, how do we fight against poverty? Farmers should be in farms."[/pullquote]
During the period of talks, government and student representatives declared their intention to engage with each other positively and to "find agreements though negotiation."
MP Aung Thaung of the hardline ruling Union Solidarity and Development Party told DVB: "Staging marches like this can create fear and panic among the public. We try to convince them to stop but if they don't wish to, they are free to walk on."
Other voices of optimism can be heard. Mya Aye, an 88 Generation member who has been party to the negotiations, said: "I believe that the government and students found a way to solve the issue peacefully through negotiation. This signifies that the political culture President Thein Sein often mentions is starting to take shape."
The current student campaign, with its demands that the government allow student and teacher unions, and the teaching of ethnic language, is innocuous when compared to the historic role played by students at junctures in the Burmese struggle for democracy: Aung San and his peers, borne from the Rangoon University Student Union, leading the struggle for national independence; the 1988 student-led uprising and its bloody crackdown; the 2007 Saffron Revolution, which saw students and democratic activists joined by monks in the streets. However, this year's student protests are significant for being as yet bloodless and free from arrests.
Recent examples show that students often pay the price for showing solidarity with other groups.
On 14 May 2014, student Kaung Htet Kyaw was with a group of farmers from Pegu's Thegon when they were reportedly assaulted by more than 160 police officers and plain-clothed thugs as they protested, calling for the return of confiscated farmlands. Kaung Htet Kyaw went into hiding, and was charged under the Chapter 354 in absentia. Several Thegon farmers had already been detained under Article 505(b).
"We demand the release of the farmers who are in detention, and that all charges against them and our member, Kaung Htet Kyaw, be dropped," said Min Thwe Thit, secretary of the All Burma Federation Student Unions (ABFSU) central committee at the time.
[related]
Last year, Phyu Hnin Htwe, a member of the ABFSU and a student at Mandalay's Yadanabon University, was facing ten years in jail for her part in a protest against the Latpadaung copper mine. Wanbao Myanmar had brought charges of kidnapping with intent to murder and wrongful confinement against her, though she insisted she was not even in the area on the day of the protest.
Bo Gyi believes that the lack of outright repression of the National Education Law protests is a good omen for Burma. With student activism spreading beyond education issues, he asks, does this foretell an opportunity for a meaningful shift within the country?
Keen to be viewed as a reformer in this year of scheduled elections, it remains to be seen whether Thein Sein's government can demonstrate more than a superficial commitment to the values of democracy. Time will tell whether the students' demands will be accepted by parliament, or whether they are moved to continue with their walk to Rangoon.
For many, the acid test will be whether the bullying and indiscriminate use of legal instruments can be replaced by the novel process of negotiation.
"Workers, or farmers, or students – if they need something, they have the right to ask for it," says Bo Gyi. "And now they are asking."