FROM THE DVB NEWSROOM
Sean Turnell appointed advisor to NUG bank
The National Unity Government (NUG) appointed Sean Turnell as a Special Advisor to its Interim Central Bank. The Australian economist served as an economic advisor to Aung San Suu Kyi's National League for Democracy (NLD) government. Turnell was arrested on Feb. 6, 2021 – five days after the military coup – and later sentenced to three years in prison under the Official Secrets Act. He was released in an amnesty of 5,700 prisoners on Nov. 17, 2022.
Resistance leaders call for support
The United States Institute for Peace (USIP) published calls for international aid to resistance forces in Burma. The op-ed was co-authored by the NUG Defense Minister Yee Mon, democracy activist Min Ko Naing, and the Kachin Independence Council Vice Chairperson Sumlut Gun Maw. The three criticized the international community for not providing the same kind of support to Burma as Ukraine. "Even a small fraction of the aid Ukraine has gotten to repel Russian aggression could dramatically affect the struggle to unseat Myanmar's military dictators," they stated.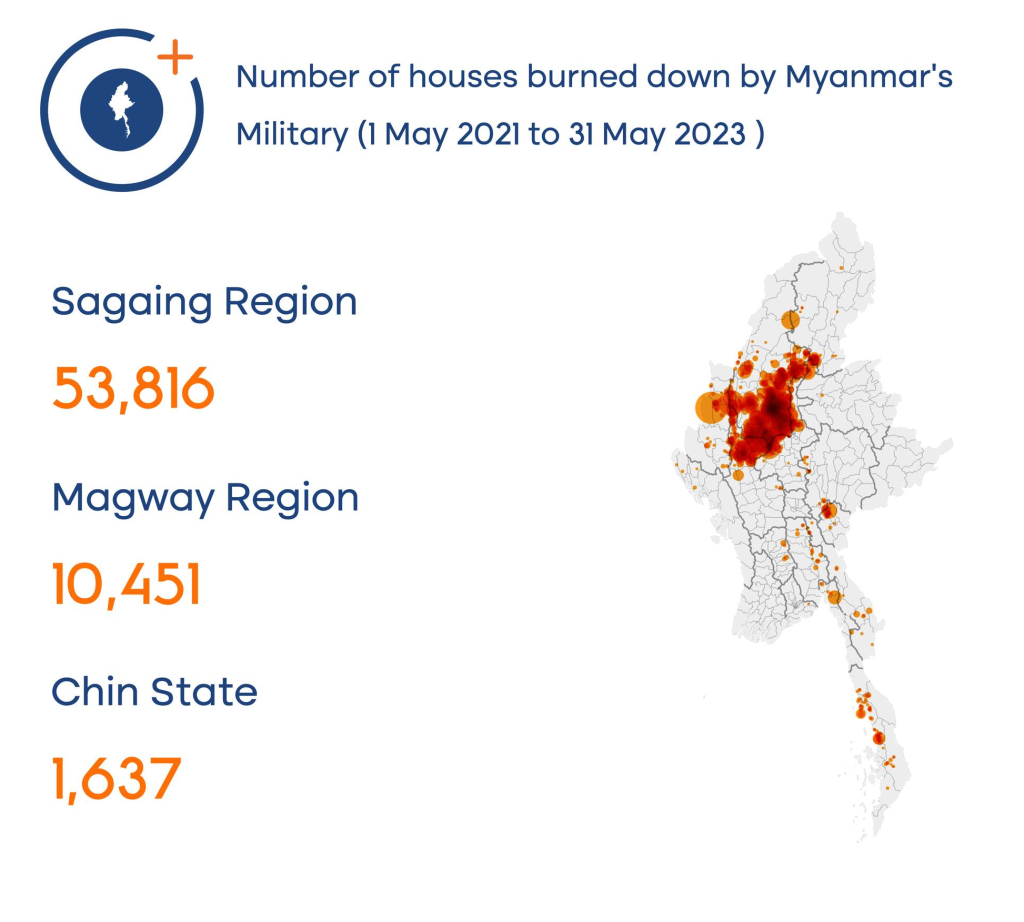 Over 70,000 homes burned down since 2021
At least 70,324 civilian homes have been burned down by the Burma Army and affiliated groups as of May 31, according to Data for Myanmar. Sagaing Region had the greatest number of arson attacks with 53,816 homes burned down, followed by Magway Region (10,451), Chin State (1,637), and Kachin State (1,378). At least 21,308 homes have been destroyed by arson attacks in 2023 so far.
News by Region
AYEYARWADDY—A house and a rice mill in Bogalay Township were seized on June 12. The property owners are accused of supporting the People's Defense Force (PDF). "They sealed those properties and charged them under Section 50 (J) and 52 (A). The owners of the properties had fled already," said an unnamed source close to the military. Two other homes in the town were seized on June 9. The Assistance Association for Political Prisoners (AAPP) states that 751 properties across Burma have been seized since the coup up until March 31, 2023.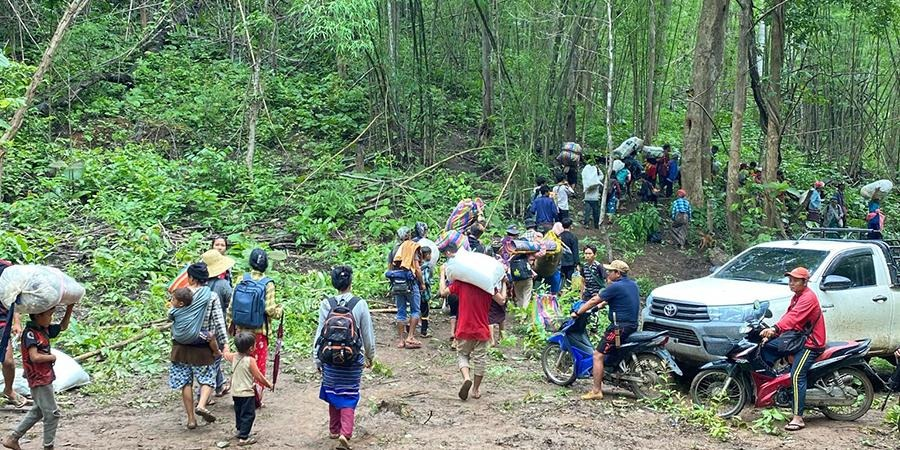 KARENNI—Around 1,000 Internally Displaced Persons (IDPs) living in temporary camps in Mese Township fled airstrikes into Thailand. "They are taking shelter at a police station, football field, and cow sheds in Sao Hin village. They desperately need food," said a Sao Hin resident. Karenni resistance forces seized Mese and Taung Hla Burma Army outposts on June 13. Fighting has intensified since then.
KAREN—The regime sealed off the home of the NUG Minister of Labor Nai Tun Pe (aka Nai Suwunna) in Hpa-An Township on June 13. A banner declared the property was confiscated under the Counter-Terrorism Law. "This is not surprising. They have already confiscated all the belongings inside the house in previous incidents," he told DVB.
MON—The North Ye PDF controls over 50 percent of Ye Township together with Ethnic Resistance Organizations (EROs), according to PDF spokesperson Bo Yan Naing. "The presence of the military and police in public areas has significantly reduced. While some schools have reopened regularly, departmental offices remain closed. Others cannot open due to security concerns," said a Ye Township resident. The PDF has advised locals to avoid unnecessary travel and to prepare for potential airstrikes.
SAGAING—Three members of a PDF in Pale Township are in critical condition and another three were injured when the Burma Army returned fire during an attack on a military convoy June 13. "Medicine is not enough and we have to do something. We are in a challenging position financially," said a PDF spokesperson. The PDF is requesting financial support.
YANGON—Hosheng Myanmar garment factory workers in Shwe Pyi Thar Township went on a wildcat strike June 13 after seven workers were fired for demanding the minimum wage increase agreed upon by management last month. "The intention is to pressure workers not to demand their rights," said a Hosheng Myanmar garment factory worker. The minimum wage increase was supposed to start June 1, but the seven workers fired allegedly threatened the factory manager and called on others to protest for not sticking to the plan. The Burma Army arrived to quell the protest. Further negotiations between workers and management will take place, according to Hosheng Myanmar garment factory workers.