At a press conference on Tuesday in front of the Education Ministry in Naypyidaw, student leaders vowed to resume nationwide protests against the National Education Law, following an announcement by the government that talks should be postponed.
Student leaders said they have "columns" of student activists mobilised and motivated to march to Rangoon from places as far as Mandalay in the north, Bassein in the southwest, and Tenasserim Division in the south.
They said the talks between representatives of the government, the parliament and student leaders were postponed after government officials refused to allow additional attendees brought along by the students to join the meeting.
But the students say that they invited assistants to join them at the Education Ministry in Naypyidaw on Tuesday morning only because the government's chief negotiator, Minister Aung Min, was accompanied by representatives of the Myanmar Peace Centre at the previous meeting on 1 February in Rangoon.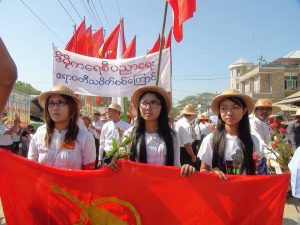 Amid the hiccup, Aung Min read aloud a message which he said he had just received from President Thein Sein, suggesting the talks be postponed. After a discussion, the government delegates announced they intended to follow the president's advice.
Early on Tuesday afternoon, the Ministry of Information posted pictures of government delegates standing alone in the meeting room, with captions saying that the negotiations did not go ahead because student representatives failed to show up.
Shortly after, President's Office Director Zaw Htay announced that the meeting had been postponed until after 12 February.
Prior to the call for action, students in Irrawaddy Division announced they would begin marching to Rangoon on Tuesday morning.
One of the organisers in Bassein told DVB that they would meet up with the other columns of protestors in Rangoon once they had completed the 350km journey by foot.
The Irrawaddy protest column, departing from the regional capital Bassein [Pathein], intends to criss-cross the delta region, marching through the towns of Kangyidaunt, Darka, Kyaunggon, Inma, Pantanaw, Naungdon, Maubin, Kyeiklat, Pyapon and Dedaye, before heading into Rangoon via Kungyangon, Kawhmu – which is Aung San Suu Kyi's constituency – and Hlaing Tharyar townships.
[related]
The student organiser, who asked not to be named, said they would address local residents and answer questions about their demands en route.
Students, widely supported by teachers and academics, have lambasted the recently approved National Education Law, complaining that it centralises decision-making, and does not allow for the forming of teachers' or students' unions. They are also calling for the annual budget for education and schooling to be significantly increased.