FROM THE DVB NEWSROOM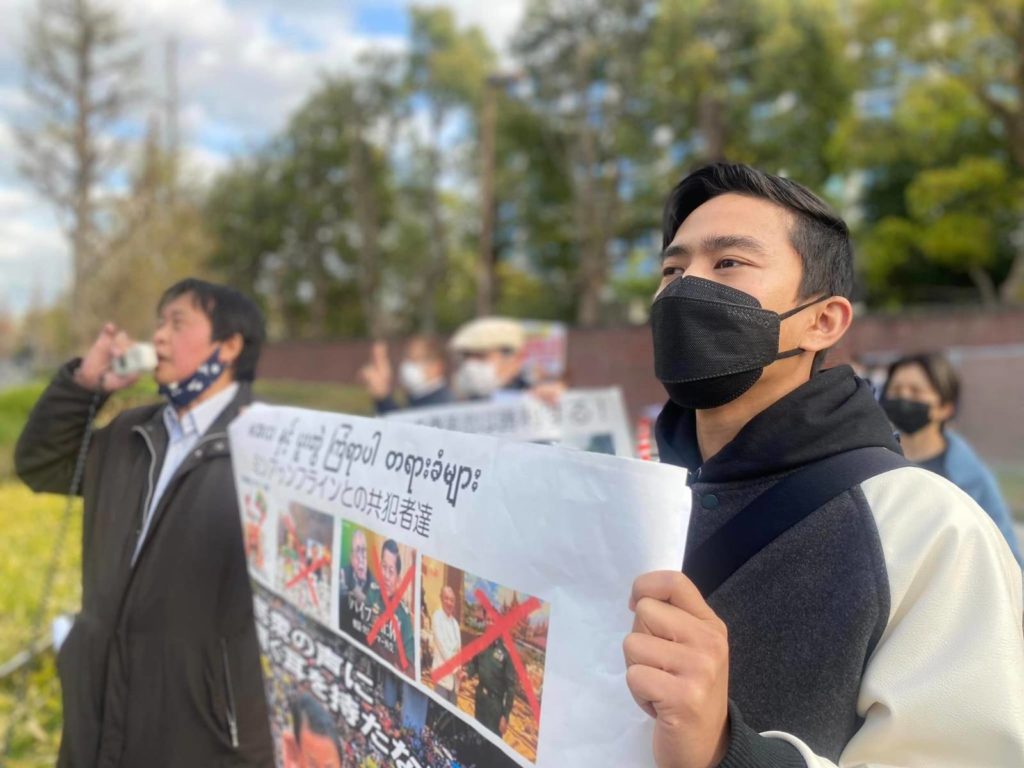 Japan protest against Taro Aso and Hideo Watanabe
Burmese and Japanese held a protest in front of the Liberal Democratic Party (LDP) office in Tokyo on March 28. "As a Japanese, I feel humiliated that a prominent party official accepted the terrorist junta's honor. The military coup was rejected by the Japanese. I want to show that I support the Spring Revolution of the Burmese people, so I came and joined the protest," said Kumazawa, a Japanese lawyer in Tokyo. The LDP Vice President Taro Aso and chairperson of the Japan-Myanmar Friendship Association Hideo Watanabe received awards from the regime last month in Naypyidaw.
NLD refuses to accept party dissolution
The Central Work Committee of the National League for Democracy (NLD) party issued a letter stating that it does not accept the legitimacy of the military regime nor its election commission. It goes on to state that neither has the right to dissolve a "lawfully established" political party. "As long as there are people, the party will exist to implement the vision of the people by all means." The NLD calls on all political parties not to register under the recently-amended Political Parties Registration Law. Since the 2021 military coup, 1,235 NLD members have been arrested and 90 have been killed.
UN expresses its concern
The U.N. expressed concern over the dissolution of the NLD led by Aung San Suu Kyi. "I think this is another step in the direction that we would not like to be going into," said Stéphane Dujarric, spokesperson of the UN Secretary-General. "We want to see a return to democracy in Myanmar. We would like to see the release of Aung San Suu Kyi and other people who continue to be detained, and we will continue to work towards that," he added. On March 28, the Union Election Commission (UEC) announced the dissolution of 40 political parties that failed to register.
Burma nationals arrested in India
Three Burma nationals and eight Indian citizens were arrested in Mizoram State together with 2.3 million Indian rupees ($27,934 USD) worth of heroin on March 28. Authorities raided and searched seven places in northern Mizoram and confiscated 913.8 grams of drugs. They are being charged under the Narcotic Drugs and Psychotropic Substances Act.
News by Region
KACHIN—A prison trial for prominent Kachin leader Hkalam Samson continued on March 28. Samson has been facing charges under the Counter Terrorism Act, the Unlawful Association Act, and incitement. "The hearings for all three charges have finished. The next trial date will be April 4," said his lawyer. Samson was detained at Myitkyina Airport in December 2022 after being forced to return from Mandalay, where he was scheduled to fly to Thailand for a medical appointment.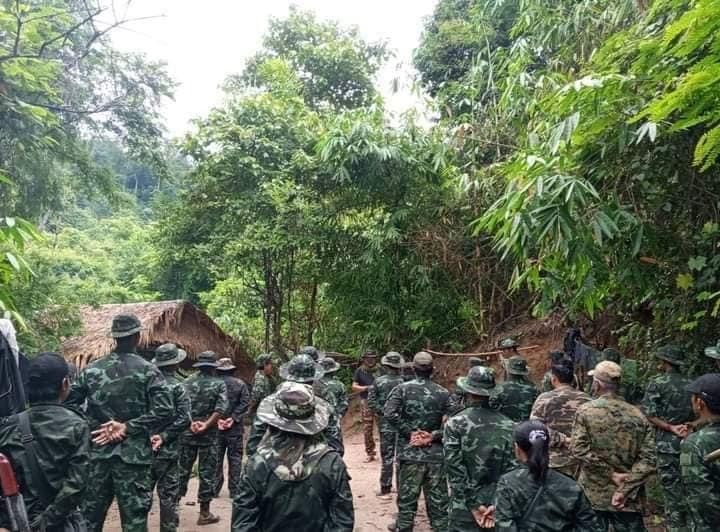 BAGO—The People's Defense Force (PDF) and the Karen National Liberation Army (KNLA) attacked the Taungoo Air Force Base headquarters in Taungoo town March 25-27. The coalition forces fired four rockets. Three Burma Army troops were killed and a helicopter was damaged, the PDF claimed. Following the attacks, the Burma Army conducted inspections in a village near the headquarters.
KAREN—Three resistance fighters and 15 Burma Army troops were killed in Kawkareik Township March 25-26, the PDF claimed. The Lion Battalion Commando Special Force, along with the KNLA, attacked four positions of the Burma Army, the Border Guard Force (BGF), and a police station in Kyondoe town. The Lion Battalion Commando Special Force stated that it would honor "its fallen comrades and proudly fight until the end."
MON—Two locals were killed and five were injured by artillery shells in Maeyonellay village of Kyaikto Township on March 27. The Burma Army fired artillery in response to three police officers being killed by the KNLA and PDF, according to locals and the Karen National Union (KNU).
RAKHINE—Over K1.7 billion ($810,781 USD) worth of marijuana, methamphetamine, and amphetamine drugs have been seized so far this year in Maungdaw, Buthidaung, Sittwe and Thandwe townships. At least 20 drug traffickers were arrested and charges have been filed, according to the regime.
SAGAING—A Shwebo Township PDF condemned a series of explosions on a bridge near Shwebo Bus Terminal on March 28. The attack killed at least two people, including a 4-year-old child. "Many civilians were injured because of the incident. It is possible the military did it but we will continue investigating it and take action," a PDF spokesperson said.
TANINTHARYI—The Dawei District Court sentenced two students from Dawei Technological University to ten years in prison under Section 50(J) of the Counter-Terrorism Law on March 28. Myo Min Oo and Aung Wai Yan Tun were arrested in Dawei town last September. "They have been accused of supporting terrorist groups. They are not facing any more charges," a family member said. The maximum sentence under Section 50(J) is ten years to life imprisonment, including a fine. Twenty students from Dawei Technological University have been arrested since 2021. Six of them have been released, according to the Dawei Technological University Students Union. The Dawei Political Prisoners Network states that there are 290 political prisoners in Dawei.
Two pro-regime militia leaders were killed in Kawthaung Township on March 27, the Bokpyin and Kawthaung PDFs claimed. Weapons are also said to have been seized in the attack. "When we went to attack them, there were only two of them. We were able to retreat without being harmed. A lot of weapons were seized," a PDF spokesperson told DVB.