FROM THE DVB NEWSROOM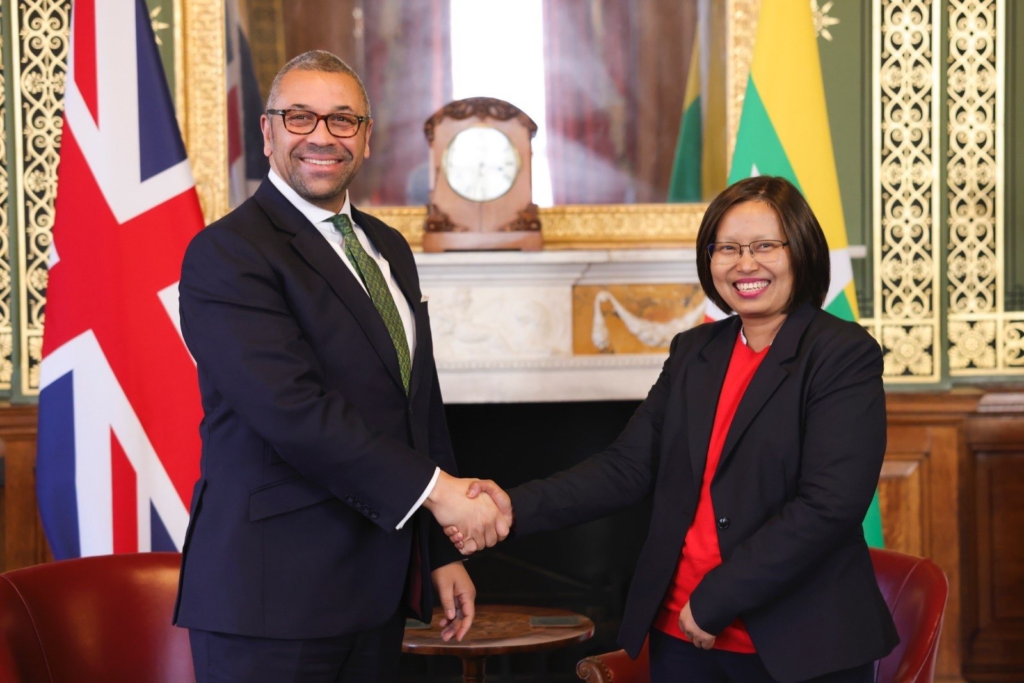 NUG FM receives warm welcome from British officials in London
The National Unity Government (NUG) reported that its Minister of Foreign Affairs Zin Mar Aung met with British Secretary of State for Foreign, Commonwealth, and Development Affairs, James Cleverly, in London, U.K. on Feb. 6. The two discussed cooperation on how to address Burma's ongoing crisis. Zin Mar Aung is meeting with other British officials during her visit to the U.K. The NUG reported that there was a meeting with the Burmese diaspora in the U.K. on Feb. 4 at the University of Westminster. The NUG Economic Minister Khin Ma Ma Myo attended the meeting. Both NUG ministers answered questions raised by the diaspora.
The U.K. embassy in Burma made a statement on Feb. 7 regarding the meeting in London with the NUG foreign minister. "I pay tribute to Daw Zin Mar Aung's extraordinary bravery, in standing up for the right of the Myanmar people to democracy and freedom," wrote James Cleverly. "The Foreign Secretary reaffirmed the U.K.'s commitment to the people of Myanmar. He stressed that the U.K. will continue to drive international action to apply pressure on the military regime in Myanmar," the statement added.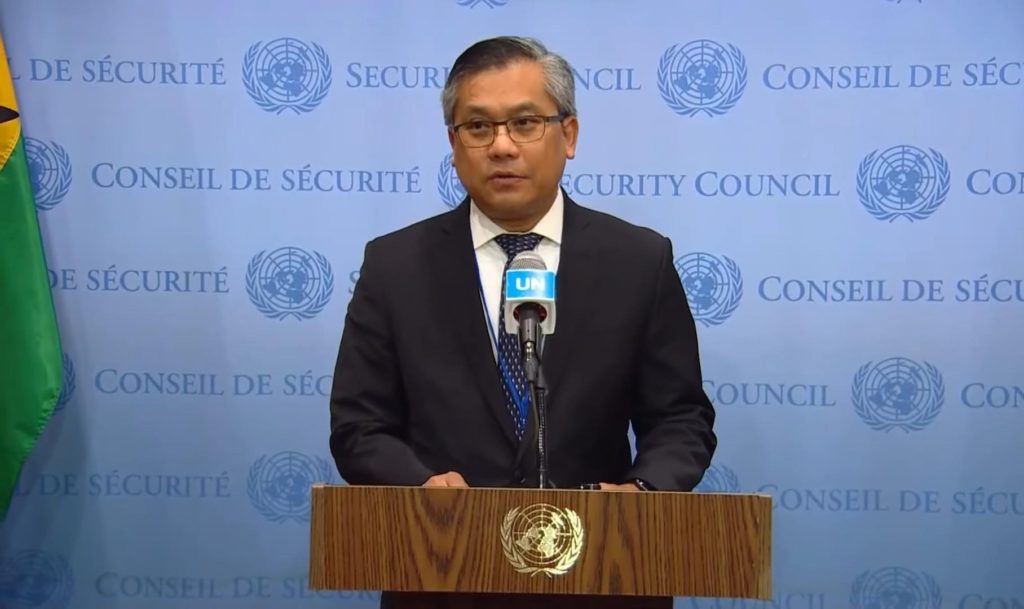 Kyaw Moe Tun and the NUCC shortlisted for Nobel Peace Prize
Kyaw Moe Tun, the Permanent Representative of Burma to the United Nations (UN), and the National Unity Consultative Council (NUCC) were included on the shortlist of the Peace Research Institute Oslo's (PRIO) Nobel Peace Prize nominees of 2023. Kyaw Moe Tun was one of Burma's first senior diplomats to denounce the military coup in 2021. Read more here.
News by Region
BAGO—The junta has ordered resistance forces to hand over their weapons in townships where martial law has been declared in the Bago Region. Residents reported hearing the Burma Army and police make announcements over loudspeakers on Feb. 5. "They told the [resistance] forces in the townships to hand over their weapons, disarm, and not to gather," a local told DVB. Martial law was imposed by the junta in 37 townships across Burma, including five in Bago Region.
MANDALAY—Fishermen who were using electrofishing equipment to catch Irrawaddy dolphins were detained by resistance forces in Madaya Township on Feb. 4. The fishermen were released after being educated on how to protect Irrawaddy dolphins and freshwater fish species, according to a spokesperson of the group. Their electrofishing equipment was confiscated. Electrofishing in the Ayeyarwady River has contributed to the decline in population of the Irrawaddy Dolphin.
SHAN—The Ta'ang National Liberation Army/Palaung State Liberation Front (TNLA/PSLF) announced that it rescued 127 Ta'ang (Palaung) people during a raid on a camp on Feb. 4. The 127 people were forced to serve a pro-regime militia in Jaryang village, Lashio Township. Twenty minors between 8 to 17 years of age and 107 adults between 18 to 65 years of age were among those rescued.
RAKHINE—The junta's Minister of International Cooperation, Ko Ko Hlaing, has been in Sittwe since Feb. 5. The visit is aimed at obtaining evidence to defend the junta at the next hearing of the International Court of Justice (ICJ). A local official said the minister planned to meet with those who witnessed the 2017 violence, as well as administrators from Maungdaw, Buthidaung, and Rathedaung townships. Junta ministers Tun Tun Naung, Thet Thet Khaing, and Myint Kyaing, are also on a visit to Sittwe, according to local officials.
Ko Ko Hlaing also visited the Nga Khu Ya, Hla Pho Khung and Taung Pyo Latwe reception centers in Maungdaw Township on Feb. 7, according to local officials. The reception centers are reportedly ready to accept Rohingya refugees who are now in Bangladesh's refugee camps. The junta plans to accept and host more than 1,000 Rohingya returnees from Bangladesh – including 300 Hindus – at the reception centers since September 2022, but none of them have taken up the offer. "We won't ever come back because the Burma side chose people within a household. If there are 10 people in a household, five are selected to come back. If there are six in a household, three are chosen. As a result, families will be separated. If we come back to Burma, we will not be allowed to stay in our original places as well. So no one came back," a Rohingya refugee in Bangladesh told DVB.
SAGAING—A local information group stated that the Facebook page of 'Myay Out Hlyat Si Guerrilla Force' (Underground Thunder Guerrilla Force) falsely claimed a battle occurred in Sar Taung town. Myay Out Hlyat Si Guerrilla Force claimed on its Facebook page on Feb. 5 that a 20-year-old paramedic was killed along with 12 soldiers after fighting broke out in Sar Taung town. Many media outlets, including BBC Burmese, reported news of the fighting on Feb. 6. Sagaing Information Group said that the Facebook page has been spreading false information about battles in Sagaing Region. It said the page was created on Jan. 29 and is impersonating Myay Out Hlyat Si Guerrilla Force led by Bo Mone Daing.
TANINTHARYI—More than 2,600 Internally Displaced Persons (IDPs) in Palaw Township are in need of humanitarian assistance. "The primary concern is food. Restrictions [imposed by the military] on rice transports have made things more difficult. Second, there is an insufficiency of medical workers who can provide medicine and health care," an aid worker told DVB. Martial law was recently imposed in Palaw Township, which has seen clashes almost daily since the coup. "It is very difficult to work with ground transportation. As the cost of goods rises, the rate at which we can purchase and support the IDPs falls, and people are donating less as well. There are more conflicts, more IDPs, and more needs," the volunteer added. In January, the number of IDPs in Tanintharyi Region reached more than 7,000, according to Southern Monitor.