FROM THE DVB NEWSROOM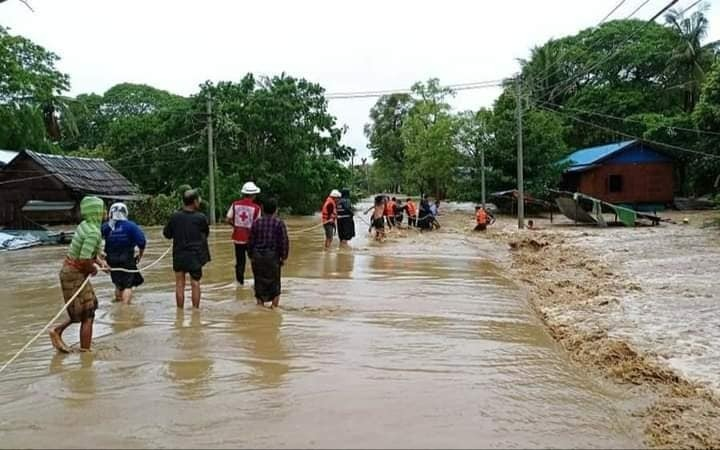 The response to Cyclone Mocha continues
Five people were killed and 12 were injured by Cyclone Mocha, the National Unity Government (NUG) stated. Regime media reported three killed. Two in Rakhine State and one in Ayeyarwady Region. A total of 864 houses, 27 religious buildings, 64 schools, 14 hospitals/clinics, seven telecommunications towers, 71 electricity poles, and 38 government buildings were damaged or destroyed nationwide.
All the Rakhine State townships have been designated as natural disaster-affected areas under the Disaster Management Law: Kyaukpyu, Munaung, Ramree, Ann, Sittwe, Pauktaw, Ponnagyun, Rathedaung, Gwa, Toungup, Thandwe, Maungdaw, Buthidaung, Kyauktaw, Minbya, Mrauk-U, Myebon. Almost all were impacted by Cyclone Mocha. Communication lines have been down since it made landfall on Sunday, May 14. "Although there was a lot of damage in Sittwe, there were almost no casualties," a local told DVB.
The Department of Meteorology and Hydrology stated that the storm has weakened to a depression but warned about the cyclone's aftermath. "There can be a lot of landslides in the Rakhine mountains and Chin hills. Water will flow from the mountains, and flooding will happen in Sagaing, Magway, and Mandalay," said Win Naing, an independent meteorologist.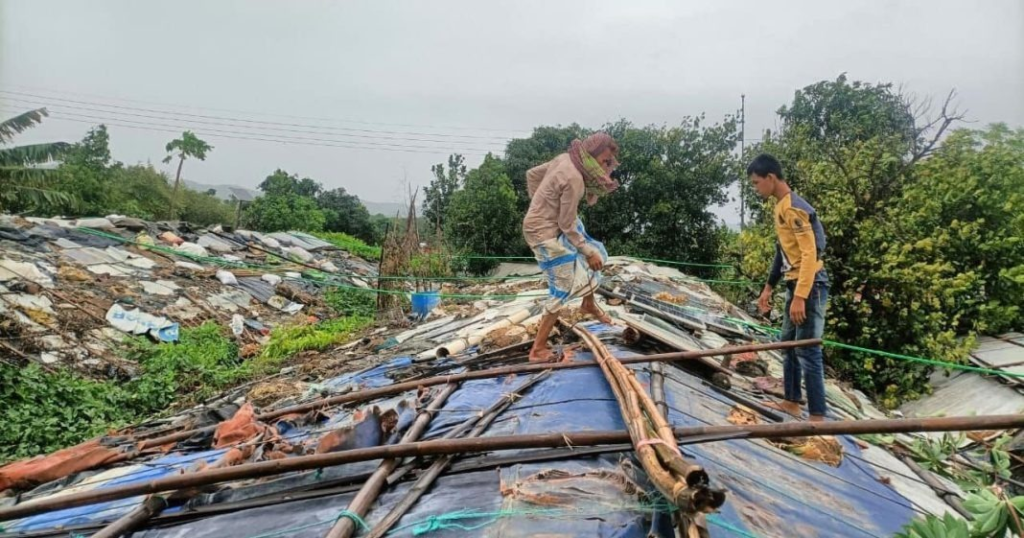 At least 2,500 shelters in Bangladesh's Rohingya refugee camps were partially damaged by Cyclone Mocha, stated the Refugee Relief and Repatriation Commissioner (RRRC). Around 5,000 shanties, 32 learning centers, 29 religious buildings, and a clinic were also damaged. Tens of thousands of families were reportedly affected by the storm. Over 29,000 Rohingya staying in Bhasan Char were evacuated. Nearly one million Rohingya live as refugees in neighboring Bangladesh.
Pita Limjaroenrat discusses Burma crisis
Thailand's Move Forward Party (MFP) leader Pita Limjaroenrat said that he would work to establish a humanitarian corridor into Burma if he's named Thai prime minister. Pita vowed to provide humanitarian aid to the people in Burma with the assistance of the international community and the Association of Southeast Asian Nations (ASEAN). "With the proximity of Thailand and Myanmar – whether you call it an asset or liability – without Thailand's presence, the Five-Point Consensus will not be achieved," he said on May 15, one day after his MFP won the most seats in the Thai election.
More Burmese arrested in Thailand
Twelve undocumented Burma nationals were arrested in Mae Sot, Thailand on May 14, local media reported. The migrants were arrested at a police checkpoint. They are expected to be prosecuted under Thai immigration law.
News by Region
KAREN—The Burma Army used heavy machinery to damage the Myawaddy-Kawkareik portion of the Asia Highway on May 14. "The livelihoods of locals as well as the flow of goods and trade are all affected," a local told DVB. Two other roads in the township were reportedly damaged by machinery.
KACHIN—Internally Displaced Persons (IDP) camps in Laiza, which is under the control of the Kachin Independence Organization (KIO), were damaged by the storm. "We have to be careful of landslides because of the rare-earth mining. We are also worried about unexploded landmines. We are still documenting the damage," a local civil society group told DVB. No casualties have been reported.
MAGWAY—Crop fields in Magway were damaged by heavy rains on Sunday and Monday. "My sesame fields are also flooded. I am not sure if the crops can be good or not," a local told DVB. Regime media reported that 78 crop fields were damaged by Cyclone Mocha.
A woman in Seikphyu Township is presumed dead after being swept away by the currents of a stream near her village on May 14. "The current of the water was very strong while they were crossing the stream. We saved the other three [but] she is still missing," a local told DVB.
TANINTHARYI—An airstrike on Nabule in the Dawei Special Economic Zone, located in Yephyu Township, took place on May 14. The airstrike happened after fighting between the Burma Army and the People's Defense Force (PDF), which began on May 13. "I have not yet heard about any casualties. We cannot confirm it yet," said a PDF spokesperson.
DVB Vox Pop podcast episode 9 just dropped. Vox Pop is on YouTube, Spotify, Apple & Google. DVB English is available wherever you listen to podcasts.