During decades of military rule and ethnic conflict, hundreds of thousands of people fled Burma. Many have since been resettled abroad, but 140,000 people are still living in camps on the Thai-Burmese border.
The UN's refugee agency has resettled 2,000 people back to Burma, but this week's debate asks: are conditions right in the country for the rest to follow?
The DVB Debate panelists this week are: associate director at Myanmar Peace Center, Aung Naing Oo; co-ordinator at Kachin Peace Network, Khon Ja; and programme director for The Border Consortium, Nilar Myaing.
The panel disagreed about when refugee repatriation would be possible, although they concurred that conditions were not conducive for refugees to return immediately.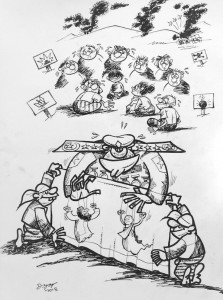 Khon Ja said the UNHCR's plan to return 50,000 refugees to Burma by the end of December was "impossible".
She said even though ceasefires were being discussed between rebel groups and the Burmese army, military presence in ethnic areas was increasing.
A large number of refugees were born in camps on the Thai side of the border and, according to Nilar Myaing, many of them don't trust the Burmese government.
"For the children who were raised in refugee camps, it will be hard to come back since there is a big difference between Thailand and Burma," Nilar Myaing said.
Aung Naing Oo said while the Myanmar Peace Centre is helping with the peace process, it doesn't have any authority and cannot make decisions.
"The military has its own policy," he said.
He went on to say that there are parts of Karen state that are now safe to return to.
Khon Ja disagreed and said more people were being displaced through large development projects in ethnic areas.
[related]
"The military will have to be involved throughout the peace process," she said. "They will have to keep their promises and their agreements."
Audience member Jaw Gon, from the Kachin Peace Network, sided with Khon Ja and said the government wasn't being transparent.
"On the one hand, the government is working on the peace process and on the other, they are creating problems for the people."
Aung Naing Oo stressed the importance of a nationwide ceasefire, but said it would only be the beginning and that it would take time for political solutions to be implemented
Next week on DVB Debate: How political can art be?
You can join the debate and watch the full programme in Burmese at www.dvbdebate.com
Or share your views with us by commenting on our website at http://www.dvb.no/category/dvb-debate