FROM THE DVB NEWSROOM
The National Unity Government (NUG) Deputy Foreign Minister Moe Zaw Oo said that the Timor-Leste government has extended another invitation for the NUG to revisit Dili following its meeting with Zin Mar Aung and its refusal to acknowledge the military regime in Naypyidaw. "Timor-Leste invited Foreign Minister Daw Zin Mar Aung to meet again. This shows that Timor-Leste will maintain relations with the legitimate government of Myanmar. Other countries in the region should follow the example of Timor-Leste and engage with the NUG," Moe Zaw Oo told Myanmar Now.
The military summoned the Chargé d'Affaires from the Embassy of Timor-Leste in Burma, Avelino Pereira, from Yangon to the capital. It believes that the meeting between the NUG and the Timor-Leste government would encourage violence in Burma. Chan Aye from the regime Ministry of Foreign Affairs (MOFA) handed Pereira an Aide-Mémoire, or a memorandum. "The Permanent Secretary conveyed the Myanmar Government's strong protest against the Government of Timor-Leste's invitation to the NUG and urged the Timor-Leste Government to refrain from making any forms of contact with those terrorist groups and their representatives," MOFA stated.
NUG Minister of Foreign Affairs Zin Mar Aung met with Timor-Leste government officials in the capital Dili earlier this week. She attended the inauguration of Timor-Leste Prime Minister Xanana Gusmão, as an official representative from Burma, on July 1. Then met with Maria Fernanda Lay, the president of the National Parliament, and her counterpart Timor-Leste Foreign Minister Bendito dos Santos Freitas. Zin Mar Aung discussed ways the NUG and Timor-Leste can "promote cooperation that can greatly contribute to Myanmar's Spring Revolution."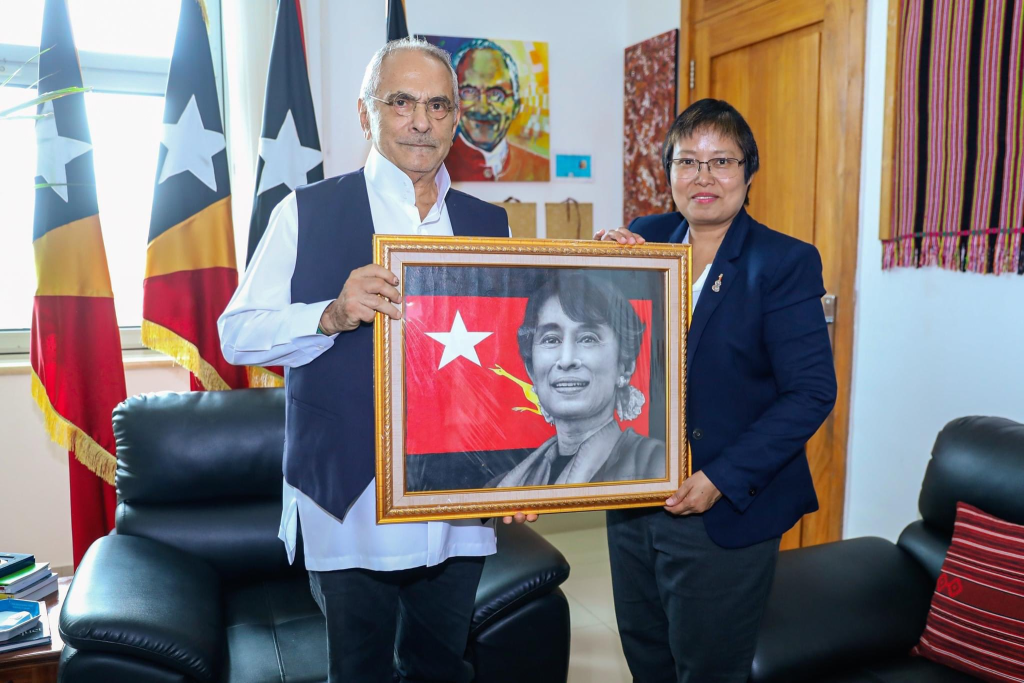 Zin Mar Aung capped off her trip meeting with Timor-Leste President Jose Ramos-Horta at the presidential palace on July 3. "My deepest gratitude to President Jose Ramos-Horta for his ongoing solidarity with the peoples of Myanmar. President Horta has welcomed me with hospitality and generosity, recognizing the shared struggle our nations have both faced for freedom, justice and peace," she wrote on Twitter.
Timor-Leste was granted independence in 2002 after decades of Indonesian military occupation. Jose Ramos-Horta and Xanana Gusmão were leading members of the resistance to Indonesian military rule. The two have long been supporters of Burma's democracy movement and its jailed leader Aung San Suu Kyi. Ramos-Horta wrote for Newsweek in December 2021 We Cannot Afford to Look Away from Myanmar. He called on the international community to take a stronger stance against Burma's military and provide support to the people fighting for democracy.
Timor-Leste was admitted as the 11th full member of the Association of Southeast Asian Nations (ASEAN) in 2022. It was present at the ASEAN Summit held in Bali, Indonesia from May 9-11, where Burma's political crisis was discussed in detail. Dili has publicly stated its desire to see the return of democracy in Burma and it condemned the military for executing Phyo Zeyar Thaw, Kyaw Min Yu (aka Ko Jimmy) and two other democracy activists one year ago.