FROM THE DVB NEWSROOM
Tourism remains below pre-pandemic levels
The regime's Ministry of Hotels and Tourism states that 609,690 tourists entered Burma from January to July this year. It's an increase of more than 500,000 compared to last year's 104,337, according to the ministry. At least 400,000 people entered the country via land borders. Another 158,663 entered via airports with 360 via seaport.
The number of tourist entries before the COVID-19 pandemic was 4.5 million. "At that time, there were around one million Chinese visitors. Those statistics are still quite far off," said an unnamed tour operator. Travel agencies state that the majority of tourists this year came from China and Thailand. The regime is trying to attract more tourists from China, as well as Russia and India, by allowing visas on-arrival.
Central Bank revokes licenses of 123 forex dealers
The regime's Central Bank of Myanmar (CBM) revoked the licenses of 123 foreign exchange brokers on Sept. 19 for noncompliance. At least 23 others have had their licenses revoked since the CBM began its campaign against exchange rate manipulation.
"Businessmen close to the regime acquire [USD] at the rate of K2,100 from the central bank and resell [illegally] at K3,300. Now, both businesses associated with the military and those not associated with the military have been banned," said an unnamed businessperson. The official exchange rate is K2,100 to $1 USD. The unofficial exchange rate ranges between K3,500 and 3,600.
Singaporeans that sold equipment to Burma Navy fined
Two Singaporeans that sold a sonar system to the Burma Navy were fined a total of $80,000 SGD ($58,608 USD) by a Singaporean court on Sept. 19, the Straits Times reported. Poiter Agus Kentjana and Wui Ong Chuan from Hydronav Services were convicted of violating the Strategic Goods (Control) Act.
Poiter was fined $35,000 SGD ($25,640 USD) and Wui was fined $45,000 SGD ($32,967 USD). Hydronav was convicted of two charges under the act and fined more than $1.1 million SGD ($806,000 USD). The prosecution stated that Hydronav bought a sonar system from Norwegian company Kongsberg Maritime on behalf of an Indonesian firm in 2018. It was then sold to a Burmese firm, with the final recipient being the Burma Navy.
News by Region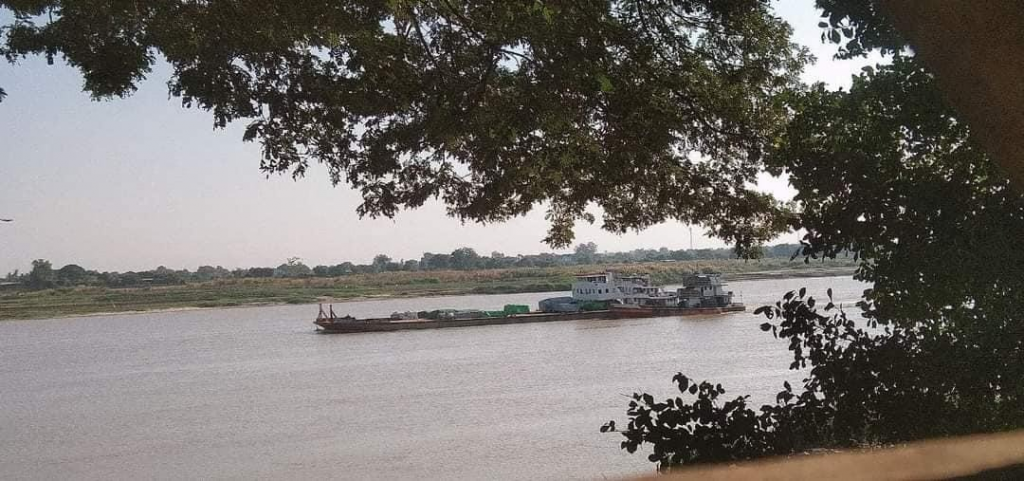 SAGAING—Ten bodies have been recovered, and 20 individuals have been rescued, after a vessel carrying approximately 100 passengers sank on Sept. 19. The vessel sank when it struck a submerged rock in the Chindwin River on its route through Mingin Township.
"The accident happened near a village occupied by Pyusawhtee, and it is not connected to any conflict or fighting in the area," a spokesperson for the Mingin People's Defense Force (PDF) told DVB. The passengers of the boat reportedly included pro-regime militia members, civil servants, and university students. The regime has not provided any official statement or condolences to the victims' families.
CHIN—Twenty people have been killed and 37 have been injured by landmines in Chin State since the 2021 military coup, states the Chin Human Rights Organization (CHRO). "Now we're collecting data especially on the issue of landmines," said Salai Lian, the CHRO spokesperson.
The CHRO adds that the landmines were planted by the Burma Army. Four civilians were killed in 2021, nine in 2022, and seven so far this year. Paletwa Township had the highest number of landmine casualties.
KARENNI—One person was killed and two others were injured by artillery in a village of Demoso Township on Sept. 18. Four artillery shells fired by the Burma Army hit the village and killed a woman and injured her husband and sister. "The victims fled from war. They moved to the village a few months before," said a Demoso resident.
MANDALAY—Fighting between the Burma Army and the Ta'ang National Liberation Army (TNLA) resumed in Mogok Township on Sept. 19. "The Burma Army was firing heavy weapons from its strategic hill in eastern Mogok throughout the entire day," said a Mogok resident.
The TNLA, in collaboration with local resistance forces, is conducting an operation in the township. The TNLA stated that it had launched its offensive against Burma Army outposts but did not report any casualties. Around 400 residents have been displaced from their homes. Fighting between the TNLA and the Burma Army began Sept. 10.