FROM THE DVB NEWSROOM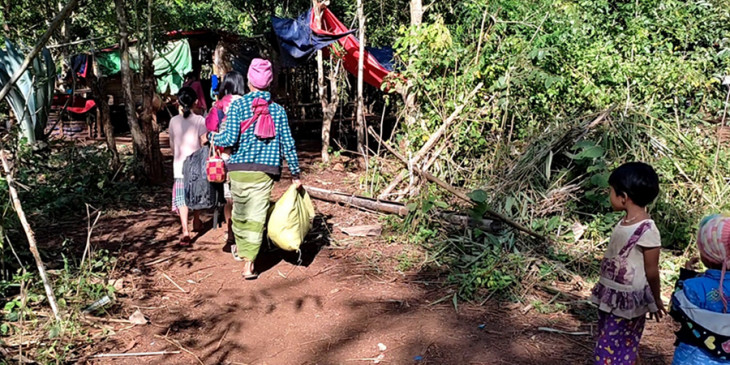 UNOCHA states 154,000 people displaced since January
More than 154,000 people have been displaced in Burma since January, surviving "in precarious conditions in camps and informal sites often in jungles and forests." The UNOCHA stated in its latest update that the overall number of internally displaced persons (IDPs) since the 2021 military coup has reached 1.3 million. It estimates that one third of the population – 17.6 million people – will require humanitarian assistance in 2023.
UN report condemns Burma Army 'scorched earth policy'
A UN report released on March 3 condemned the Burma Army for creating "a perpetual human rights crisis." It outlines "a litany of human rights abuses" between Feb. 1, 2022, and Jan. 31, 2023 "Two years after the military launched a coup, the generals have embarked on a scorched earth policy in an attempt to stamp out opposition," said Volker Türk, the UN High Commissioner for Human Rights. The UN states that armed conflict has taken place in about 80 percent of Burma's 330 townships. Pro-regime forces have killed at least 2,940 people since the 2021 military coup; 17,572 people have been detained.
News by Region
MAGWAY—A 60-year-old man working in education was killed in Natmauk Township on March 4. Two local resistance groups called the Magwe Guerrilla Warfare (MGW) and the Peacock Warrior Guerrilla Unit (Nat Mauk) claimed responsibility for the murder. It alleged that the education officer was taking bribes and campaigning for the "illegal election of the military council". They warned that all regime personnel will face similar "clearance" if they do "what the military council wants them to do."
MANDALAY—A gold mining company owned by a military general in Thabeikkyin Township was raided on March 1. "At least one or two generals were involved in the mining businesses in our township. Very few of the mining sites are owned by civilians," said Bo Lin Yone, the leader of a local resistance force. The company's officials fled during the raid but the resistance group urged the remaining staff not to work for companies affiliated with the Burma Army. Bo Lin Yone added that his group will take action against gold mining businesses that assist the regime.
NAYPYIDAW—One escaped prisoner was killed and four more were re-arrested on March 3. This comes two days after nine prisoners escaped a transport vehicle taking them back to Yamethin Prison in Tatkon Township. "One of the inmates stabbed a police officer but that inmate was killed after the soldiers opened fire. [In total] seven out of nine escaped inmates were arrested at the moment but two inmates are still missing," a source close to the police department said. The Tatkon Police Station filed additional charges against the two escaped prisoners.
Three explosions occurred in Naypyidaw on March 1-2. They took place at former MP Mya Nyain's home, Mandalay Paradise Restaurant, and a Burma Army checkpoint. "No one was hurt the first two times. I think there were injuries in the attack on the security checkpoint. The military returned fire," a local told DVB.
SAGAING—Two members of a local resistance group called Indaw Revolution were killed in an explosion on Mar. 2. "Two 20-year-old members were killed. The explosives accidentally blasted while setting to attack a military council patrol car," a spokesperson told DVB.
Two civilians, including a mentally ill person, were killed when the Burma Army attacked a village in Yinmarbin Township on Mar. 3. "At least 100 soldiers marched towards the village. All the locals ran away when they entered. Around 7 o'clock at night, the village started to be burned," a local told DVB. At least 100 houses in Myauknahun village were burned down by an arson attack. "Inside the monastery, we found a body that had been burned inside a charity funeral car. We saw another corpse that had been beaten to death in the east of the village," said a member of the local resistance group.
A similar attack was reported in Khin Mon village of Chaung-U Township on the same day. Artillery shells killed two villagers, including a 12-year-old, during an attack by the Burma Army. Nearly 70 houses were burned down.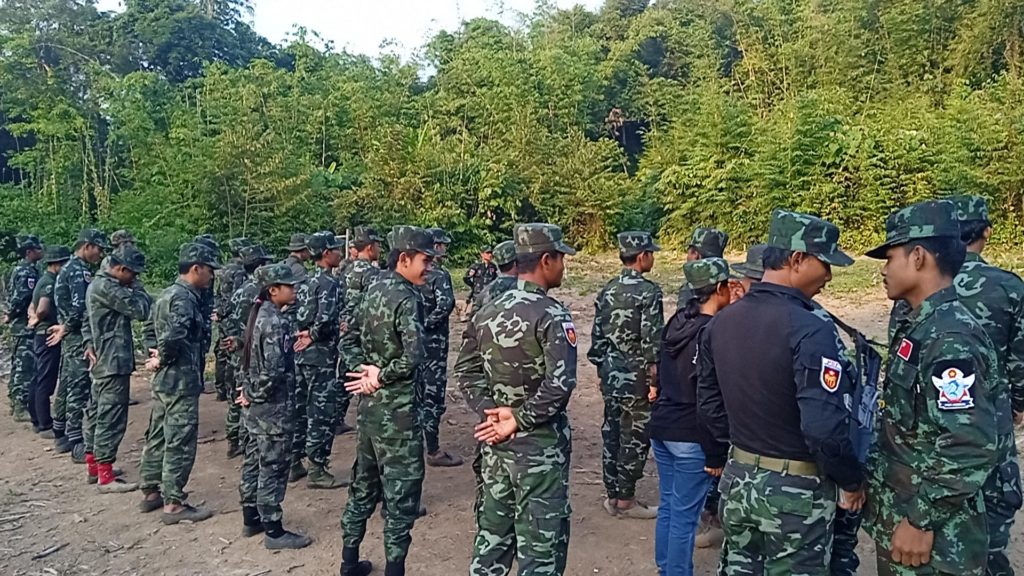 TANINTHARYI—Nine members of a People's Defense Force (PDF) were killed during a Burma Army attack on Khamaukkyi Township in Kawthaung district on March 4. "The army carried out a surprise attack. We were surrounded and trapped," a PDF member told DVB. Regime media reported the death of the PDF fighters and claimed weapons were seized. The PDF claimed Burma's southernmost township was under its control. The fighting has displaced many locals from their homes.
Food and other relief supplies were banned from entering Palaw Township by regime forces. "We can no longer buy and carry necessary things for our households," said a local man. Palaw Township is under martial law and the Burma Army controls all routes in and out of the area.
Six men were arrested and killed in Launglon Township on March 4. The victims were men between the ages of 20 and 40. "All the arrestees were shot dead near the football field, "a local told DVB. At least three houses were burned down, according to locals.
YANGON—The Solidarity of Trade Union Myanmar (STUM) said the Chinese-owned Primseng GUO garment factory violated labor law when it shut down without giving prior notice to its employees. Management failed to hold negotiations with the workers before the closure. "They only paid K100,00o ($47.55 USD) per month for January and February to the workers without prior discussions [about the factory closure]," said the STUM spokesperson. The factory is located in War Ta Yar industrial zone, Hlaing Thar Yar Township. More than 1,000 workers are demanding further compensation.
Two administrators were killed at a traditional Buddhist ceremony in Paukgone village of Twantay Township on March 3. "The [unidentified gunmen] arrived on a motorcycle. The admin team was attacked while chatting. Those who fled escaped. An administrator and a 100-household administrator were killed," a local told DVB.