Flash floods have struck areas of central and upper Burma over the past three days, leaving at least 16 persons dead.
Monsoonal rains raised water levels and caused flooding in Sagaing Division, leaving at least nine persons dead, destroying some 12,000 homes and affecting an estimated 70,000 people.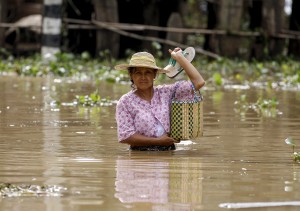 The region registered a 24-hour rainfall of 7.8 inches (20 centimeters), the highest in 24 years, according to state media.
The United Nations has proposed rushing relief assistance to the victims.
A spokesperson for UN Secretary-General Ban Ki-moon said on Friday that 40,000 people had been "seriously affected" and that the UN was ready to provide aid.
Over the weekend, local authorities were mobilising teams in coordination with government departments, the military, Red Cross and civil society organisations to supply drinking water, food and other necessary materials.
In northern Shan State, at least three persons were killed and four injured on Saturday when a flash flood destroyed a bridge near Hsipaw, according to a duty officer at the township police station.
"People were on the bridge when it collapsed," he told DVB. "They were swept away in the current. Three have been killed and four injured; a search is underway for others."
And in Mandalay Division, eight local people are assumed dead after they and more than 50 cows were swept away in a flash flood in Thabeikkyin Township in Pyin Oo Lwin at around 1am on 25 July.
[related]
Myint Zaw, a local villager from Twin-Nge village tract, said, "Five houses from our hamlet were swept away in the flood. Even the centre poles of the houses were uprooted.
"We have been told that eight people were killed. So far, we have recovered the bodies of one man and three women. A search for the others is ongoing."
Flash floods were also reported in Mogok, though no casualties have been reported.
The Associated Press reported on Saturday that flooding had submerged hundreds of acres of paddy fields and inundated roads and rail lines, including damaging sections of the Mandalay-Myitkyina track, forcing a temporary suspension of service.